Hey all,
This is dev log about the version 0.1.2.2a. Today we start in v0.1.3a, there will be a lot of new features in this one and improvements (also bugs corrections). The version 0.1.3a will be for the first public alpha, probably half of July, but we will keep updating the blog and our channels of what we are doing.
Below you will find our new video from this end of month :)
Here is the new version logs.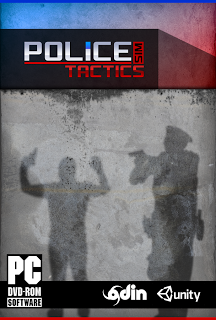 POLICE TACTICS v0.1.2.2a
New
- Bandits now drop their guns whe surrended, or killed;
- Bandits have courage levels, gun draw risk and even evil level to shoot hostages;
- Bandits will try to run from the police if the player do not try to subdue or compliance correctly;
- Bandits can make the first robbery action, shoot hostage or just run;
- New police voices;
- New police model;
- New car model (better graphics and lights);
- New graphics for HUD (life, hungry, energy, intimidation, etc);
- New graphics for guns, magazines and bullets;
- New animations for draw gun, shoot, reload;
- Player can equip a gun, aim and shoot objects, that reacts with Physics;
- Player can jump with animations (basic, but it is, lol);
- Player cannot just jump the car while in movement;
- Random names and AI for NPCs;
- NPCs basic movements;
- NPCs will try to avoid obstacles;
- NPCs waypoints defined;
- NPCs run if police car siren is too close;
- NPCs dynamic change when player is far away;
- NPCs have random names for inspection and history;
- NPCs will surrender when officer tries compliance (or can run);
- NPCs civilians can be robbed and murdered;
Improvements
- Cars are now able to leave the door open when you need to get out quicly;
- Better lights with Glow effect;
- Better lightbeams;
- New lights when going backwards with police car;
- Better draw/holster effect;
- Player character can actually look around with mouse;
- Better aim;
Fixes
- Camera rotation was sent wrong when exiting the car, causing weird rotations;
- Sometimes players could not interact with door because character was blocking it;
- Lightbeams fixed when player is fat away;
- Props corrected when player is far away;
Known Issues
- Check the dev log;
New VIDEO gameplay teaser:
SECOND small teaser, in HD now:
Cheers