The biggest additions are the multiplayer missions and new HUDs. That's not all though, read below for a full explanation of all the changes. Also, this is a standalone release, so please just delete any previous versions and use this version. It also include the fixed Prologue mission.

First some screenshots: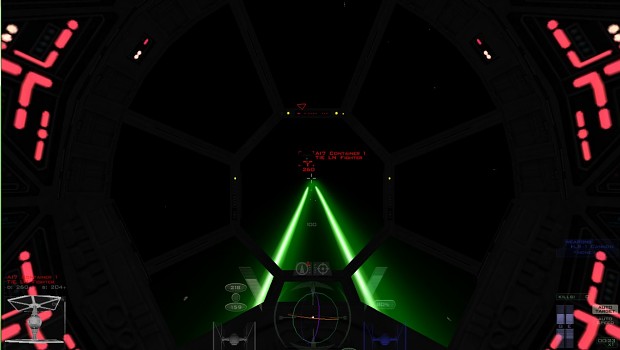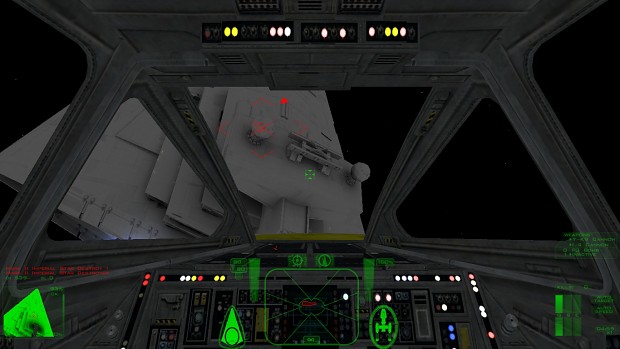 Version 4 Full Change Log
Additions:
- Added two new multiplayer missions, one TvT and one FFA.
- Added custom HUD for the Rebels and Empire.
- Added new music and improved the soundtrack diversity.
- Added many new and improved Imperial HUD animations and a set of new neutral pilot animations. Credits to coffeesoft.
- Added landing capabilities to the fighter-bays.
- Added Bridge subsystem to Imperial Star Destroyer.
- Added improved model of the Millennium Falcon.
- Added B-wing AI profile, weapons, and HUD icon.
- Added new secondary weapon specifically for the Assault Gunboat, the Heavy Rocket. Thanks to FekLeyrTarg.
- Added better Death Star backgrounds.
- Added hiqh quality new briefing animations. Credits to coffeesoft.
- Add better animations for conversations in Prologue. Credits to coffeesoft.
Fixes:
- Fixed ship radius calculations to improve AI performance.
- Fixed crashes related to the mouse script and hit indicator. Unfortunately that means neither script is in the mod any more.
- Fixed all major bugs with the Prologue not working correctly.
- Fixed the mini-target icon inconsistencies.
- Fixed the collisional holes in the Imperial XQ1 Station.
- Fixed some subsystem naming errors.
- Fixed some thruster placements on various ships.
- Fixed a rotation time error.
- Fix messages.tbl and names of hud ani's.
- Fixed fatal tstrings.tbl error.b Credits to darthdoull.
Balancing:
- Balanced out primary weapon lasers on smaller ships to prevent snipe-like attacks in multi-player.
- Tweaked and improved AI settings.
- Better balanced the ion cannon.
- Better adjusted subsystem values.
- Balanced concussion missile damage values.
Note on Multiplayer:
For those of you who want to set up multiplayer missions but do not know how please refer to these pages:
- Setup: Hard-light.net
- Toubleshooting: Hard-light.net
- Standalone servers: Hard-light.net
- The entire wiki for multiplayer is here: Hard-light.net community at HLP is very helpful and friendly so they are a great resource if you are having trouble, too.
Note on Missions:
All missions are under the Mission Simulator in the Tech Room. Prefixes for the file names have been used to more effectively differentiate mission types. Missions with 00(0, 1, 2, etc) designate official missions in the OT campaign. An N, R, or E will also follow the number to signify Neutral (N), Rebel (R) or Empire (E) type mission. Coop missions are multiplayer missions, FFA designates Free For All and TvT designates Team vs Team. CC in the file name are community created missions. X shows missions that are concept ideas/tests.
Note on the new script functions:
-In-Mission Techroom: Alt-1 shows your ship info, Alt-2 shows weapon info, and Alt-3 shows info about target. You can check the status of the subsystems, which is very handy for planning an attack strategy on a larger ship like a Mark II SD. It is also included since all of the ships and weapons are relatively unfamiliar.