That's right, it's finally here: Situation Outbreak v1.52. Visit www.situationoutbreak.info for download links and much, much more.
v1.52 brings many new features to the table, along with plenty of bug fixes and two brand-new maps. Here's just some of what's new:
Improved textures for the M4, AK47, deagle, and chainsaw
More health, points, and ability to deal more damage for the zombie overlord in the Overlord gamemode
More blood, gore and a simple gib system
Damage hikes for the MAC-10, M4, AK47, and chainsaw
Point requirement reductions for all melee weapons
New boss system for Survival, Objective, and Holdout gamemodes, including the first new boss NPC: the cloud
New weapon: pump-action shotgun
Drastically improved point system that rewards players points based on damage, not kills
Improved 9mm, M4, and AK47 animations
New map for the Overlord gamemode: so_ovr_lumberyard
New map for the Survival gamemode: so_sv_forest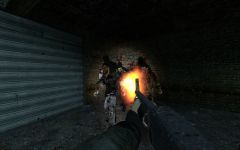 Dedicated server files will be made available by the end of the today today (US EST, GMT -5). Sorry for the delay, but they are awfully large files! If you already have an SO v1.51 Dedicated Server installed though, you can obtain the patch from our website.
All of our official ARP servers and Cherry's servers have been updated and are ready to go. It is recommended you only play on these servers until all other unofficial SO servers have updated to v1.52. You wouldn't want to be playing v1.51 after waiting for that v1.52 installer to finish, now would you?