As I got deeper into the development of Asteroid Miner, I decided that I didn't like that the textures and shading on Open Wheel Racing didn't really match up with it. So I went back in and redid a bit of the graphics for that game.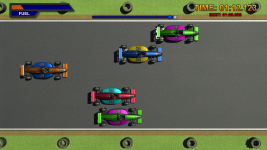 When I took the first screenshot for the new texturing, I realized just how much perspective distortion there was. I really don't like the way the orthographic camera looks, but I did change the field of view a bit to help flatten it out a little without completely removing the perspective. I still need to tweak the lighting and setup the shading for all of the other tracks, but I'm going to let that wait until Asteroid Miner is finished.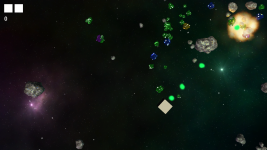 For Asteroid Miner, I set the field of view on the camera to match the new FOV in Open Wheel Racing. I also added some lights to the explosions to increase the realism a bit. In addition to those changes, I got most of the player controls in. The screenshot above shows the player (as a placeholder cube) shooting an asteroid. The gems are now different sizes depending on the size of the asteroid that they come from. Smaller ones, being harder to get, are worth more points. The white boxes in the upper left corner are placeholder graphics for the remaining lives icons.
There are probably more minerals on screen than would be there in a real game. I haven't yet added the code that makes them disappear after a while. And I was more interested in getting a decent screenshot that I was collecting the minerals.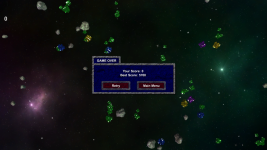 In this screenshot, you can see how the game over dialog will look. There is a slightly different one for two player versus mode that just tells you who won or lost.
I also got a fair amount of non-visible work done. Most of the code for the two player modes is in. You can choose to play Co-op, where you will share points with the other player. Or you can choose to play Versus, where you try to get more points than your opponent. Versus mode will also allow you to set a timer, so you don't have to keep playing until both of you die.
Next, I'll work on getting the special weapons and defensive capabilities of the ships in place, as well as allowing you to pick up the power ups required to get those weapons and power those defensive abilities.