UPDATE
Thursday, 23rd December 2010
Hello and Merry Christmas! Smallcombe here filling in for Gavin while his away.
New Team Members
Now I would like to introduce the newest 2 RCS team members, Frank.s and Razor. Frank will be in charge of mapping and fixing new map objects into engine. He also will be working on main script to speed up development and beta release. Razor is a 3D modeller with experience throughout Autodesk and Adobe professional programs, he will be acting as a 3D modeller and texture with RCS, check out his great animations on his youtube link.
New Custom 3D Map Models
All thanks to Frank.s with his help with the game engine, I have started creating new map objects for the mod, the first map package is mostly for military and Road block use. 3D models and textures created by smally fixed into game engine by frank.s.
New Custom Weapons
We have 4 new custom weapons including the nail bloody bat, axe (axe created by Razor), arm and leg. Zombies use the bare hands, arm or a leg to attack player but player can pick up the arm and leg. Player will also be using an arm or leg or there hands in zombie mode.
New Custom Zombie models
Here is a my new custom zombie models I have created on top of the 60 plus retextured zombies, more custom zombies are on the way.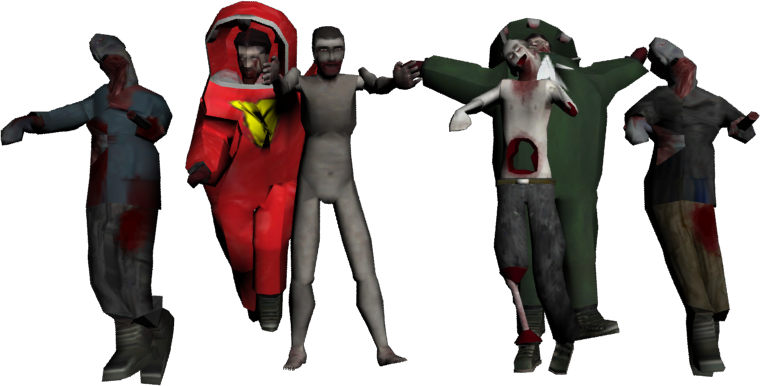 New Game Play Clip
Here's a short vid of RCS Free roam game play, this will give you a better idea of the RCS game play and zombie engine, keep in mind this is still only early stages many more improvements and features too come.