In the Coming Month:
August will certainly be a month of research and development for learning the UMA (Unity Multipurpose Avatar) rig. So far our artists love it, as it's proved to be an excellent modeling and animation tool so far and promises to be a good asset to the game.
In the mean time, we have some renders from our talented artist (not UMA-made) to show off.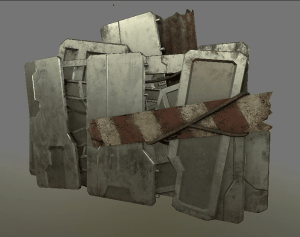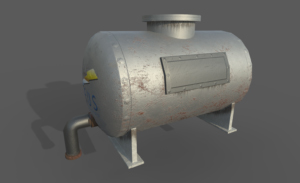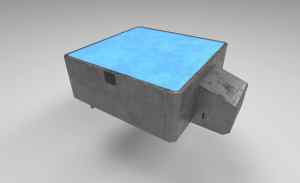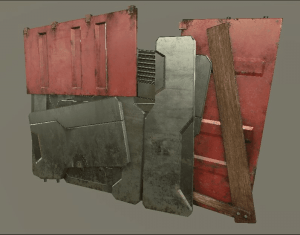 (Top Left: Wall V1, Top Right: Oil Tanker render, Bottom Left: Water Room render, Bottom Right: Wall V5)
Things are also about to get quite active in the programming department, as we're about to get ready for a three week sprint focusing on smoothing out particle systems, combat, AI, in addition to squashing other nasty critters in the coding. Going forward, we are planning to have two additional courses like these in September.
General Update:
All looks good in writing and art. The month has been productive and fairly successful in reaching our goals as writing is continuing to work on various quests and we are currently working on a lot of exciting asset projects that are being doled out as I'm typing this out. One biggie that was nearly completed this month, however, was the creation of hairstyles with only a couple more to work out! We also want you guys to get to know more about our characters that are getting more fleshed out by the week, so I'm going to add a new segment where we get a short character description of two new characters every week with, usually, some dialogue snippets and a nice picture of anyone introduced that day. Unfortunately, for now I can't reveal any WIPs or character designs, so the introduction will be purely text based. But that's definitely something to look forward to in the future! For now, we have a description excerpt from:
Brother London – Character description: A Solace of Anabasis. Not one to incite conflict, he's usually quiet, pensive, and hesitates before responding to inquiry.
Salvatore Molto – Character description: Concerned father. His ex -wife had the kids today, and he can't reach them. He's curt, even unfriendly at first, but he softens if gently pressed.
Of course, with all of the various programming sprints coming up that I've mentioned above, we are still looking for programming talents that specializes in C#. Email johnhr@int-game.net with your resume/experience and list the subject as "Programmer Position", and we'll get back to you soon as possible!
As always, follow us on Twitter, Facebook, Youtube, and don't be afraid to stop by our Reddit. Keep an eye out on this blog for more content coming soon!
- Rachael Verret