A thief needs to be able to hide in the shadows. To that end this thief wears dark clothing with a hood.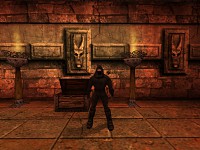 A thief needs to be prepared so he is equipped with specialized weapons. These weapons are versatile because a thief never knows what he might encounter.
The short bow, dagger, short sword and blackjack:
A thief also needs specific tools to aid in his nocturnal activities.
Picklocks are tools to open locked doors and treasure chests. There are also keys. Keys will open nearly any lock but they are difficult to acquire.