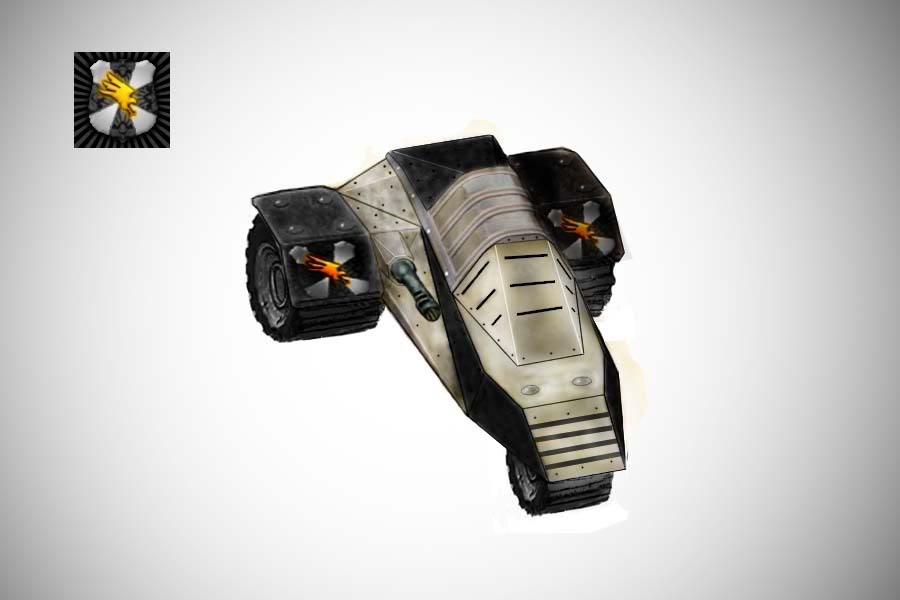 Concept art for the Inquisitor created by RabidEdx532
Order of the Talon "Inquisitor" Trike
In their effort to root out their ancient enemy, the Order of the Talon occasionally has to pursue more subtle plans of action. The tools of their trade can be used just as efficiently in open war as out of it, though they must be heavily modified when changing their purpose. During peacetime, the great threat they go so far to subdue may show its face in less obvious ways, such as corrupt officials, organized crime and many other forms of "regular" evil. If the Order suspects that there is an incident of corruption by the ancient enemy, they will send one of their operatives to investigate, and the "Inquisitor," with its ability to perform equally well on all (land-based) terrain and excellent gas mileage, is the favoured mode of transport - not all evil hideouts are based in cities.
When not in use for war it has no weapons of its own and is not as heavily armoured as the fighting vehicle seen on the battlefield. Nevertheless, whether during wartime or peacetime it is fast enough to be used in a minor scouting role and more able to protect its driver than other vehicles used for the same purpose.
After being outfitted for war, the Inquisitor comes equipped with fairly heavy armour plating for a unit of its size as well as a pair of heavy flamethrowers. The flamethrowers themselves are mostly intended for anti-infantry use or clearing out a garrisoned structure, but they are also capable of serving two further purposes: they can be directed behind to provide a burst of speed and to damage units attempting to follow it (Reverse Thrusters: toggle ability), and they can maintain fire on a more heavily armoured target in an attempt to make it more vulnerable. Heating an enemy unit in this way reduces its defense against all other weapons, including other flame weapons.
Creative Inquisitor drivers have been known to use the heat effect of their flamethrowers to thaw out friendly units frozen by an Allied cryobeam. Stupid Inquisitor drivers have been known to try the same on friendly infantry, and are usually executed after the conflict for treason.
So there you have it! The first spotlight for our new factions. The concept art shown above may be replaced with a model once one is finished, but the other designers and I agreed that we wanted to get info out as soon as possible regarding the new armies. The Order of the Talon army list seems close to completion from what I've seen, so that will probably be going up on the site within a week or two, but a few of the units are more or less finalized and the Inquisitor is one of those. We at Paradox are very excited about all of the new features we plan to add, and with the rumour that the RA3 SDK may finally be released shortly after Patch 1.08, the team is gearing up to finally start throwing these guys into the game.
The plan is still to include the new Allied and Confederate units in the first release of Paradox, as those factions are far closer to completion than any others, but we can't make any guesses as to when it will come yet.
We're still looking for anyone who can help with animation, modelling, texturing or anything else related to concrete aspects of the mod itself!
Contact the team leader, Open Sketchbook, through PM or e-mail (available on his profile page) if you wish to apply!