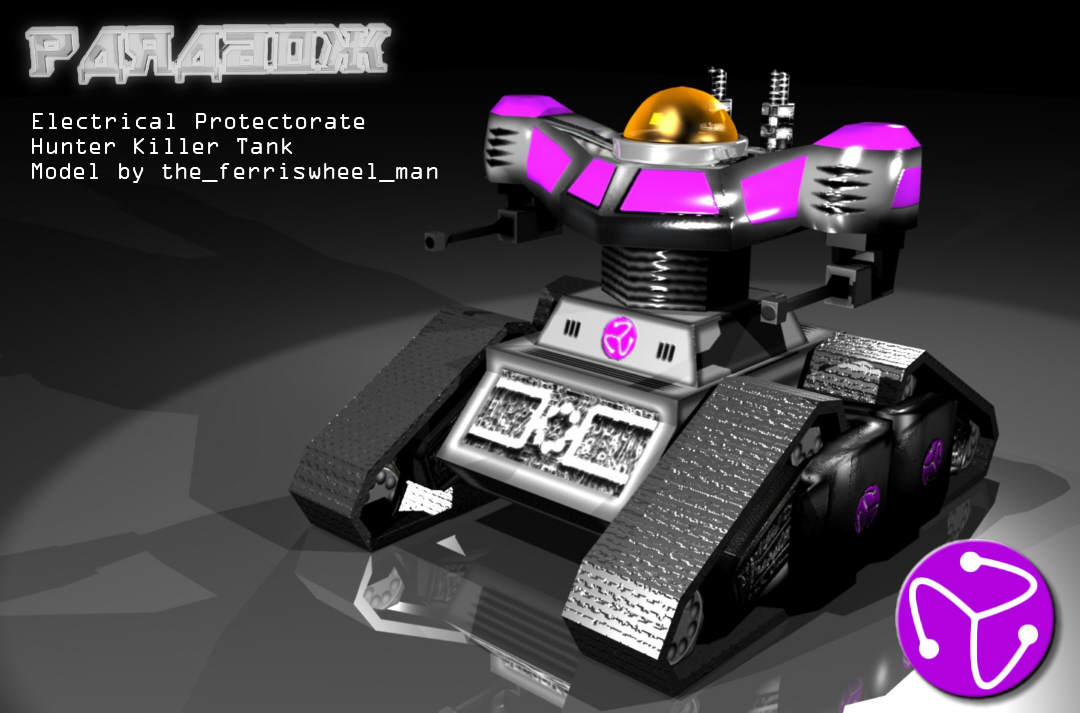 Electrical Protectorate "Hunter Killer"
The Electrical Protectorate vehicle forces are divided quite predictably into two sets: the masses of weak units, and the (smaller) masses of stronger units. In each set there is an anti-infantry, anti-tank, anti-air and artillery unit. It's basic machine thinking; every niche is filled an extra time, just in case. The Hunter Killer is the human name for the larger of the Anti-Infantry weapons, though it's likely that the name in binary is much more simple... from the machine perspective, at least.
The Hunter Killer is somewhat like the Soviet Sickle walker in that it has multiple weapons capable of independently targeting different units, and its high native rate-of-fire makes it ideal for destroying infantry.
The module loadout works as follows:
Conventional (no module): Somewhat musket-ish. Round shots, creating a lot of smoke when fired, but semi-automatic.
Kinetic Ramshell: A pair of what are essentially railguns. Reduced rate-of-fire compared to most Hunter Killer loadouts, but improved range and armour-piercing capability mean that the Kinetic set gives the tank an anti-light-vehicle role.
Chemical Explosive: Essentially a modern 25mm cannon. Shreds infantry as you would expect.
Gattling Automatics: What it says on the tin. Very Sickle-ish, but with slightly higher damage to compensate for increased cost and one less weapon.
Sonic Emitters: A pair of weapons with a thin cone of effect, somewhat similar to what you'd see on an Allied Peacekeeper. Stuns and lightly damages infantry, but does less damage to buildings than most Sonic weapons.
Repair Module: High rate of healing to two different friendly targets.
Support Module: Substantial rate of fire boost to two different friendly targets.
Nanite Swarm: Very low damage, but adds a small amount of money to the EP resource pool with each hit.
Potassium K-Rounds: Higher damage with decreased range, plus a substantial damage bonus against any units in the water; good against infantry and boats, but excellent against swimming commandos.
Fractal Module: Twin "beams" of tiny yellow projectiles, fired in large, sweeping arcs for maximum effectiveness. Will absolutely decimate infantry groups.