Hello guest, fan, member, contributor or whatever.
If you are here means you are one of these guys who are following our project, and that means you are looking of facts. Hope I can give you some advices on those.
On "Okay... Where is the demo?"
I take mod's development as a seriously thing. I respect player's time and I don't feel like releasing something that is incomplete (on any aspect you can imagine). Seriously. And that bring up the questions "why have you released the demo and made it non-public?" or "why have you released the demo and didn't tell me?!" Well, simple, because it was incomplete.
I have released that version on behind doors, expecting to polish it any aspect I could and we did a good job. We have found ton of bugs and gameplay issues we have corrected and now we have a stable, cool, bug-free, filled with new cool-stuff and content version ready to go (it took me two demo-versions to solve these issues and wouldn't have been possible with your help so, thanks)
On "When this mod is going to be released?"
Just a heads up.
We have made "differents" mods and we have also "cancelled" them. Why these quotes? Because these mods were way too similar with the current one we are making but isn't like that.
Have you said... different Mods? Yep:
Five stories
(featured here:
YouTube - Am- Our Way (No audio comment)
)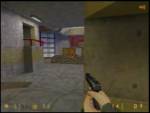 That was a mod I was going to start with a old friend of mine. The one who introduced me into this world and gave me a lot of mapping advices. No ask about story because there wasn't any big one. Oh, wait. There was. The player was an assasin who worked for a secret company. That's all I can remember.
The mod was just a replacement of models and it featured realistic damage. That was my start. Didn't know anything so the mod was cancelled.
Arrange Mode
(or the big jump)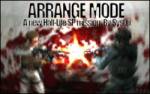 More old media here: Index of /arrangemode/media
Well, I don't know if I should feel shame or I should be proud :P
I started back on Half-Life 2 Spain, with a new that said I was working in a new mod that featured zombies, terrorist and new allies. I started to play around Half-Life and his SDK, also, I added some SoHL features and the mod started to look promising but, honestly, I didn't have ANY idea what I was going to do with it.
The story behind that mod was simple. Same guy, same weirdo company, player doing missions around the world...
A couple of great members (renard, nolito) started to give us suggestions and... because I was the new guy, mind-opened, I accepted ANY suggestion. So, the mod was turning into a bunch of... a lot of things (you aren't the first one r-matt999 :P). I thought, back there, that I was doing a mod everyone will be happy to play. WRONG.
I added multiplayer mode, a coop mode, HL monsters, CZ enemies, whatever enemies, new weapons, stupid effects and A LOT of stuff I've found around the web. Everything was there. Everything you can image.
Anyways, the mod was promising, hell yeah, and new people still wanted to join. I accept them. I was mind-opened remember? So, I started to get new weird maps, really weird and low-quality ones. Really. Two hollow boxes conected with a wall using a single texture... stuff like that. :sick: Still, we were a couple of guys doing stuff for the simple fact of doing it.
After a couple of months I decided to release what we were doing, to everyone (NO KIDDING) and I called it Arrange mode ver 7.5. The people played it, some of the players were pleased, others weren't, some others said lol wut.
Half-Life 2 emerged and I couldn't resist to add his features into that mod we were making. So... a bunch of maps, content, features and a lot of HL2 stuff was introduced into our mod. A lot. We even add HL2-like maps into the story, guessing the players will be awesome with that :shok:
Almost without notice, we were trapped in something we created. We spent a lot of time on stuff we weren't sure to use it or not. Also, people who worked whit us were missed, some of them suffered accidents (no kidding), I had a lot of PC-related problems and I was run of time because I had found a job and so on.
This mod was cancelled and abolished-perished when the next mod replaced it.
Arrangement (the current one)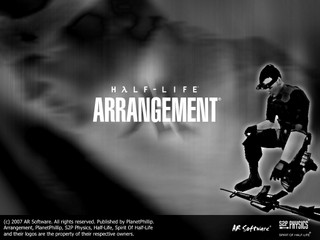 Two years ago I had a talk with a great fellow of mine Phillip Marlowe in where we were supposed to cooperate toghether. He said "come on, that name (Arrange Mode) means absolutely nothing, we should improve it". I said "ok!" because he was pretty damn right. So, I really did a big effort and renamed it into Arrangement.
That new name did mean a lot. It was a new change. A new completely one. So, some fellows and I focused on clean the garbage and rewrite completely the story.
On this years I've been reading tons of books and adquiring experience in so many ways, so, the results of our work were incredible and we started to shine. We have won many prizes here and there. I got interviewed here and there. I've been recognized for the effort and I got a great job. I've meet awesome guys around the world...
Anyways the drawbacks were so many. Also, we had a couple of bad situations. I was run of time 'cause many works I had. That taked us a lot of time. Also, recently, I had a problem with my power-supply and I was un-able to run any OpenGL application. That was solved thanks a donation from NicoLoader.
That's the story by now. Hope you can understand why this project is taking some time to release. If you want to get this project faster, you can tell your friends that we are still looking for help!.
Thanks for reading and for your patience. Cheers and thanks to everyone who make this project possible!