An old team member VINC has offered to create a host of historical characters which will appear as ancillaries at certain historical dates in certain settlements. These learned men will offer various bonuses.
"Petrarch is popularly defined as the first humanist, however, figures such as Albertino Mussato, and his teacher Lovato Lovati are argued by many scholars to have preceded Petrarch an humanism in their use of classical works. Humanism, or "pre-humanism", began in Padua in the 1260s with Lovati modeling poems based on Ovid and Horace, followed by his pupil, Mussato, classicizing prose and modeling his play, Ecerinis, after the Senecan tragedy. The interest in classical works by the Northern Italians, is argued by Nicholas Mann to originate in the study of Roman Law, the Corpus Juris Civilis. Northern Italian early humanists, such as Lovati and Mussato, were often lawyers, and applied Roman law to contemporary legal situations. The lawyers studying these ancient Roman legal texts also became interested in other aspects of classical heritage: history and moral philosophy. The main interests of early humanists, such as Lovati and Mussato, did not lie in advocating for an emulation of historical Greece or Rome, but in the mythical worlds of Gods and heroes of classical Latin poetry. The early humanists did not have as romanticized a view of the superiority and glory of ancient societies, like later humanists such as Petrarch, as their works predominantly attempted to evoke the emotions and thoughts of ancient society."
We will have everything from famous humanists, the Neoplatonic Florentine Academy, scientists and technicians, court fencing masters and more.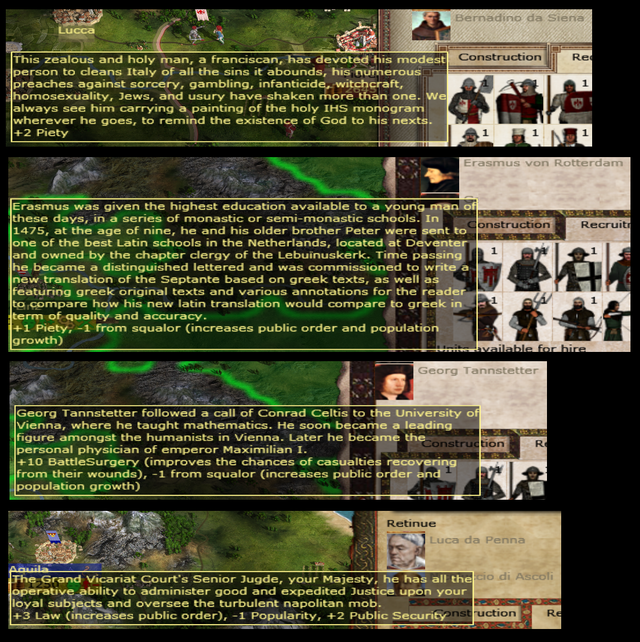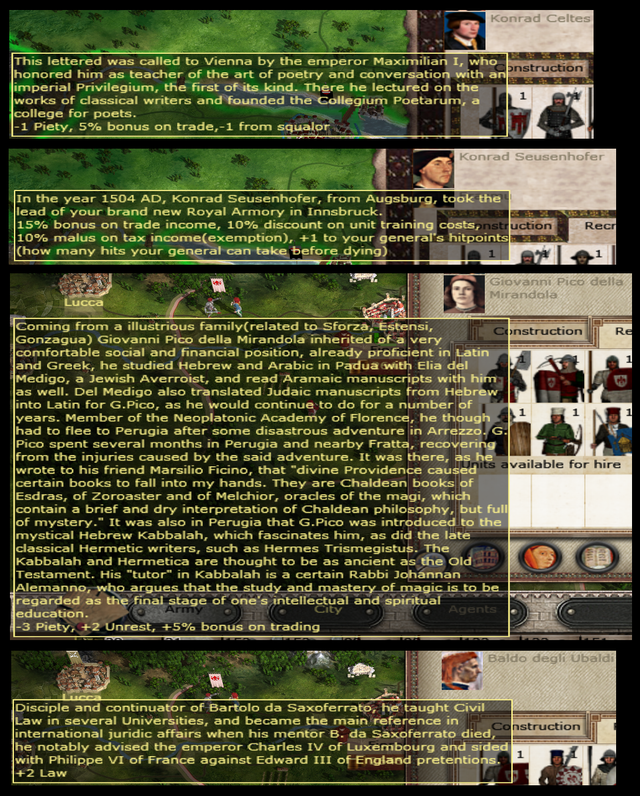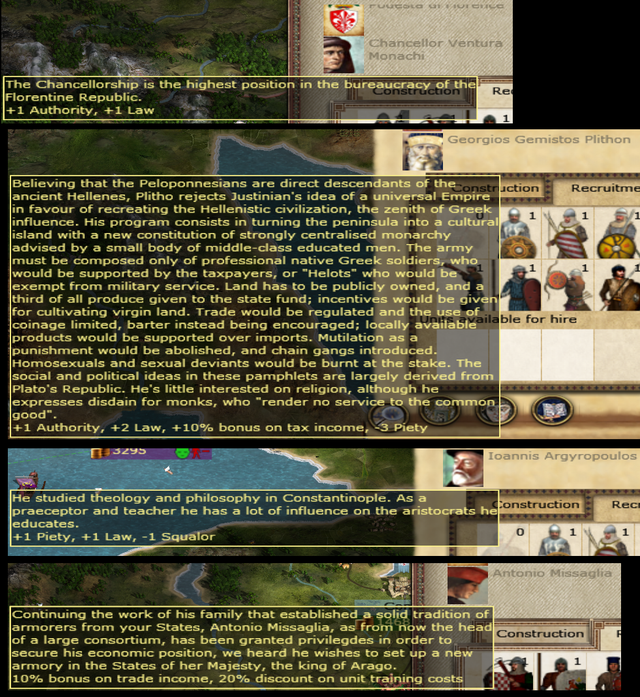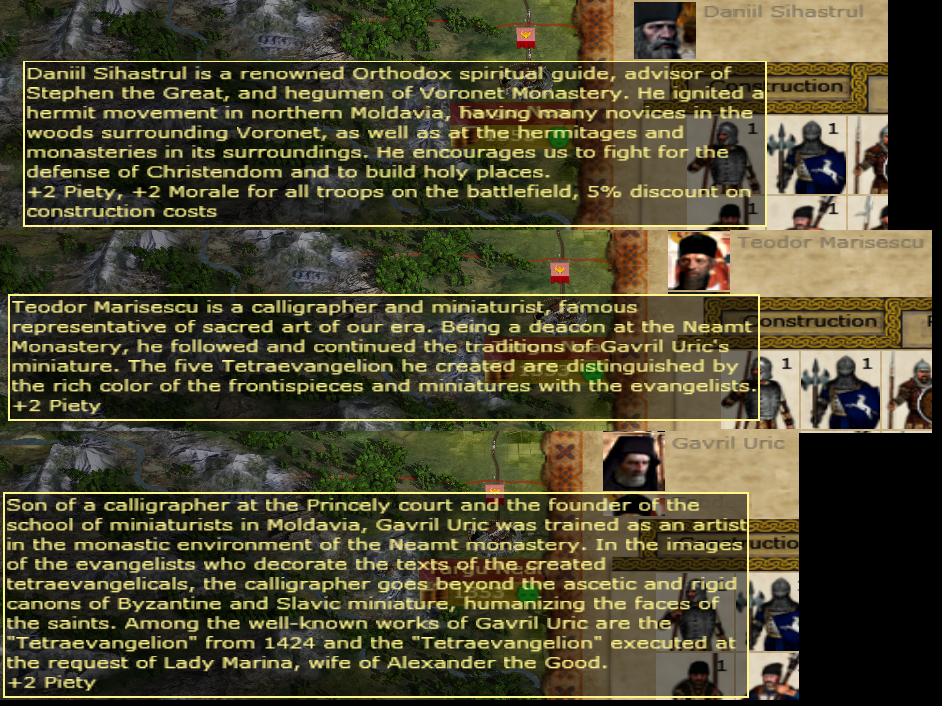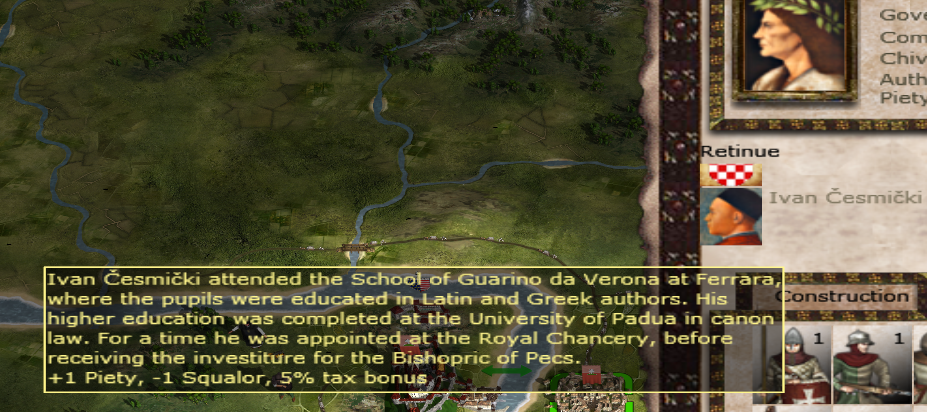 An incomplete list includes:
The Major Poets(already presents as emissaries):
Giovanni Boccaccio 1313-1375
Francesco Petrarca 1304-1374
Post-Glossators(jurists, civil law teachers...etc):
Federico Petrucci ~1300-1348
Giovanni d'Andrea 1275-1348
Bartolo de Saxoferrato 1313-1356
Ranieri Arsendi da Forli ~1290-1358
Alberico de Rosate 1290-1360
Maddalena Buonsignori(woman) dates unknow, still living at 1380
Luca da Penne 1325-~1390
Baldo degli Ubaldi 1327-1400
Angelis de Ubaldi 1327-1407
Antonio da Butrio 1338-1408
Bartolomeo da Saliceto ...-1411
Piètro d'Ancarano 1333-1416
Jacobus Palladinus de Teramo 1349-1417
Francesco Zabarella 1360-1417
Pier Paolo Vergerio 1370-1444
Mariano Socini il vecchio 1401-1467
Bartolomeo Socini 1436-1507
Praeceptors:
Gasparino Barzizza 1360-1431
Guarino da Verona 1370-1460
Vittorino da Feltre 1378–1446
Franciscan authors(piety gain):
Bartolomeo da San Concordio 1262-1347 (also poet, jurist)
Bernardino da Siena 1380-1444
Niccolò da Osimo ~1370-1453
Dominican authors(piety gain):
Nicoluccio di Ascoli
Caterina Benincasa(St-Catherine of Sienne) 1347-1380
Girolamo Savonarola 1452-1498
Humanists(piety loss, unless otherwise specified, but some learning bonus or whatever):
Giorgio Gemisto Pletone/Γεώργιος Πλήθων Γεμιστός 1360-1452
Poggio Bracciolini 1380-1459Francesco Filelfo 1398-1481
Pontanian Academy(or "Accademia Alfonsina", Aragonese Naples):
Giovanni Pontano 1426-1503
Jacopo Sannazaro 1457-1530
Antonio Beccadelli 1394-1471
Neoplatonic Florentine Academy:
Marsilio Ficino 1433-1499
Cristoforo Landino 1425-1498
Agnolo Poliziano 1454-1494
Giovanni Pico della Mirandola 1463-1494
Gentile Becchi 1430-1497
Pure scientists and technicians:
Milanese armorers:
Simone de Currentibus dates unknow, active from 1371 to 1395
Giovanni Meraviglia dates unknow, active in 1391(privilegde granted this year)
Antonio Missaglia 1416-1496
Francisco de Merate dates unknown, active in 28/08 1492.
OthersGiovanni
Dondi dell'Orologio 1330-1388 Clockmaker, astronome, created an Astrarium
Filippo Brunelleschi 1377-1446
Mariano di Jacopo 1382-1453 superintendent of roads and hydraulic engineer.
Luciano Laurana 1420-1479 Architect, of croatian origin(Lucijan Vranjanin), worked for aragonese Naples and romagnol lords(Urbino, Mantua, Pesaro...)
Jacopo Berengario da Carpi 1457-1530, active from 1489(degree obtention) to 1522.NB: Anatomist, famous surgeon, pionner in chirurgy, opposed to Galen conception of human anatomy.
Vannoccio Biringuccio 1480-1539 Famous metallurgist NB: "In his career, he was in charge of an iron mine near Siena, and also in charge of its mint and arsenal. He was in charge of casting cannons for Venice and later Florence."
Bodyguard/court fencing masters:
Fiore dei Liberi 1350-1420
Philippo di Vadi 1425-1501