Tiberian Sun: Asset Expansion isn't just a mod. Hopefully one day it will also be a toolset. The entire goal of TS:AE is to remaster every asset to a replicable standard. Hopefully, in order to create any asset for TS:AE, all a modder will have to do is:
1: Own 3dsmax or a similar program
2: Have a basic understanding of how to drag objects around on the screen
3: Understand how to render objects correctly
4: Understand how to get the new custom assets into the game
Most of the TS:AE assets that have been posted have required very little photoshopping, and many have required none at all.
That being said, I'd like to take this week to showcase some of the stuff you can make with TS:AE's render environments in a very quick timeframe. All of these assets took less than a few hours to make, and are by no means the only possibilities. Generally speaking, I have expanded upon an asset already in the game so that it "fits" in the world and doesn't stick out like a sore thumb.
First, we have the Port-A-Shack and Port-A-Shack deluxe. I did doll them up a bit compared to vanilla TS, but the change is subtle.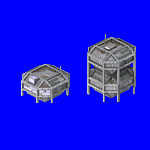 These buildings are very common and I assume they were meant to be houses of some sort. However, I have taken the idea of them being prefabricated modular buildings and made more and larger buildings based on that idea.
Here are three quickly strewn together ideas that fit with these buildings.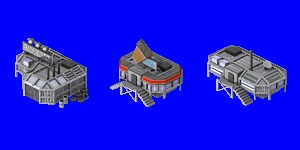 From left to right we have an automobile garage, a coffee shop, and an middle class home, all based around the aesthetics of the Port-A-Shack.
As a second example, here are the Subterranean Dwellings that are found in the map.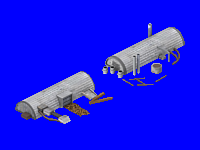 To me, I thought they looked like Quonset huts, and have expanded them with that idea in mind.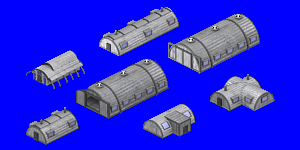 Just piecing and resizing certain assets together were the only techniques used to create these buildings. As the saying goes, the only limit is your imagination.
Towards that end, I've also been working on Doodads (bits, or whatever you'd like to call them) that will be of great help in decorating the environment. Expect many many more in the future.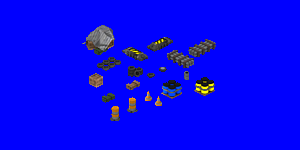 I couldn't let the day's post go by without showing some sort of progress for GDI and Nod, so I decided to appease both and remaster the Tiberium Harvesters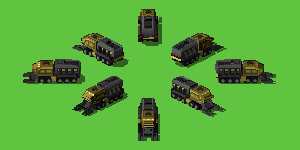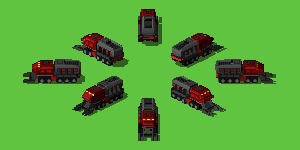 But, as always, there is a lastly leastly, but one that I am particularly excited to share with you all.

INFANTRY
I did say every asset, didn't I?
TS:AE will also include a large library of animations to...you know what? How about I just show you some very WIPPY but fully rigged and ready to animated infantry and let them do the talking.
Some people like outlines, some don't, and TS:AE can render infantry in either fashion.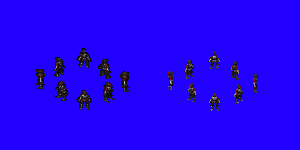 Tiny tiny I know. Here are two that are blown up to 300%.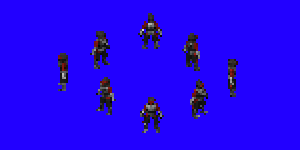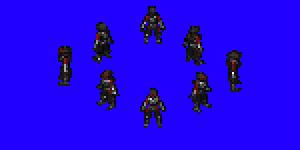 Generic poses aside, these are still somewhat a work in progress, but are nearing completion and are worth sharing.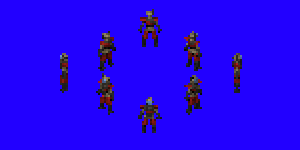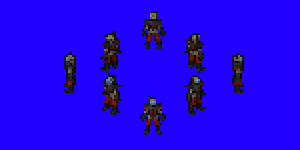 And finally, here are some WIP infantry accessories for GDI.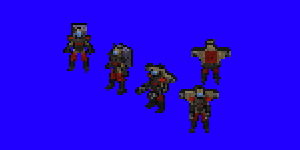 (NOTE: THIS IMAGE IS NOT TO SCALE)
So get ready to strike a pose.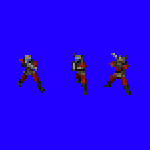 Bye for now!