Black Forest Tribes


The dark heights of the Eryn Vorn receive the winds of the Sea. Of late the winds bring only clouds and rain and the smell of salt – but in the days of long ago, before the Dark Years, the winds brought great ships like floating houses bearing men tall and stern. These strangers made settlements along the coasts to the south. They disturbed the land. They hewed down trees. And they made war.
Only dim memories and faded stories remain of those days, when the fearsome Elves fought against the loathsome Orcs of the Dark One, who brought fire and ruin to the waste the new-come men had made. Now, there come stories of wraiths and evil hill-folk from the north, while rumours whisper of other troubles far to the East.
But from stockaded homesteads deep in the pines of the Blackwood, and from villages hidden among the reeds, the people of the forests and the coasts have begun to gather. Far from the eyes of the mighty kings of men, the tribes are growing strong under warlike chieftains. It has been many lives since they crept from the shelter of wood and bog, but the time is at hand when the foes of the Black Forest will go in fear of the night, when the wind will speak to those enemies of the feathered shaft and the hidden spear.


Tier 1

Coastal Raiders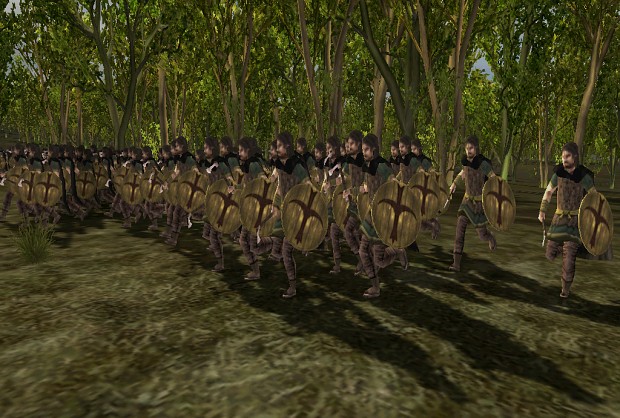 Lightly-armed but eager axe men are the mainstay of tribal raiding parties, and mustering bands of these Coastal Raiders for longer service in campaigns has been key to local chieftains extending their sway from Eryn Vorn to Enedwaith. While their shields provide some protection, they have neither the training nor the armour to stand for long against a disciplined foe. Like most of the warriors who hail from the region, these men are woodcrafty, and their strength is in ambush and swiftly overwhelming their enemy rather than in battle on an open plain.

Coastal Hunters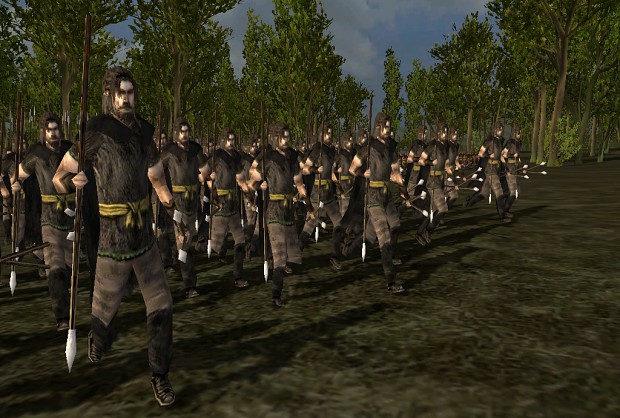 The western coasts of Eriador and Enedwaith are ripe with game - fish and fowl and beasts small and large. These skilled hunters try their spears against all of these, and, when the chief summons them to raid or war, they bear their weapons with an expertise gained by years of stealth and toil in the wilderness. Though poorly defended and unused to open battle, they can be deadly at range, even to well-trained soldiers.

Tier 2

Longspearmen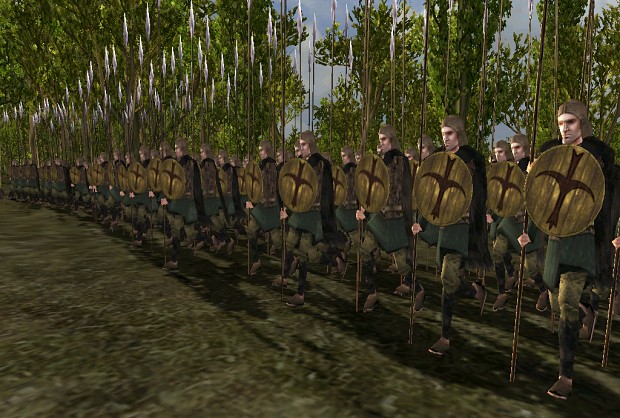 Metals are rare to the native peoples of the coastlands of Enedwaith and Minhiriath, so when battle must be joined, many of these men rely on keeping distance from the enemy rather than armour for protection. Longspearmen are trained to fight in a group, rather than as individual warriors, which is especially useful when facing the riders of enemy nations, but they must be supported by more aggressive fighters if they hope to carry the day.

Woodmen Foresters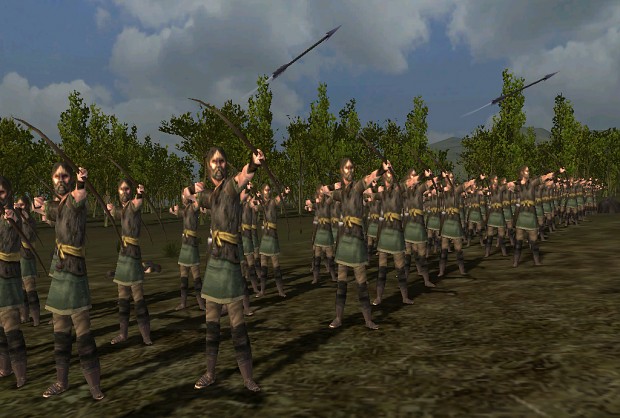 These lightly-armed bowmen are at home in the dark forests of the Eryn Vorn, or hunting patiently in the woods along the coasts and riverbanks. Expert stalkers and ambushers, they are deadly at range and enthusiastic fighters in melee, wielding an axe against foes who close the distance between them. However, like many of the men called to arms by a chieftain of the coastal tribes, the Blackwood Bows are poorly suited for open battle, being neither disciplined nor armoured against arrow or sword.


Tier 3

Blackwood Warriors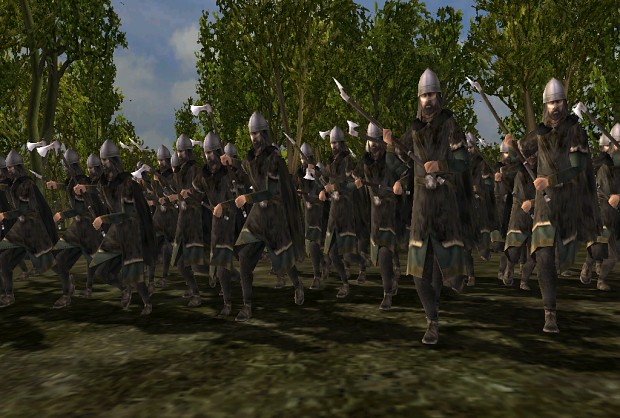 These axe-wielding warriors of the coastal woodlands are among the sturdiest and fiercest fighters a chieftain of the Blackwood can lead into battle. Armoured only with an iron cap and leather or hide jerkin, they are nevertheless eager to prove their worth in melee. Whether defending their forest steadings or taking the fight to an overconfident foe, they are reliable and hardy men.

War-dogs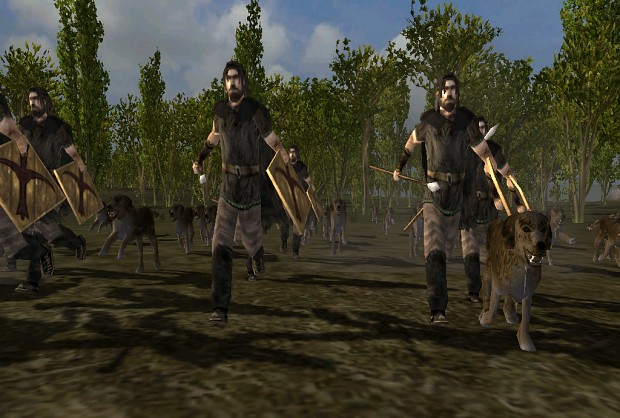 Well-trained hounds make good companions on the hunt, and for the isolated communities of the Blackwood they are wary and formidable guardians. The largest and fiercest of these sometimes accompany their masters on raids or skirmishes, where they learn to run down fleeing foes or maul those who choose to stand and fight. Even an experienced warrior may quail at the sight of a pack of snarling, savage war-dogs! The dogs' handlers bear small shields and hunting spears, to goad the beasts and defend themselves at need, but they are best kept out of melee unless they can outflank an already damaged or demoralized enemy.

Chieftain's Guard (Bodyguard Unit)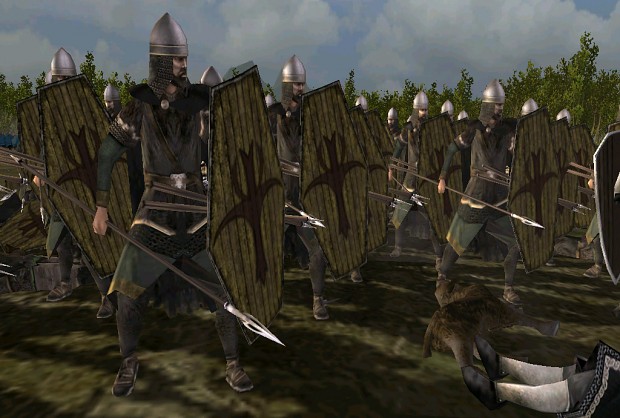 The men of the coastlands and Blackwood go seldom to open war, but when need drives them to fight, their leaders are accompanied by a guard of strong spear-warriors. Each man in the warband carries a pair of heavy throwing spears and a stout spear for thrusting. Their armour is a rare treasure for the rustic tribes of the coasts, reserved for their clan chiefs and guardsmen, who often assemble the long coats of mail from pieces taken from fallen (but better-equipped) enemies. These warriors are among the best of their people, and can hold the line against all but the most elite foes.


Special Units

Drû-Wardens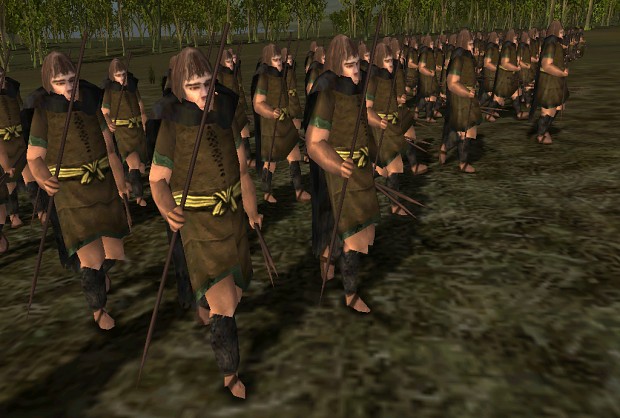 Only a remnant of this secret and fell people remains now in Middle-earth, but before the foundering of Beleriand the Drû-folk lived and fought alongside the Haladin in their struggle against the Orcs of Morgoth. Now dwelling in remote mountains and forests, they shun outsiders but will at times form strong bonds with the wary folk of wood and fen, among whom some dim memory yet remains of the ancient People of Haleth. When roused to war, Drû-Wardens prefer to fight from ambush with javelins and short spears rumoured to be dipped in poison.

Shield Sisters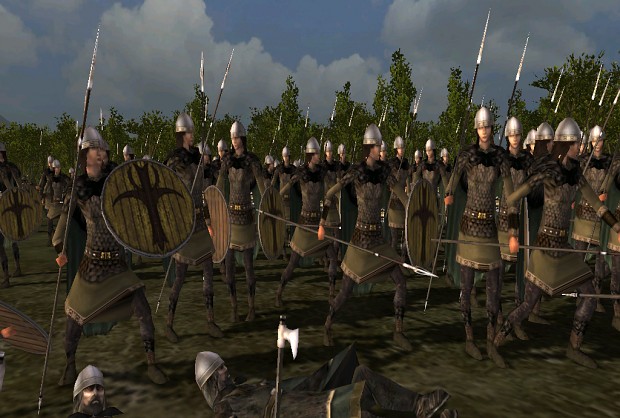 The tribes of the dark woods and coasts of Enedwaith and Minhiriath share little in common with other Men, keeping to their own speech and customs. One of the strangest of these - little known to outsiders, with whom they have had few dealings - is the presence among them of women warriors. Indeed, like the Folk of Haleth, to whom they are of old akin, many of their women do not marry, and not a few take up spear and shield in defense of their isolated, stockaded settlements. These Shield Sisters are formidable fighters, and while they go on few raids beyond their borders, they tend to be better armed than some of the lightly-clad hunters and fisher-folk who are called to muster in a crisis.


Disclaimer: This is not an exhaustive list! All rosters are a work in progress and unit list may not be complete or finalised; appearance and description may change in the final release.


After showing three fairly major realms of the period we thought it was time to share one of the smaller and less important factions in the mod. The Black Forest Tribes represent the much maligned natives of the coastal regions of Minhiriath and Enedwaith, and are probably a bit of an underdog even in this remote corner of Middle-earth. A fairly primitive faction, both lore wise and gameplay wise, they should present a fun and difficult campaign for the experienced RTW player who would enjoy the challenge of bringing some good fortune to the long-suffering Gwathuirim.