Hey sorry for not being here the past few days, my nets been down since wednesday last week...
Anyway its working now so i have some news.. I made the top 100 WOOOOOOOOOOOOOOOOOT!!!!!!!
Now with that out of my system i can move on to one of three things...
Number Three...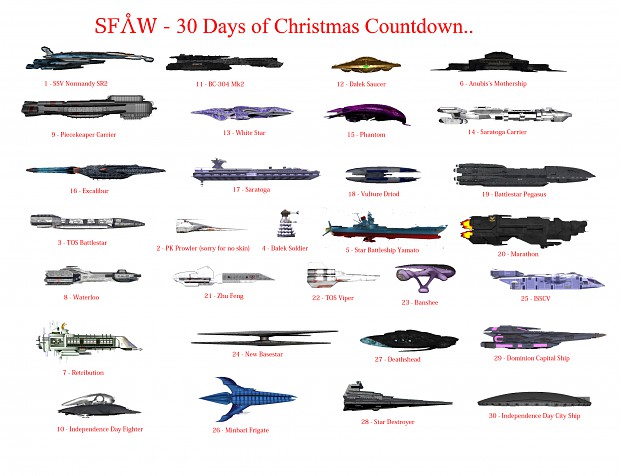 This is my 30 Days till X-mas image. It basically works like those kids chocolate boxes, every day or so i will open a box coresponding to the number of days before x-mas it is... and all the images are models from in the mod and they are not scaled lol... So if its 1712/2010 ill reveal box 7 with number 1 being revealed X-mas eve... Thats just a treet to give u an idea of whats coming. All images will be ships that will be in the mod, either as easter eggs for you to find or as usable ships...
Number Two...
I have two new ships for the Halo faction, thanks to Theophilis again for doing all the converting for not only those but a tone of new untis that will make there way in eventurally... those wont be revealed yet... but maybe soon...
Number One
Finally its decided, the tournament is over with a rather twist of a finish... go watch the video to find out what :p
Anyway, thats it from me for now, have fun
Spino