Stability
---
Stability is a thing very sensitive in sins of a solar empire, there is the 2gb limit, very sensitive scripting system and of course bugs where you have no idea what caused them...
This mod used to have all these problems, not anymore though as all bugs in the game have been squashed and yesterday night a 3 man test was done over the course of 2 hours, we had a stable game with no crashes, hiccups or hangings.
These tests didn't just provide proof for stability it also allowed for some good balancing before anything is released to the public, especially when it comes to starbases and other defensive structures.
This test means that right now I have a mod that just needs some further tweaking and small additions before its ready for its first release, I know i have said this before but right now we have had multiple tests with each no crashes or issues, so i am confident a release is very close.
Titans
---
I have showed you the shockwave vessel for the klingons in the previous updates but now the Federation titan is ready to be revealed
The Federation Excalibur class, this titan will function as a large carrier, with 6 slots for fighters or runabouts, its other powers are currently equal to the tec loyalist titan but this will be changed before release.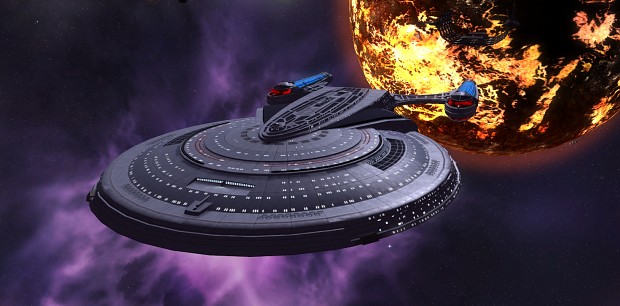 Facebook
---
We now also have a official Facebook page where updates will be posted as well.
Facebook.com