Tidalis Official 1.005 Released (First Free DLC and Bugfixes)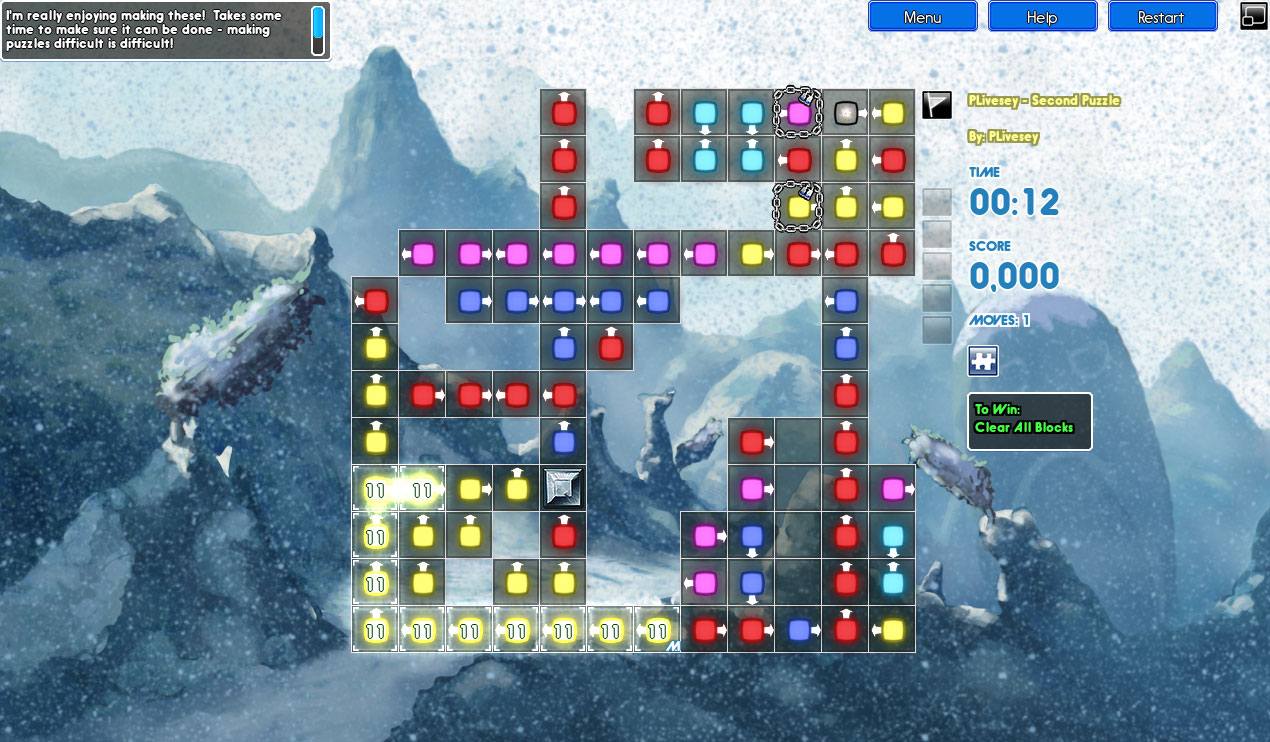 This official release includes a lot of new stuff for players to enjoy, a lot of it suggested by fans. It adds the new VS - Race multiplayer ruleset for use against the AI or against other players, as well as a new Boarded Up block type. It has a lot more flexibility in what fullscreen resolutions players can use, even if their graphics card/OS doesn't report a resolution that they want to use as being supported. There is also a revamped sound subsystem that lets the game load faster, play multiple copies of the same sound effect at once (which sounds much better), and which avoids some issues on OSX.
Also included are 12 new Brainteaser levels created by players, a new visual block style created by a player, and updated stream graphics that look a bit fancier. Music tracks also now fade in when starting, which is a noticeable aural improvement. Aside from the above, this release has a number of bugfixes and other, more minor player-suggested tweaks.
All in all, an exciting first bit of free DLC, both with Arcen-created content and community-created content.
Enjoy!
Click here for the full release notes
Full Installer Links
Don't yet have Tidalis, or haven't yet tried the demo? You can now get the full 1.005 installer from our Download Tidalis page, rather than starting with 1.000 and upgrading after the fact.
Manual Patch Links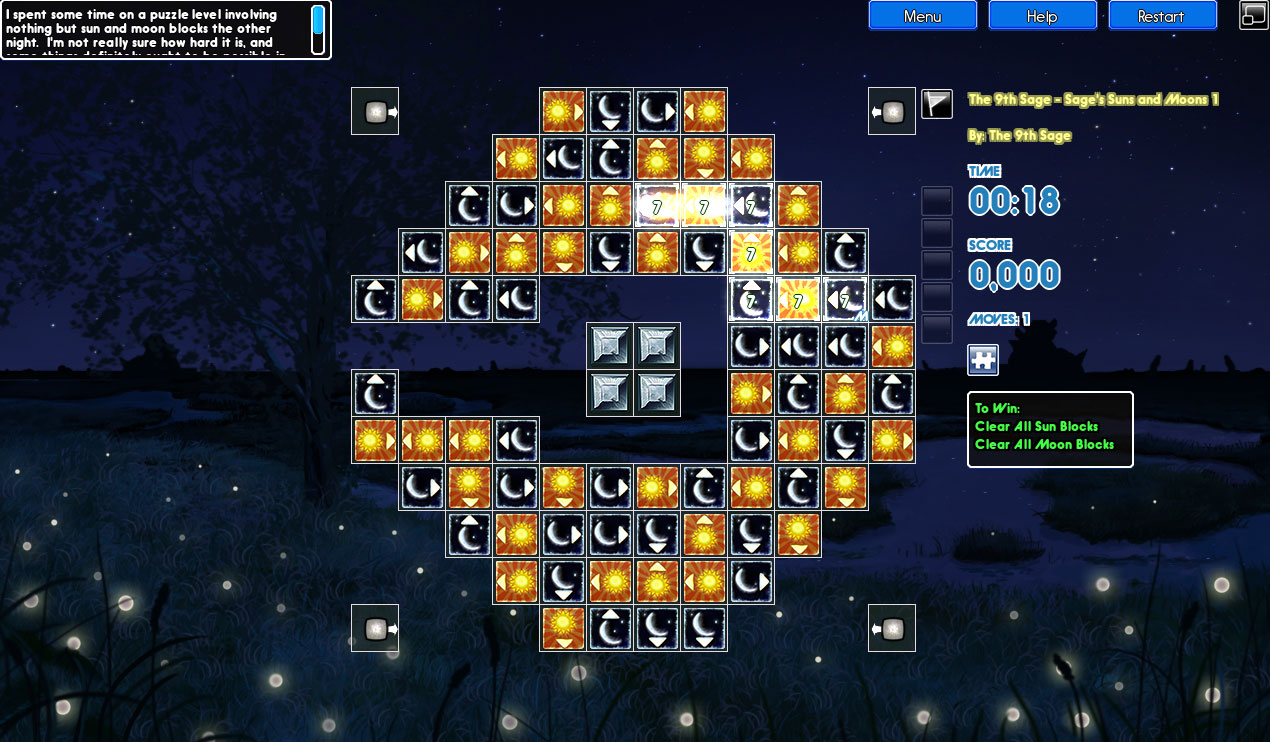 Unfortunately, after the 1.001 version was released it was discovered that the 1.000 version of the game has a broken download mechanism for its installer. We ran into this one other time, all the way back at 0.401, so fortunately we have a simple mechanism for dealing with that. If you simply download and run the manual patch program below for your operating system (Windows or Mac), then you'll be all set and future automatic updates should work just fine.
We apologize for the inconvenience of this -- the 1.000 version fixed a problem with the Mac version of the updater, and unintentionally introduced this larger problem to both the Windows and Mac versions of the game.
If you have a copy of the game from Steam or Impulse, no worries -- the automatic updaters that are native to those platforms will take care of you. In fact, with them you don't need to worry about manual patching at all unless you want betas in advance of when the cumulative official release comes out.
Tidalis "Design A Block" Contest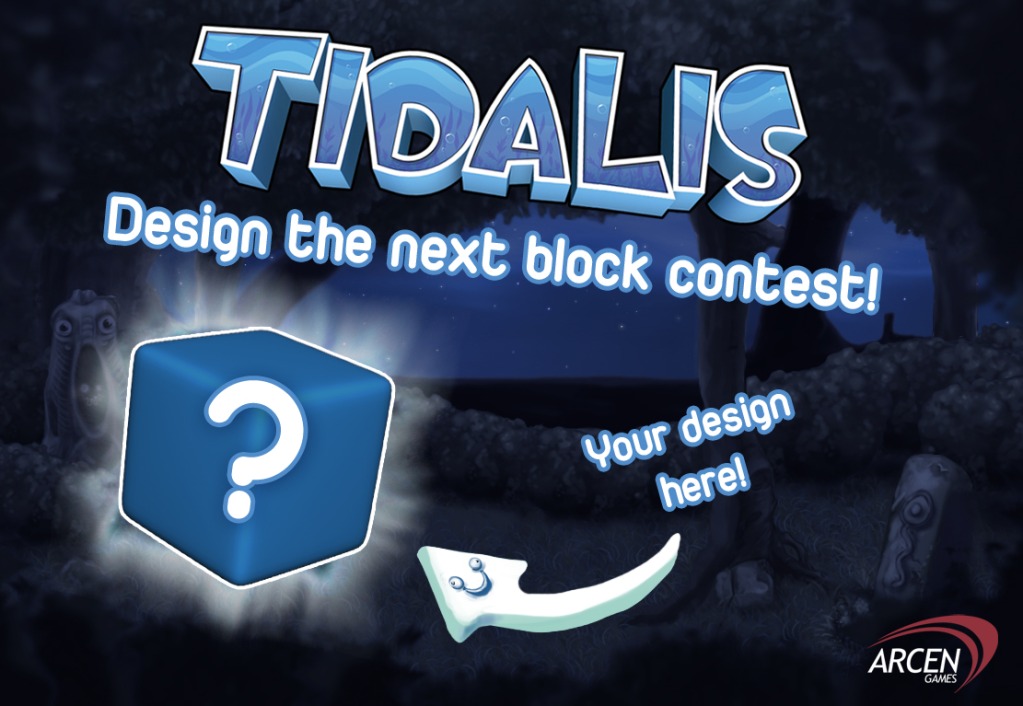 For quite some time, Arcen Games has been committed to adding fan suggestions to AI War via general suggestions and our Community DLC poll in the AI War forums. In the case of Tidalis, today's new official version 1.005 of the game continues that trend by including 12 new player-created levels, several bits of player-created art, a new player-suggested VS game mode, and a number of other updates and tweaks based on player suggestions.
So what's this contest, then? Well, it's pretty simple: if you have ideas for new mechanics that you'd like to see in the game, submit them in our Tidalis Suggestions forum. We'd most like to see new block ideas, but if you have ideas for new game modes, VS rulesets, or similar, those are also welcome.
Approximately every two months, we'll select one or more entries to actually implement into the game, with art and sound effects as needed, and with your name (or forum handle if you prefer to remain anonymous) featured in the release notes as well as the game credits. Best of all, this is a contest where everybody wins, because all existing Tidalis customers always get these sorts of "free DLC" updates... for free.
Not much of one for gameplay design? That's okay -- if you're into level or brainteaser creation, you might prefer to simply submit your custom levels for potential inclusion in the free DLC. Twelve player levels have already become a part of the official release versions of Tidalis, and yours could be next. Here again, we give full credit based on your name or forum handle (your preference).
A lot of games have community mods or levels, but what we're offering is a chance to affect the actual core official game, not just an obscure addon. At Arcen, we really believe that players are full of good ideas, and we've seen the frustration that many people have with their inability to see anything come of those ideas with the larger companies. With AI War we were so inundated with suggestions that we had to institute the Community DLC poll, and now with Tidalis we're going to handle it a bit differently with this bimonthly Design A Block contest.