A common refrain over at The Dark Mod forums...
... prior to the announcement of the Crucible of Omens campaign was "you should make a full scale multi-level game".
This topic became quite active when Greebo added campaign support in v1.06.
Knowing that the core members were still quite busy building core features into the mod, many prominent mappers floated around ideas about an ad-hoc campaign where the TDM community would share responsibilities to fulfill the long-standing request for a "full size" TDM experience. This was to be an homage to all the great work that the TDM team has done for the community. In retrospect, the goal of a "full size" TDM experience was nearly a reality anyway. By a stroke of fortune, Sotha, one of the most productive mappers for TDM had created a multi-mission spanning story that now encompasses 6 excellent missions (the Thomas Porter series). Prior to this, GoldChocobo, Mortem Desino and Railgun had released a 3 mission mini campaign "No Honor Among Thieves" (with maps that are still amongst the largest released for TDM, defying the concept of mini...). Still, the conversation about some effort to take advantage of campaign support persisted.
In the midst of this din, The Dark Mod's newest coding member calmly announced the most astounding plan...
He had already built the majority of a few missions and was planning to incorporate them in a large multi-mission campaign!
The missions would, at first, be released episodically so that players would not have to wait for the complete project to come to fruition. The consequences of this announcement were far reaching. Not only would high quality missions be supplied over the coming months, but The Dark Mod itself would come to incorporate features that would help Grayman bring his mission concepts to fruition. The addition of new AI capabilities, fixes for old broken behavior, and implementing old designs that were not yet in the mod were among the many benefits of this new found focus...
---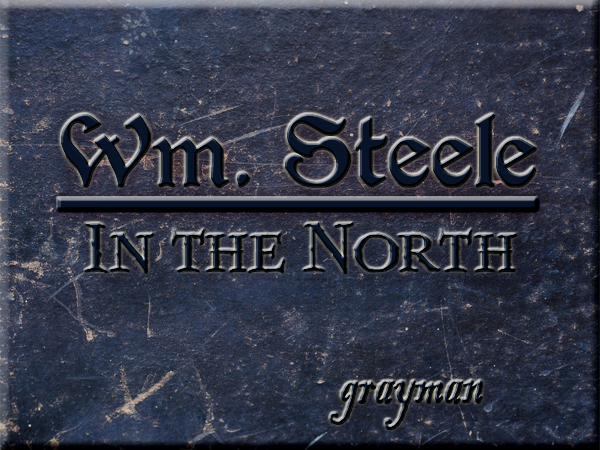 Grayman Interview:
Q: Who is William Steele, where did he come from and what does he have in mind for his destiny?
We know from In the North that Steele left Bridgeport after an argument with his father. After several years away, he's decided to return home and patch things up. Given his abilities, he's probably planning to make a career in the City Watch, or perhaps join a Noble's household as a senior officer. We'll have to wait for the second mission to learn how these plans play out.
Q: Are there any themes, concepts, or lessons in the tale of William Steele or is it more of a sim/realistic "story agnostic" experience?
There is a theme, but I don't want to give it away at this point.
Q: When did you decide to make a campaign following a single character's story, was this always the plan?
A year+ ago, I wrote Steele's story and planned seven missions to tell it. Around that time, Melan released Fauchard Street, and I decided to try a 24-hour mission, following Melan's lead in creating a quick, short mission. The intent was to give a bit of Steele's back story before launching into the main storyline. After 6 hours of mapping, I concluded that I was too consumed by details to create a reasonable mission in 24 hours, and abandoned the idea. In the North blossomed into a large mission over the ensuing months, and--adding it to the front of the Steele missions--it became the first of eight.
Q: How many missions are planned, have you begun work on any of them?
Eight missions. The second mission, Home Again, is well along, and the third mission, Cleighmoor, is virtually finished. Cleighmoor was my first attempt at creating a mission, over two years ago, and it was designed w/o Steele in mind, but I've adapted it to Steele's story and it fits in quite well. Missions 4-8 are written, but I've done no mapping for them yet.
Q: In the North is a tour de force showcase mission for TDM 1.08 features, will any of your upcoming missions require new features that are not yet in the mod?
At this point, no. We'll see what happens, though.
Q: Do you suppose that William Steele will ever meet Thomas Porter (from Sotha's missions), Corbin, or Farrell?
These are different storylines, so no.
Q: In the North is one of the most visually impressive TDM missions yet. How many custom textures, models, etc were made for the mission? Can we expect more of these refinements in the upcoming missions?
No custom models were made specifically for the mission, though it's the first to use RPGista's stone bench. In the North makes use of a couple dozen custom textures and a couple dozen custom sounds. Future missions will certainly use new sounds and possibly new textures.
Q: You have a lot on your plate as one of the lead coders, helping the Crucible of Omens team, your own William Steele campaign, etc... Do you need a coffee break?
I not only need a coffee break, I need a couple months on a deserted island.
Thanks!
---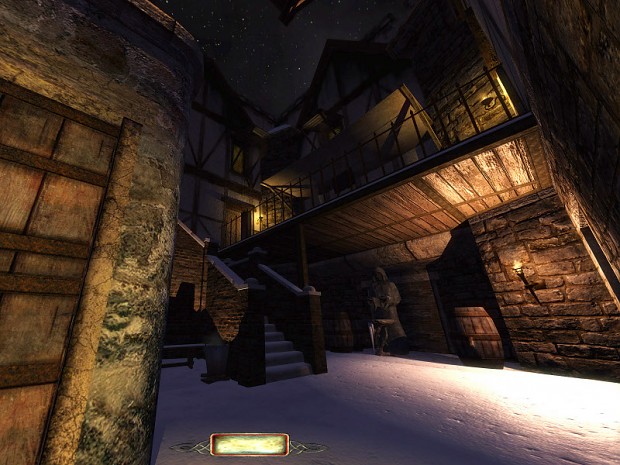 ---
In the North
Summary
In the North is a mansion heist that takes place outside the town of Braedon, north of Bridgeport. William Steele is an adventurer from Bridgeport who has been away several years, working as a soldier/guard for one Lord Bascombe at his castle in Braedon. Lord Harckoff, a nasty fellow who lives in a renovated Builder church nearby, sees Bascombe as a threat to his shady business, and has put a price on Bascombe's head. Steele decides to visit Harckoff one night to see what he can do to prevent Bascombe's death.
The William Steele Missions
In the North is the first of several Steele missions. Altogether they'll tell a story of corruption, greed, and revenge. At some point, I'll start packaging them as a campaign, in addition to the single missions.
Download
This Mission can be obtained using the in-game loader. Look for WS1: In the North.
Mission Details and Download: Thedarkmod.com
Alternate: In the North (Create a folder named "darkmod/fms/ws1_north" and unzip the two files into that folder. WS1: In the North will then appear on TDM's "New Mission" page.)
Build Time
About one year.
Thanks
Thanks to the TDM team for creating a terrific platform for storytelling and stealth gaming.
Thanks to Bikerdude, Springheel, and AluminumHaste for beta testing, especially at a time when we were all busy dealing with the final phase of TDM 1.08.
The Translators (Smallman, Overmann, and Sengu) are hard at work on translations for various languages, so thanks go out to them as well. Localized versions will be available after they're completed and tested.
And thanks to YOU for playing!
Known Issues
This is a large non-linear mission. To ease the burden on slower systems, consider shutting doors behind you as you go.
If you experience low frame rates, please consult the Performance Tweaks page on the Wiki.
Performance Tweaks
For very low end PCs I recommend the following settings:
V-sync is off
AA is off
Aniso is 4x or lower
Advanced settings are simple/default
Post processing is disabled
Anyone having performance issues with TDM missions can put the following cvars into their Darkmod.cfg file. This will improve the framerate and stutter/chop when in-game, but may increase loading times a little.
image_usePrecompressedTextures "1"
image_useNormalCompression "2"
image_useAllFormats "1"
image_useCompression "1"
image_preload "1"
Important
This mission requires TDM 1.08 or later.
Repeat after me: "Read and explore, Read and explore".
Most Importantly, Enjoy!
---