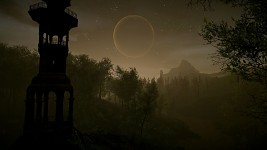 I am now one year into the development of Eastshade, and something very important has happened. For the past three months, I've been focused on a small section of the game, determined to bring that one area up to a quality that is representative of what the final game might be like. In the games industry this is known as a vertical slice. Though the slice I have is not yet fully worthy of the name, within the last month, it has reached an important milestone nonetheless…
I now have a roughly playable piece of Eastshade.
Three months ago, Eastshade was a muddle of tech demos and disjointed systems. Many indie games are playable after the first two days of development. It seems mostly unanimous amongst game designers that the sooner one can produce a playable prototype the better, and I'm certainly past due on this. I could attribute my tardiness on this to the nature of the game I'm making, but my greenness as a game designer is more likely the culprit. As I'm careful to use wisely my stock of truly fresh eyes, only a few friends and collaborators have actually played through the slice, but from these few play tests, there is a general consensus that the game doesn't suck! It came as a total surprise to me. My spirits are high and things are going well.
Because of how focused I've been, I feel I've targeted the essence of what I want Eastshade to be, and as a result the game has gone through massive mechanical changes. The addition of NPCs is a notable change. I'm currently working on an AI system for making the people of the world go about their daily business.