Hello and welcome, dear visitors.
As promised, this update is coming a week after the last one, and - also, as promised - includes a design document for the community.
Why?
Well, so far, the development of Zeitgeist and our news & update releases had a focus on music, visuals and illustrations of the artistic direction the game has taken. We did mention game play aspects and even released a synopsis before, but we do now understand that most people don't like reading through dozens of news postings only to find a rather important part of the game hidden somewhere in the archived updates.
This has led us to the idea of creating a small, compact and always available "design document\" (a .PDF, actually). In this document, you'll find answers to many questions, although it may also encourage you to think of new ones. In any case, we are looking forward to lots of motivating feedback, harsh criticism and persistent questioning! ;-)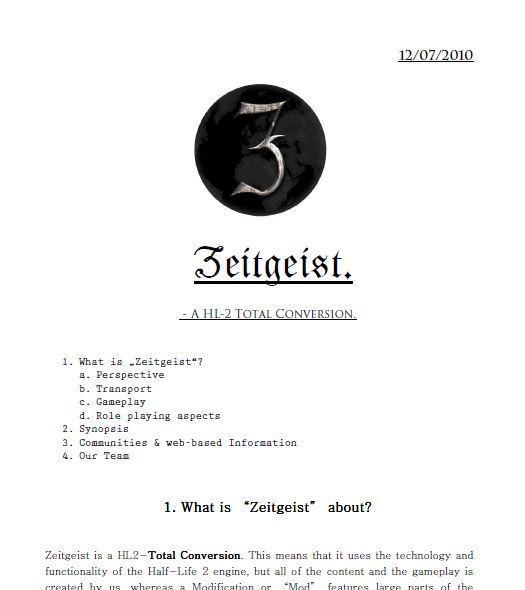 We actually planned to publish the first in-game movement footage along with this update, but due to some unexpected and less than joyful events in our real lives, we will be forced to delay that into the next update. It'll be worth it, though, so we hope you're all going to be patient with us.
Until then, please allow us to show to you a number of images from the third "Zeitgeist setting" following London and Venice: continental Europe, namely Stuttgart, Germany, which you might already know from the very first images we posted in 2009.
This city has been a prototype for many of the thoughts behind our story, as it has been home to many crossovers between the modern age and the "good old time", especially in architecture and vehicle construction. Streamlined cars were produced and tested in one of the world's first and largest wind channels, and high-rise steel and concrete buildings with neon signs on them stood next to medieval houses, rennaissance castles and art nouveau residential buildings.
Today, most of those interesting contrasts are gone as a result of the developments during the last century. Quite a lot of photographic material has been preserved, though, a fact which awakened the idea in us to just give it a try and reconstruct as many of the most interesting scenes as possible.

Accessible.
In colour.
As part of a large-scale mystery story.
With Zeppelins in it.
In the next weeks, we'll work some extra shifts, take a couple of photographs and prepare a number of pre-post comparison pictures (assuming that the fictional Zeitgeist time-line counts as a 1930s-status quo!) for those who are interested in these kinds of things.
So long, enjoy your Christmas preparations or just have at the cookies and chocolate!
-The Zeitgeist Dev Team
P.S.: By the way - we do appreciate your votes in this year's MotY-competition. ;-)