The Road to Edain 4.0: Friends on Faraway Build Plots

Happy Holidays, companions of Edain!
As promised, we present you the second of three updates concerning the fundamental changes in the upcoming version 4.0.
Once we had decided on a new economic system based on build plots players had to conquer in order to build their farms there, we had to rethink some of the current neutral buildings. Chiefly, the outpost was basically just another type of conquerable economy structure. With the new system, its role had become redundant and it fulfilled no unique purpose anymore. We therefore decided to just cut it completely.
However, the inn and beacon posessed some problems of their own which had been bothering us for quite some time. So we have taken the opportunity to take a closer look at these two structures and their roles as well. At its core, we very much liked the idea that players can fight over places on the map for special benefits like faster recharging of spells or access to unique units. In the context of the new economy, the game becomes more varied and dynamic when players have to keep in mind more than one type of strategic objective. This creates more focus points for battles on the map in addition to the new economic plots.
At the same time, many limitations and shortcomings result from binding those special benefits to the same two unchanging structures for all factions on all maps. From a purely atmospheric point of view, you'd hardly find a tavern in Mordor and Lothlorien is not likely to recruit troops from an inn.
Furthermore, we were also limited in what types of benefits we could grant each faction through these two buildings because many potentially cool ideas can not be applied to them. For example, the beacon really only offers a valid bonus effect for Gondor, while all manner of large units, machines or monsters can't logistically be recruited at the inn. Factions like Angmar or the Misty Mountains that stand without allies were sorely neglected because there was nothing for them to gain from the inn.
To solve these issues, we decided to replace both structures in favor of a solution that offers more freedom and fits better with each faction's atmosphere. In addition to the economic build plots, each map will also feature a second, rarer type of build plot which players can conquer to erect special support structures that are individual to each faction. These may allow you to recruit allies of your faction which you could previously recruit at the inn, or they may grant entirely new and unique bonus effects.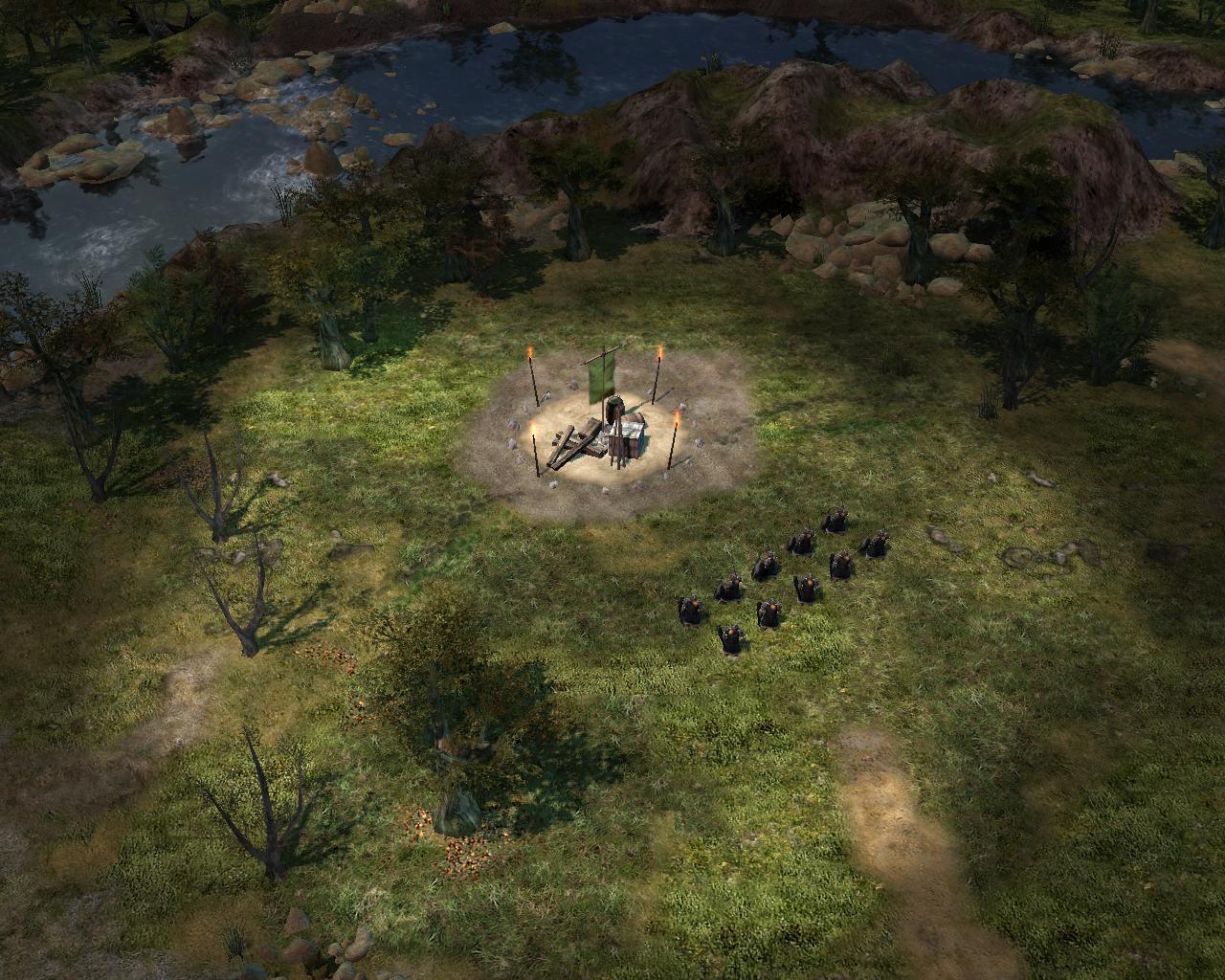 We'd like to illustrate the concept using two examples:
Lothlorien used to build the Entmoot inside their own base. It is fitting for the Wood Elves and their close connection to nature to be in contact with the Ents, especially since it was the Elves who originally taught them to speak. But the Ents certainly don't live in Lorien, rather, they are external allies. However, they were impossible to fit into the inn - not only would this have been an absurd affront against the lore, but they simply wouldn't have been compatible with the small inn door. On the external support build plot, however, the Entmoot fits perfectly. Furthermore, we have brought back the system from BfME where four Ents would hold council while the Entmoot is built to move out after the slow construction has been completed - or earlier, if an enemy chooses to attack them directly.
For the Dwarves, the new system gave us a chance to implement the concept of expeditions to recover Moria in a much more authentic way. We originally conceived this idea to believably allow access to Mithril in Edain, as it can not be found anywhere except in Khazad-Dûm. However, investing 15 spell points into a passive power and then getting the results of your expedition from the inn never really conveyed any sense of a perilous journey.
Instead of this, the Dwarves can now put up a travel camp on the support plots. Here they gather supplies, pack horses and weapons and make plans for the departure to Khazad-dum. At regular intervals, a caravan of pack horses will be provided. You can now combine them with a bataillon of Guardians to create an expedition force. This group will then move towards the edge of the map and set off to Khazad-Dûm.
Now there is a chance that the journey fails and the Dwarves are lost in Moria - but fortunately, you can send out a new force any any number of times. If you're lucky, however, your Dwarves will return after a while as veterans of Khazad-Dûm. Through the dangers that they had to conquer on their way, they have become much more dangerous warriors. In addition, they were able to capture a small amount of Mithril and may now hand a shirt of the precious metal over to one of your heroes. This concept makes Mithril significantly scarcer than at present and implements the whole concept in a much more realistic way.
Every faction will be able to build at least two different buildings on the support sites. One such build plot is usually pretty close to each player's starting point so that a faction like Lothlorien can't be hopelessly cut off from their siege weapon, the Ents. But the remaining sites are distributed either in remote or key places on the map, and thus require special effort from the players in order to access all of his faction's special advantages.
The old beacon is now exclusively a support building for Gondor and can be built on one of the build plots to summon soldiers from the fiefdoms in regular intervals. The shipwright is the only neutral structure to remain unchanged since its function could not be filled any other way and naval combat is not a priority for us anyway.
We hope you enjoyed the second of our holiday updates for version 4.0. If you have ideas for interesting support structures, we look forward to hearing them!