The LOUD PROJECT - Version 5.4 - February 2021
Greetings one and all - welcome and welcome back.
As has become custom, I rarely find enough time to communicate like I once did - which makes this annual update more valuable. Our community continues to thrive, with not only so many more of you than there was just 2 years ago (We recently had our 30,000th download) but a lot of both visual and operational improvements that I did not see coming - just last year.
We had a lot of changes, and our new installer/launcher/updater with a map library - is the one most people get right up front.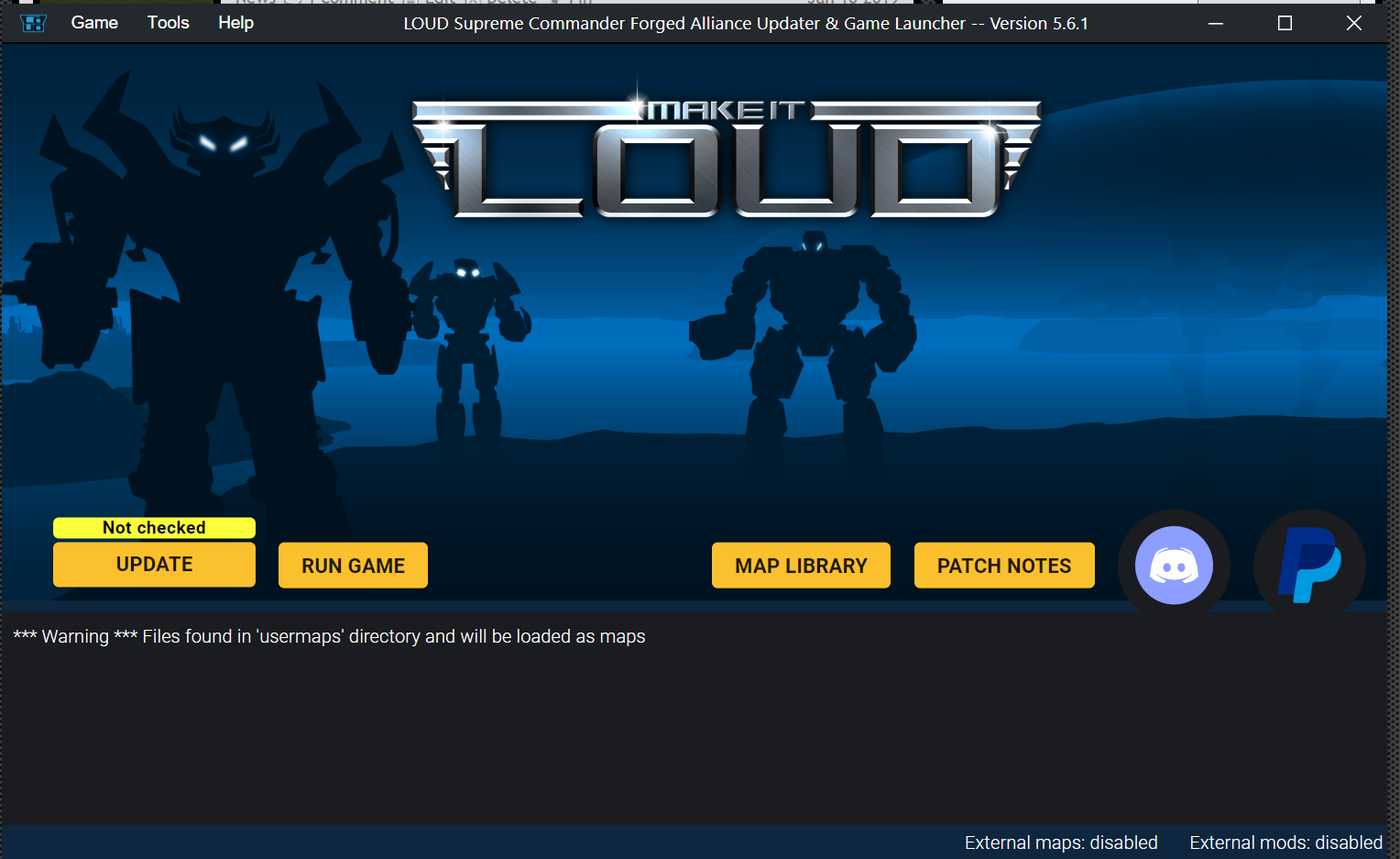 It's a big step forward, with integrated patch notes - both for the launcher - and the data - and as always - the ever handy Update - which makes keeping The LOUD Project up-to-date as easy as it's always been. This year, we received this tremendous contribution from LOUD Project member RD, who worked tirelessly for several months to not only build it from our original humble work, but crank it up with features we would never have dreamed of last year at this time. I know, my recently passed partner and co-founder, Terminator, was here at the beginning of this work, and would have been so pleased to see this. We have memorialized him, just on the right of our launcher, as the ever-present spectre of the Seraphim ACU. Term - we miss you very much. I wish to thank Balthazar (BrewLAN) for making the artwork available.
The map library gives us a place to store other maps that work well with LOUD - but that we don't necessarily want to eat up your download budget with. It will even install/uninstall the maps for you, and - as always - keep them updated if the author makes revisions. So, as we get more well marked maps available, we'll add them here for you to have as well.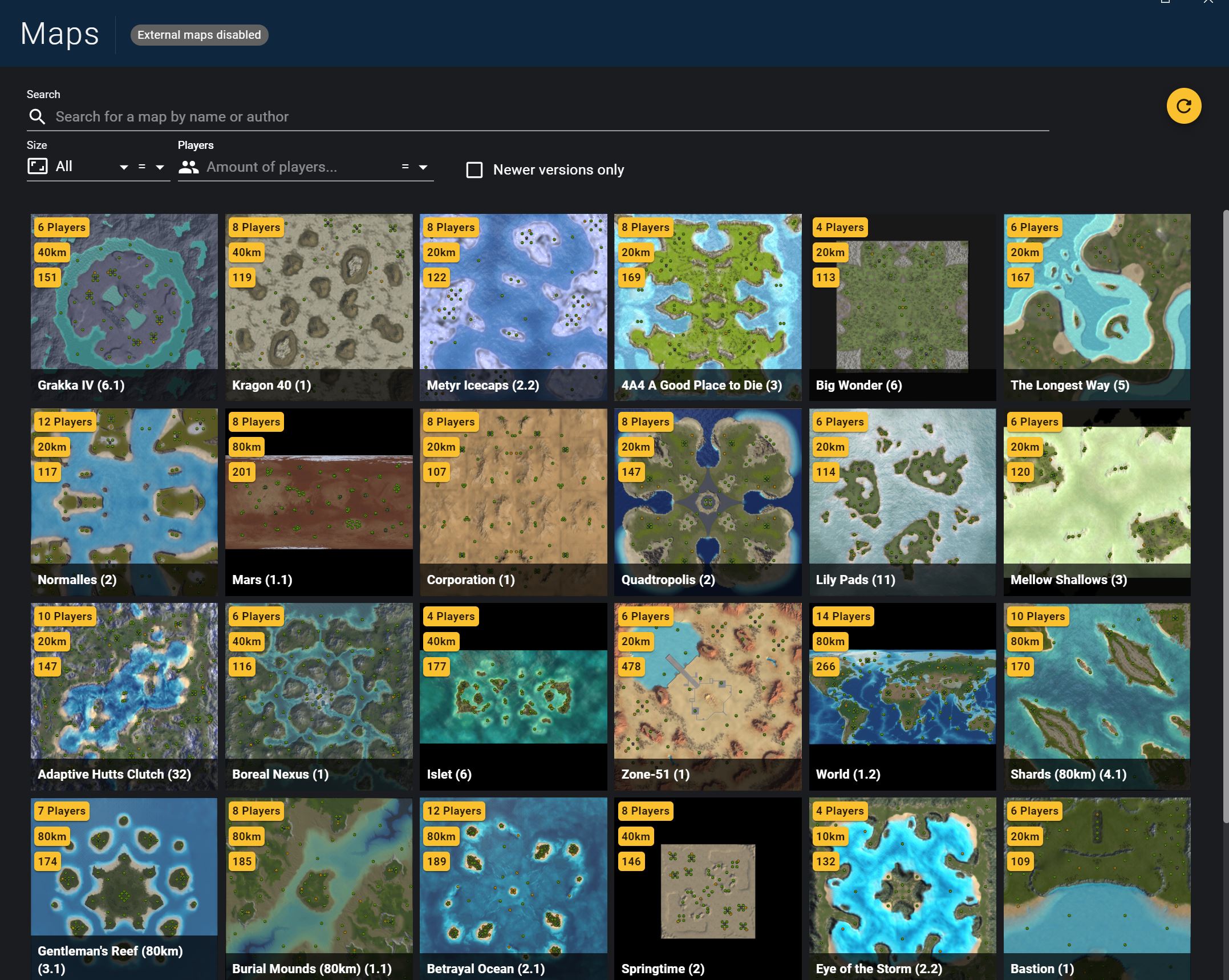 Mod Manager and a Unit Database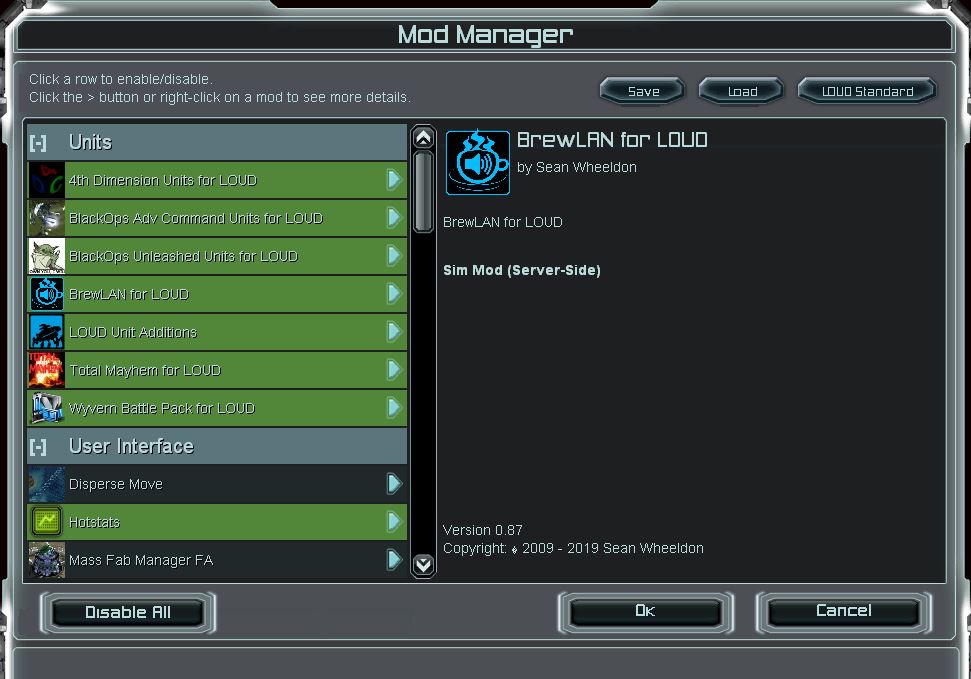 The new Mod Manager makes seeing, finding out about, and selecting the mods available with The LOUD Project, super easy. Not only are there more details available about each mod and what they do - but there are over 20+ additional new mods for you to investigate, including the many favorite sub-mods of BrewLAN, which have finally made the leap to LOUD, and several others as well, like CityScapes, that will add fortified civilian towns to almost any map you like (It really is quite a bit of fun). There are still more to come.
If you're not sure which mods to use to get the truest LOUD experience - we've made it easy - just press the LOUD Standard button (top right) and those mods will be turned on for you.
Once you've turned it up with those mods that you like - you can find MUCH more out about all the units the come from your favorite unit mod - with the recently added Unit Database module, from another very welcome addition to the LOUD Project, RatCircus. Rat has tackled both of these awesome UI changes with great energy and in conjunction with some tireless editing, so you can see a great amount of detail about your favorite - or most hated - units.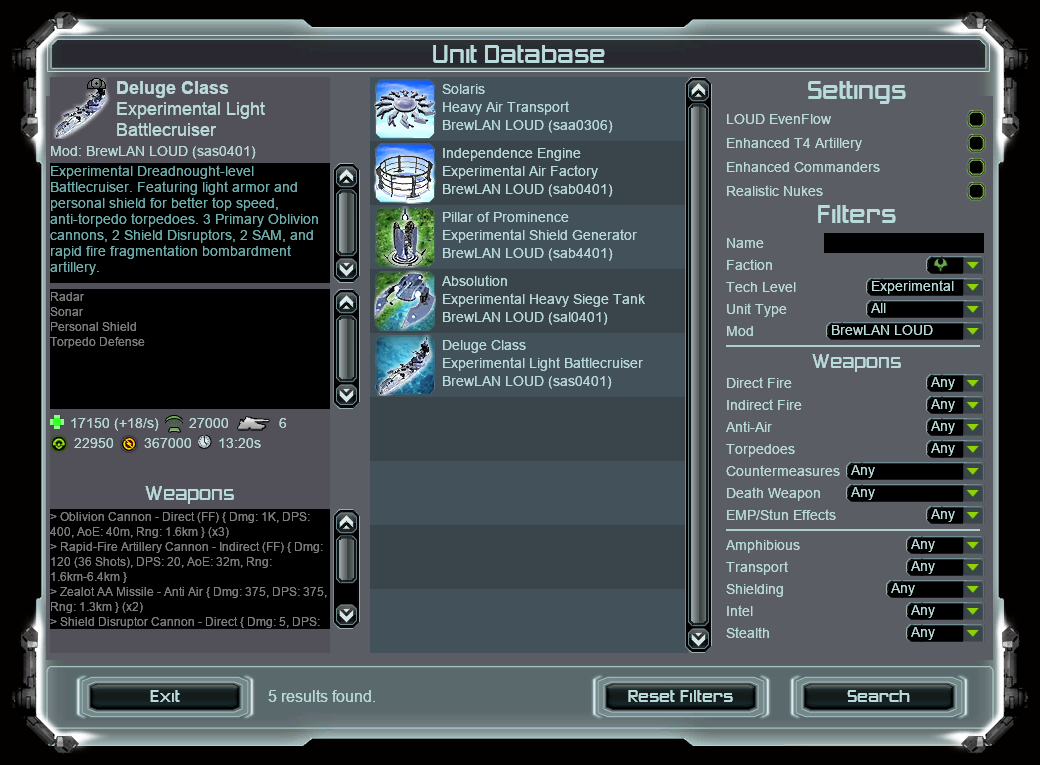 RatCircus is also responsible for bringing forward some big changes to our game lobby and setup screens, and some of the in-game dialogs. We had wanted, for a very long time, to bring discrete AI cheat levels to LOUD, but we never had the skillset to make that happen - but now it has - and not only that - we have some brand new AI options to show off.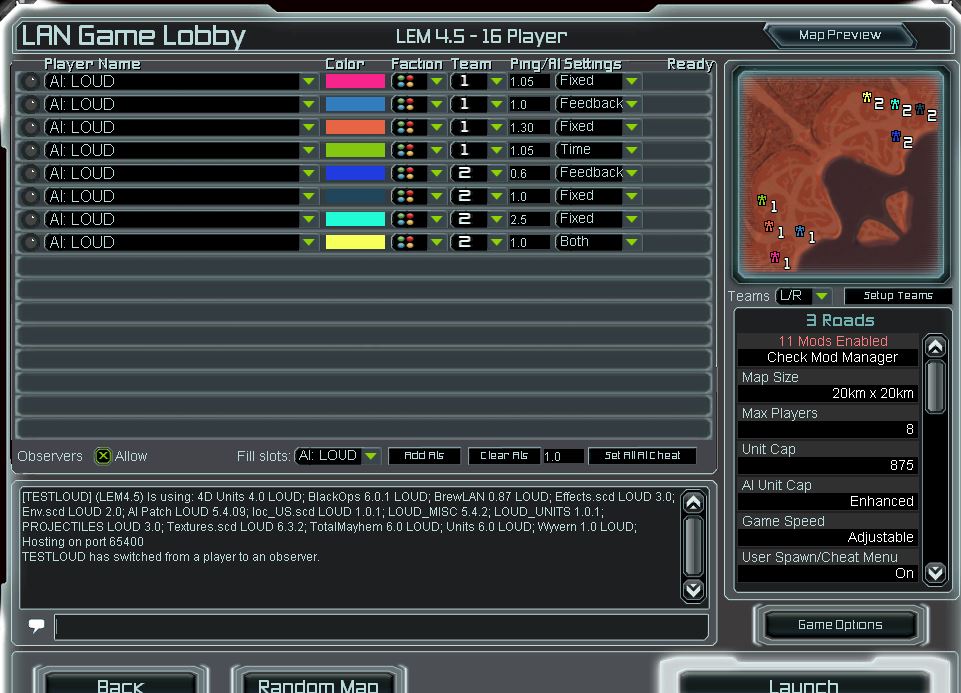 The first thing you'll notice is the ability to have different strength AI - some stronger, some much weaker than normal - no more AI or AIx - just pick the level of challenge you desire. But - what's not so obvious here is the other big addition - we call it ACT for short. Advanced Cheating Thread.
A.C.T. - Advanced Cheating Thread
LOUD has always been credited with being a smart AI - already dynamic in the way it adapts to a wide variety of map situations, over the past year, we've significantly upped his small map game - but we've also added some tools so that you can tailor him. We call this ACT.
ACT allows you to create two different kinds of economic cheats for a LOUD AI. FEEDBACK, allows you to make an extra-tough, defensive AI that only gets a bonus (but a substantial one) if he's losing. If he manages to survive - he'll return to normal until you threaten him again. This is useful if you just want to configure LOUD as a punching bag.
The second ACT type is TIMED - which is pretty simple - Every so often he'll get an increase (or a decrease) to his basic resource rates - so you can tailor an AI to get stronger or weaker over the course of time, as you see fit. You want an AI that starts off nice and quiet - but becomes a blood-enraged mongrel as the game goes on ? Then a TIMED ACT is for you.
Of course - you can use both of these together, on any - or all the AI in your game - or leave the ACT setting at FIXED - which means he's the same old LOUD AI you've always loved or hated - he'll just use the Cheat value you set up just for him. However, if you wish to give them all the same basic cheat, we've also added a button to set them all to whatever level you require.
The Game Options panel will allow you to tailor some of the specific rates of the ACT for more or less aggressive action.
What about the AI work ?
Well, that's my domain - but I really wanted to get some of those who deserve some recognition for all that they do for this mod community - they and the great number of you who joined our Discord server this year, and chose to make a contribution, either with your comments, suggestions, complaints or praise, but more importantly to me - your replays and log files - and the never ending questions about the sheer myriad of things that LOUD does - or doesn't do. Without it - all this work would be for nothing - and I am personally invested in making sure we give you not only the best performing Supreme Commander experience, but the most flexible, dynamic - and sometimes, down right devilish - enemy.
While I started the year with some ideas, some things took greater importance as the year moved along. We got a great deal of data from our community this year, and with the vital support of some other AI developers, namely Azraeelian Angel, Uveso and Relentor, from the FAF community - it allows me to examine certain parts of LOUD in a new light - and confirm some of the things we already do. Besides, it great to have some dialog with others that have similar goals.
A lot of work went into tuning LOUD's aggression - getting him to build units is one thing - but getting him to use them effectively, as a game evolves from one phase, into another, is work that requires a great amount of close observation - and lots of repetition. We've made great strides in that area - so if you were concerned about him being timid previously - try again. We're always working to make him better - so please - if you see something we may have missed - speak up.
What's that ? Dinner bell....oh sorry. This is a long article. Tuning - yes.
Tuning is a lengthy process of 'nudges' and we've made a lot of them this year - and you can see it in a number of areas - his air power especially. His fighter squadrons like to mix it up with your air force, and he'll punish you in the air if he gets the chance. This kind of work also applies to how he selects targets, and goals, and decides upon if and how to deliver his calling card when it's good for him - not you.
A lot of what I do is build 'metrics' - measurement values that allow LOUD to understand the ebb and flow of the game. Using those metrics in ways that are meaningful to him, adjusting his production, attacking your weak spots, keeping him a flexible and dynamic opponent, all while managing his assets to keep his unit cap in control, and your game performance as high as is it can be. It's a bit of tightrope - but we've seen and learned a great deal about it this year - and much of it is in some play at this point.
Balance and New Units
My other job is balance work - understanding and defining the relationships that make the game flow in certain ways, and in this area too - we've moved ahead with some very important work. With able assistance we put a lot of work into getting a much better 'threat' value for units. This threat value is central to everything LOUD does - and finding a way to equate certain things like weapon range, and unit speed into a formula, along with typical items like rate of fire, damage and area of effect, make this crucial work - work that has been done this year - and the aim and result of this is simple - make LOUD understand the units - and his responses to them, just that much more accurate.
While looking at balance, we also look at gameplay - and explore how certain factors play into making a map a turtle's paradise - or a rapid slugfest - and how the units play into some of those behaviors - and how we can nudge certain more open and/or aggressive playstyles away from what are typically dead-end situations. One example of work in this area is in regard to how long-range AOE weapons impact the mobile game and can lead to predictable stalemate situations. This kind of examination, and seeing how players will gravitate towards it, can lead to changes, not to those weapons themselves, but in the economic reality of powering that kind of defense with those kinds of weapons. That's not a process we ever take lightly - and long periods of tiny nudges, followed by extensive review and observation - allow us to make changes that open alternative gameplay styles - creating more opportunity for players to demonstrate their own 'Supreme Commander'.
The final topic I want to talk about is 'new' units. While we didn't entertain any sparkly new unit pack additions to LOUD this year - we've got new units anyhow. Part of this process is simple - and part of this process is you - the user. As a result, we frequently discuss opportunity for new roles that perhaps LOUD has a weakness in, that might provide space for new units. Some of our community actively and directly support that development - commissioning new custom-made units, from Balthazar of BrewLAN. Here are just 3 that made it into BrewLAN and LOUD this year.
So - look - don't take my word for it. Come and see for yourself - it's never been easier to get involved - the link to our Discord server is right there on the front screen of our launcher. Try LOUD for yourself, and see if it's what you've been missing in Supreme Commander Forged Alliance - you won't be disappointed - and well, if you are, then please - come bend my ear about why. Everyone is welcome, but leave your pulse cannon at the door !