---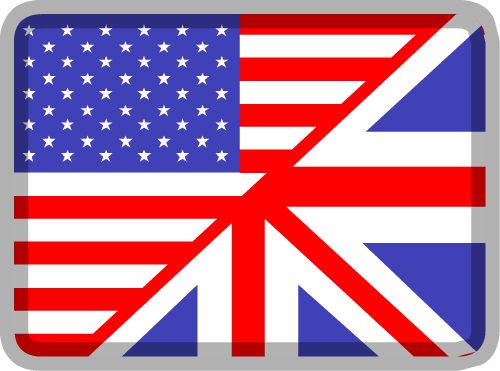 The Light & Darkness – New Particles for Combat System

Hello again indiedb.com! Today, as I said, I bring news for The Light & Darkness!.This week I have decided to dedicate myself completely to the particles of unity and to integrate them into the combat system for TL&D's own world.
So, after several days of work I have managed to get a result that I think is quite good and I think it gives an aesthetic touch to the game even better and so you can go do a little idea of the type of Hack n ' Slash that I would like to achieve with TL&D.
I present one of the movements that will be part of the succession of attacks of the system itself, I called it "Attack X" (Very original, I know :P).
And so, I want to show you the particles that make up this movement and finally the movement itself, I have to say that I did not think that a movement would only take me so long,but being as i am… It was to be expected, I always look at the small details .
Warning! : Nothing you see now or any other post in indiedb.com regarding The Light & Darkness will be the end result of the game, so keep it in mind since I do not intend to show you everything, I'll save some surprises for when everything has finished !.


Without further delay, here my advances (this time I preferred to show it in gifs, I think it looks better):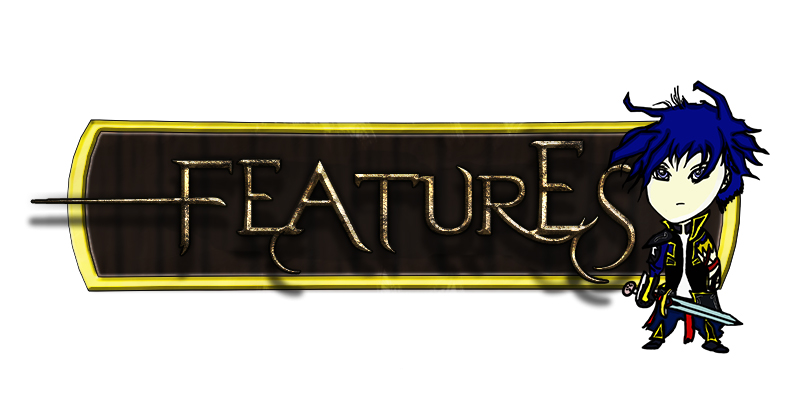 Added particles and a new movement to the combat system ("X Attack")
- The movement consists of 4 different particles
- ATTACK X (Composition):
Attack X is composed of 4 types of particles as I mentioned, the first:
- It is a particle that simulates electricity composed of a beam of light and several rays, sparks and smoke: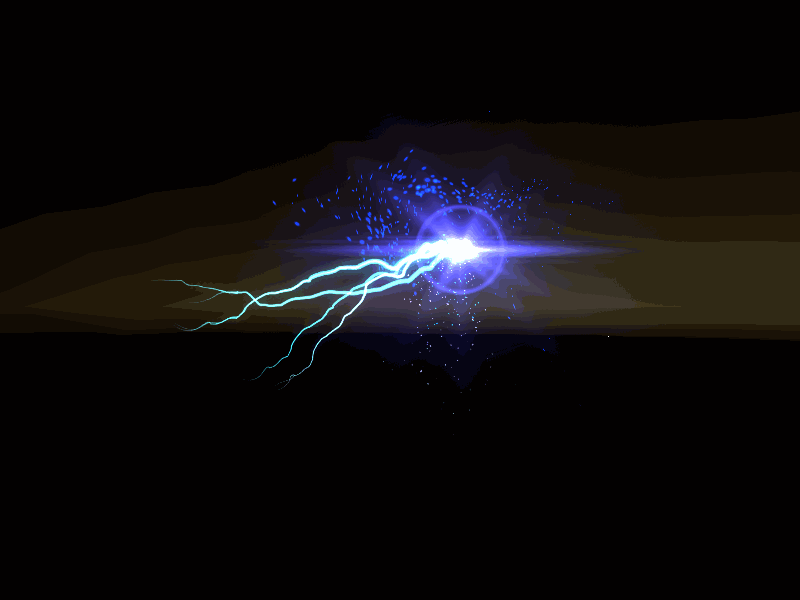 - The next particle is one that you can see when the character puts his feet on the floor raising smoke and a few particles: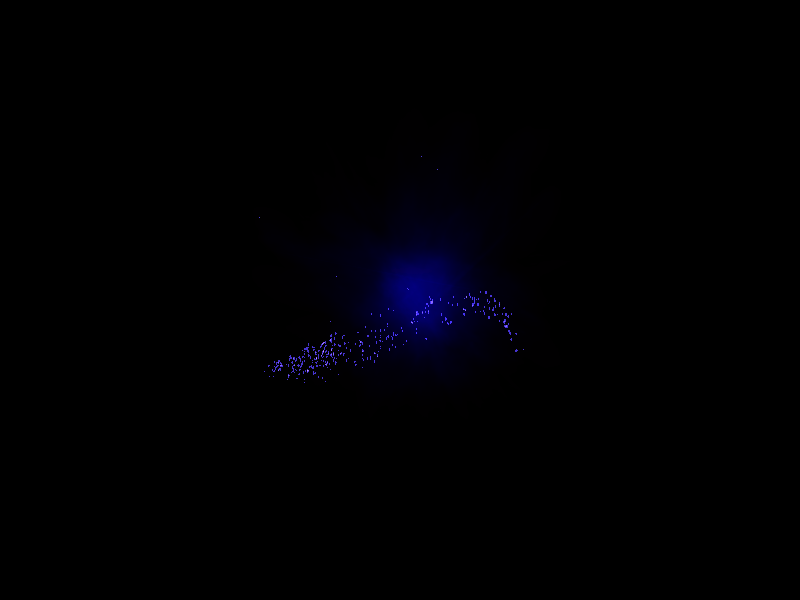 (Sorry if you see the 'restart' i cant find the good particle and i only have this gif :P)
- We continue with the slash, which are simply two textures that make a twist simulating the cut of the sword in the air: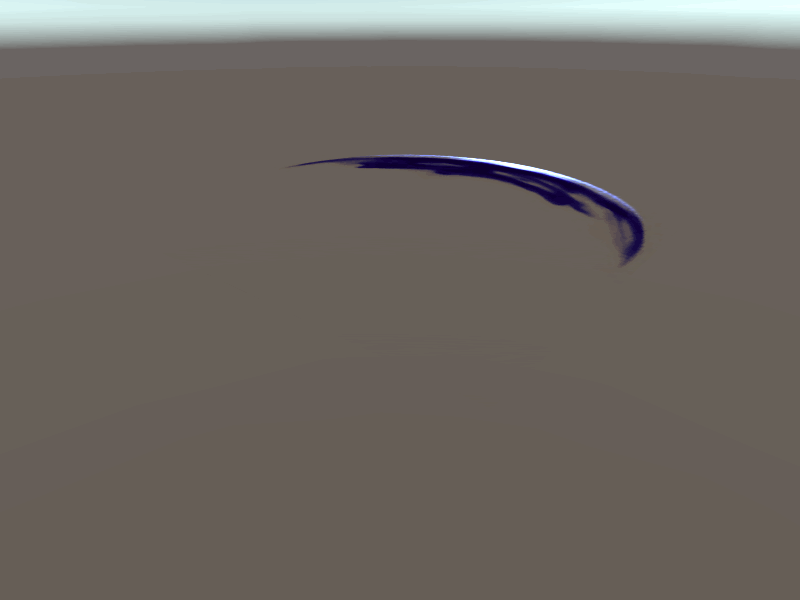 - And finally the particle that more headaches has given me, the slash in the form of x, which as you can see is formed by the same texture in x in different shades and colors, a dark and a clear texture follow a slow trajectory, which is the most highlighted part of the x and after that a texture of clear tone which generates a large number of particles in a short time simulating the displacement of the particle in the air.Apart from that ,in the end, you can see another pair of particles in the form of the aforementioned x, the truth, what has taken me the longest has been to simulate the displacement of the particle through the air seeming to leave a "ghost" of the same particle after itself: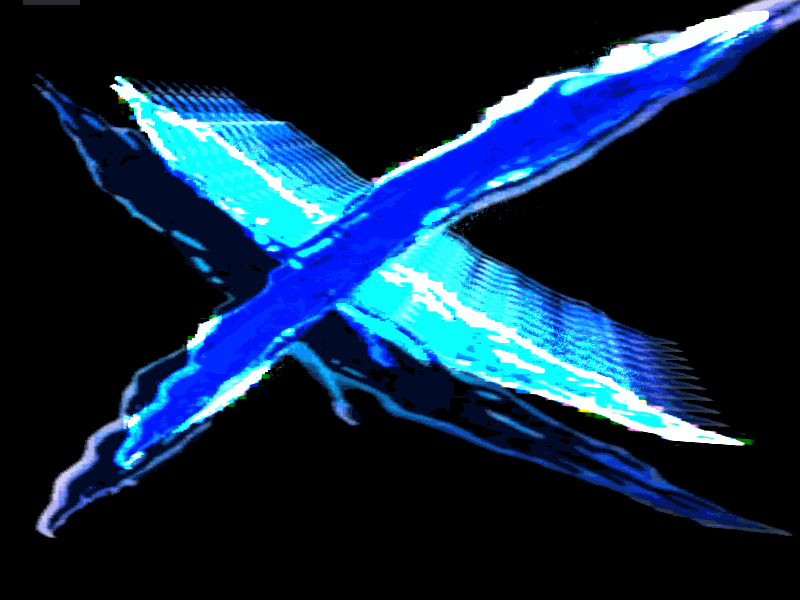 Now I will show you this same attack in a character (it should be said that the modeling of the sword or character is not my property, belongs to the own assets of Unity) and I repeat, this is not the final version of it, I hope you Like it !: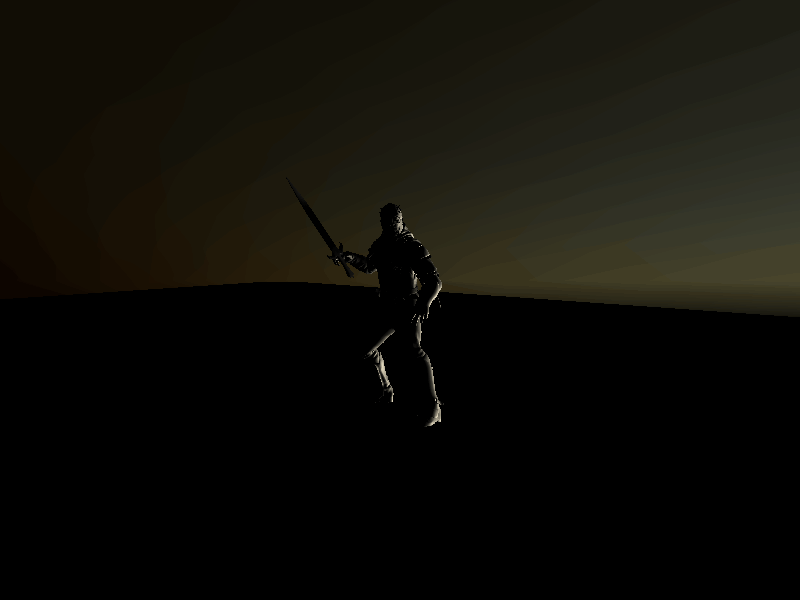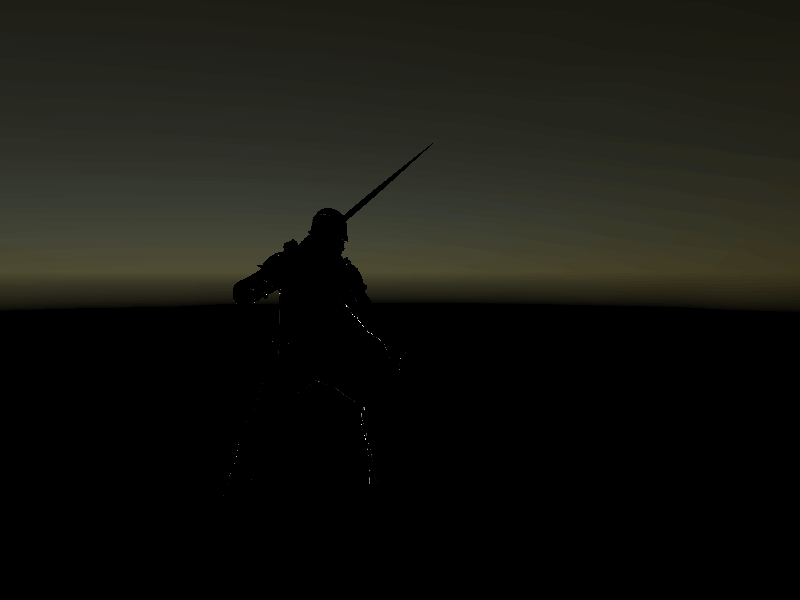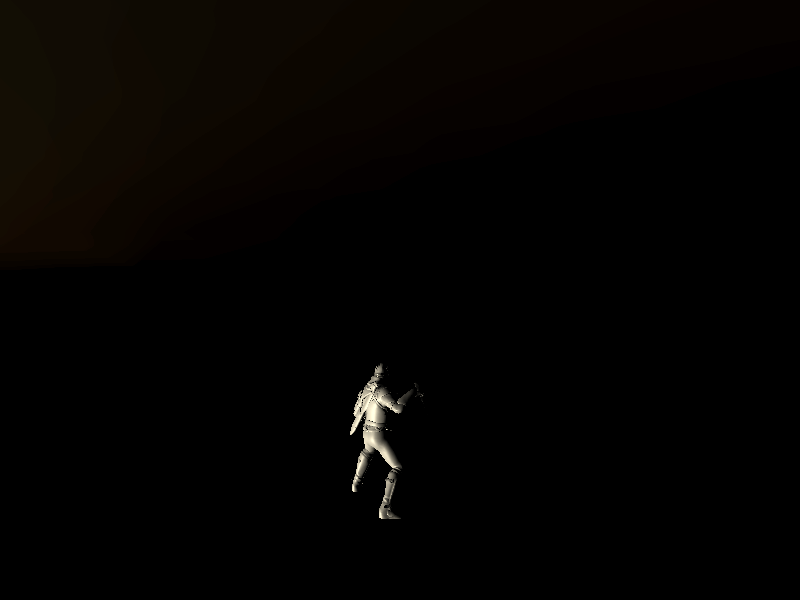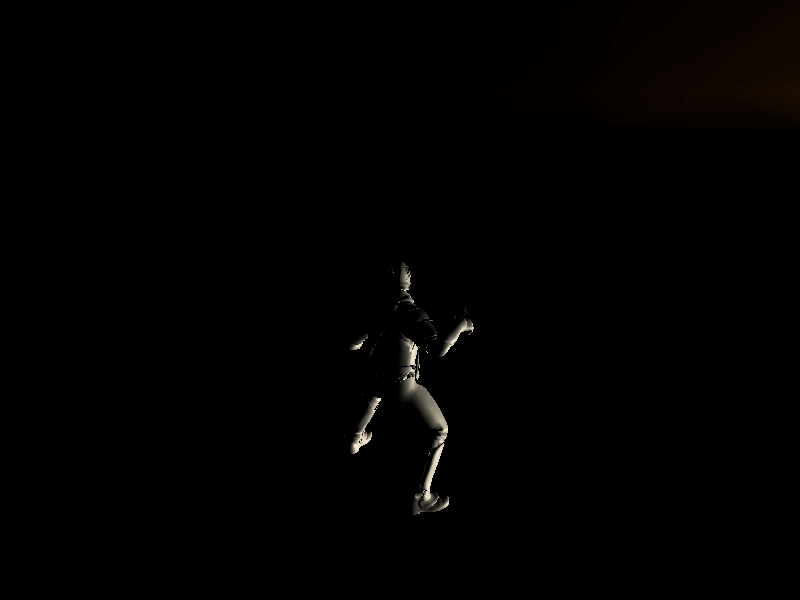 The movement of the sword as you can see, is not 100% polished, that is because the character model is not using any inventory script or anything similar, I have decided to save time using the rotation and position of the character arm to give a similar touch to the final version, is simply a preview so you can see what the movement will be :).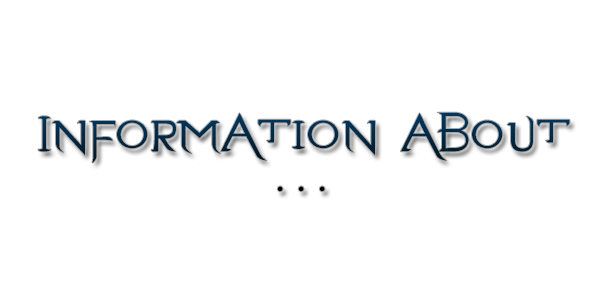 What am I working on now / what am I going to do next week:
This week I have not only been studying everything about particles, but I have been keeping an eye on the terrain of the game and how it will come to be seen, It is true that I have already some terrains (which I will not show at the moment: P), but I am thinking of establishing a mid-point between the aesthetics anime / manga and a realistic aesthetic, so at the moment and until I achieve an almost perfect result, I will not show much of the mapping, even so ... This next week I will probably dedicate myself exclusively to the terrain and finish the modeling of Sckay's head that has also been waiting a long time J . So:
- In process:
- Model of the head of Sckay
- Esthetic of the terrain, camera, color corrections, etc.
When will you publish more specific information on the combat system or the game in general ?:
When i get a state that is impressive enough for more than one to keep your mouth open, even so, I probably will teach little by little, because I would not like to show something of low quality, so I take my time and i try to be careful for not reveal anything to you until when you have the final version and at least try to please you more.
And so far nothing else! See you in the next article! , If you want to follow the development of The Light & Darkness more closely do not forget to follow it on Twitter:
Apart from this, a very nice person has contacted me these weeks, (I hope you do not mind me doing this), but I consider that we are all a community and we must help each other, so after this text you will see the link to his website,in which you will find an incredible music that I have been fascinated and for that I wanted to show you:
Ycaroh,RedWolf Games.
---

The Light & Darkness – New Particles for Combat System / Nuevas Partículas para el sistema de combate
Hola de nuevo indiedb.com! Hoy ,como os había dicho,traigo novedades para The Light & Darkness!.Esta semana he decidido dedicarme completamente a las partículas de unity e integrarlas en el sistema de combate para el propio mundo de TL&D.Por lo que,después de varios días de trabajo he logrado conseguir un resultado que a mi parecer,está bastante bien y creo que le dá un toque estético al juego todavía mejor y así os podáis ir haciendo una pequeña idea del tipo de Hack n' slash que me gustaría llegar a lograr con TL&D.
Por lo que ,os presento uno de los movimientos que formará parte de la sucesión de ataques del propio sistema,he querido llamarlo "El Ataque X" (Muy original,lo sé :P).
Y por lo tanto,os quiero mostrar las partículas que conformar este movimiento y finalmente el movimiento en sí,he de decir que no pensaba que un movimiento solo me llevara tanto tiempo,pero siendo como soy…Era de esperarse,siempre tiendo mucho a fijarme en los pequeños detalles.
Advertencia! Nada de lo que veáis ahora o en cualquier otro post en indiedb.com referente a The Light & Darkness será el resultado final del juego,así que tenedlo en cuenta ya que no pienso mostraros todo,algunas sorpresillas las guardaré para cuando todo esté terminado!.
Sin más dilación,aquí mis avances (esta vez he preferido mostrároslo en gifs,creo que se ve mejor):

Añadidas partículas y un nuevo movimiento al sistema de combate ("Ataque X")

El movimiento consta de 4 partículas diferentes
- ATAQUE X (Composición):

El Ataque X se compone de 4 tipos de partículas como ya he mencionado,la primera:
-Se trata de una partícula que simula electricidad compuesta por un haz de luz y varios rayos,sparks y smoke :
*Ver en el apartado de Inglés
-La siguiente partícula es aquella que podréis ver cuando el personaje posa sus pies en el suelo levantando smoke y unas cuantas partículas:
*Ver en el apartado de Inglés
-Seguimos con el slash, que simplemente son dos texturas que realizan un giro simulando el corte de la espada en el aire :
*Ver en el apartado de Inglés
-Y finalmente la partícula que más dolores de cabeza me ha dado,el slash en forma de x,el cual como podeís ver está formada por la misma textura en x en diferentes tonalidades y colores,una textura oscura y otra clara siguen una trayectoria lenta que es la parte más resaltada de la x y tras ello una textura de tonalidad clara la cual genera un gran número de partículas en un tiempo corto simulando el desplazamiento de la partícula en el aire,a parte de que al final,podéis observar otro par de partículas en forma de la mencionada x,la verdad,lo que más tiempo me ha llevado ha sido simular el desplazamiento de la partícula por el aire pareciendo que dejará un "fantasma" de la misma partícula tras sí:
*Ver en el apartado de Inglés
Ahora os mostraré este mismo ataque en un personaje (cabe decir que el modelado de la espada o del personaje no es de mi propiedad,pertenece a los propios assets de unity) y repito,esta no es la versión final del mismo,espero que os guste!:
*Ver en el apartado de Inglés
El movimiento de la espada como podéis ver,no está pulido al 100%,eso es debido a que el modelo del personaje no está usando ningún script de inventario ni nada similar,he decido ahorrar tiempo usando la rotación y la posición del brazo del personaje para darle un toque similar a la versión final,simplemente es una preview para que podáis ver cómo será el movimiento :).
En que estoy trabajando ahora/que voy a hacer la próxima semana:
Esta semana no solo he estado estudiando todo sobre partículas,sino que he estado echándole un ojo al terreno del juego y a como se verá,es cierto que ya tengo terrenos creados (que de momento no mostraré :P),pero estoy pensando en establecer un punto medio entre la estética anime/manga y una estética realista,por lo que de momento y hasta que logre un resultado casi perfecto,no mostraré mucho del mapeado,aun así…Esta semana próxima probablemente me dedique exclusivamente al terreno y a terminar el modelado de la cabeza de Sckay que también lleva en marcha bastante tiempo J.Por lo que :
En proceso:
- Modelado cabeza Sckay
- Estética del terreno,cámara,correciones de color,etc.
Cuando publicarás más información espécifica del sistema de combate o del juego en general?:
Cuando tenga un estado que sea lo suficientemente impresionante para que más de uno se quede con la boca abierta,aun así,probablemente vaya enseñando poco a poco,pero no me gustaría mostrar algo de baja calidad,por ello me tomo mi tiempo y trato de ser cuidadoso en no revelaros nada para cuando tengáis la versión final y así por lo menos intentar agradaros más.
Y de momento nada más! Nos vemos en el próximo artículo! ,si quieres seguir el desarrollo de The Light & Darkness más de cerca no olvides seguirlo en Twitter:
A parte de esto,una persona muy maja me ha contactado estas semanas,espero que no le importe que haga esto ,pero considero que todos somos una comunidad y debemos ayudarnos,por lo que después de este texto veréis el link a su página de souncloud en la cual encontraréis una increíble música que a mi me ha encantado y por ello quería mostrarosla :
Hasta el siguiente artículo!
Ycaroh, RedWolf Games.