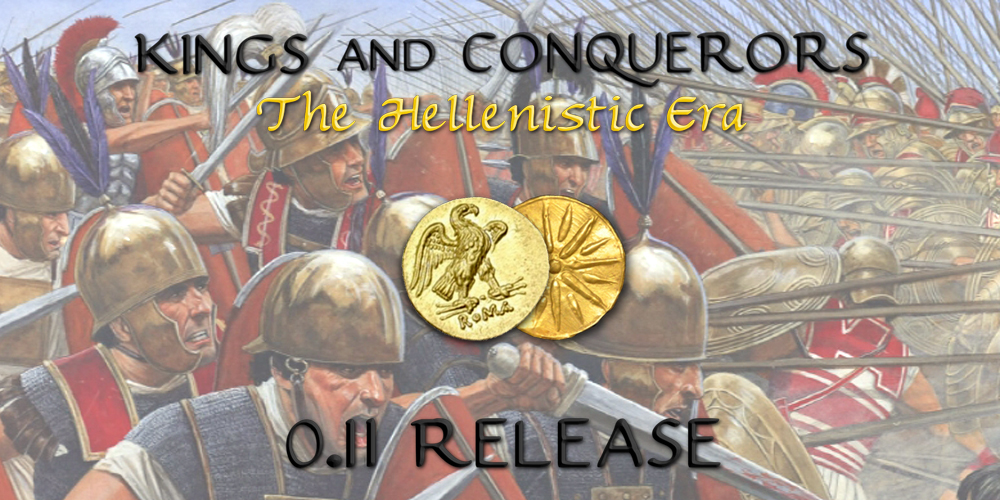 The Hellenistic 0.11 has now been released! This version features several small additions and fixes to make the Roman and Macedonian factions more complete.
The Hellenistic Era 0.11 is now available on the Steam Workshop! You can subscribe to the mod here.
IMPORTANT: This mod will crash if it's priority is set below certain mods, notably the Terrain 5 Extended mod. To fix this, go to Tools and Extras => Steam Workshop, select the Terrain 5 Extended mod from the list and move it to the bottom by pressing "priority down". Then, just to be safe, move The Hellenistic Era to the top of the list by pressing "priority up".

New units: Kestrosphendonetai and Hiera Ile for the Macedonians, Vigiles for the Romans.
A number of textures and models have been improved
Thanks to The_Fulcrum, heavily-damaged forts can now be captured if you have more soldiers nearby than its owner. With the Informer ability you can also capture undamaged forts.
The Peasant Dwellings, Noble Residence, Sporting Centre and Cultural Centre now produce resource trickles.
Several bugs and balancing issues have been fixed.

The following maps do not work with the Big Huge or Huge map sizes and will cause the game to crash:



- Atlantic Sea Power
- East Meets West
- Nile Delta

In order for the AI build orders to work, make sure that you list the human players before the AI players when setting up a quick battle, and make sure that you are using red as your player colour.
Many of the scripted features have not been implemented, so you won't be able to spawn mobs from cities or convert enemy citizens into slaves for instance.
Due to the custom script and the new models with higher polycounts, the mod will be more demanding on your computer. However if you have a decent computer then it shouldn't that noticeable.
With the exception of the Trireme and Ballista, naval and siege warfare have not been touched on and probably won't be until after the first release yet due to heavy modelling and animation requirements.
We hope you enjoy Kings and Conquerors: The Hellenistic Era! Please let us know if you come across any problems with this mod, and don't hesitate to give us any feedback you might have. There's also a forum where you can post your thoughts: Moddb.com