I'm happy to bring the next installment of the video blog to ModDB! Episode #2 of The Flagship focuses on the artwork of Iron Grip: Marauders--in specific, the brilliant Peter Johnston who has worked tirelessly to bring to life the Iron Grip world. From soldiers to fearsome monsters, he's drawn quite a bit of it, and he's happy to share his vision for Iron Grip in the past, present, and future.
This is the first half. We will be releasing the other half later this weekend. Be sure to listen to it and let us know what you think about this episode of The Flagship.
MORTT: THE CAVE WORM
Iron Grip scholars have been creating a bestiary of crazy creatures to add depths to our world. We posted this to our site last week, but figured we would share it with ModDB now along with the video blog.
Thus, meet the mortt.
Mortt is not a particularly nice fellow, if you catch my drift.
Mortt is a species of giant caveworms and he is said to inhabit the deep recesses of Atelian and Kathos mountain ranges. Local tales speak of the mortt as "the Cave Serpent or "Mountain Daggermouth," both names appropriated for its hundreds of teeth and tendencies to burrow in dark caves where it then springs onto unsuspecting pray. He's sort of Iron Grip's version of the dragon, if you will. He's rare, and he will be eventually implimented into Iron Grip: Marauders as an environmental threat--but we can't give you too much more details on that just yet.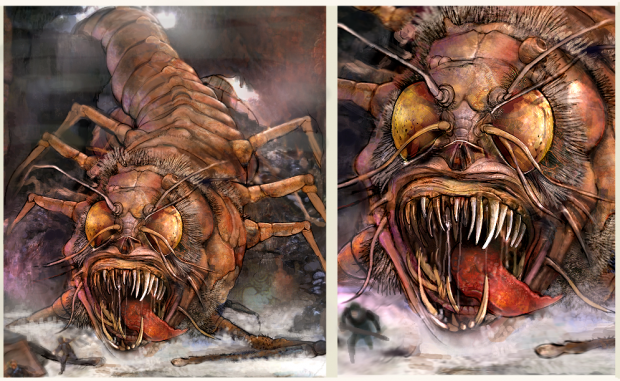 Pretty fearsome, no?
THE BETA SIGN-UPS ARE COMING

To end on another note, I'd like to address a concern about beta. Worry not, we're still planning for an invitational beta to come this July 2010 and then a closed, registered beta to follow. We should have some action on this in the next month, as we're currently discussing the beta phases internally. ModDB users will get priority along with our community users, as always with ISOTX products!