The Elder Scrolls: Total War v 1.5 standalone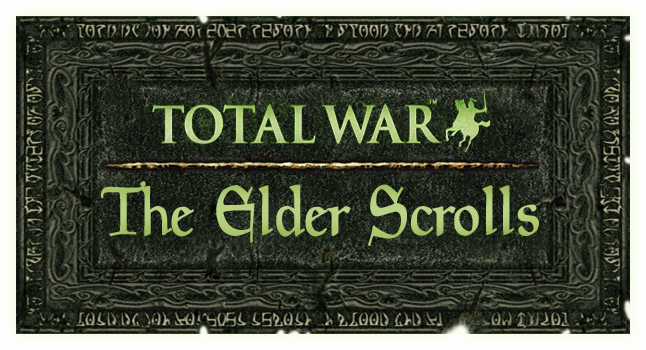 Installation step by step:
- Draw The_Elder_Scrolls folder from rar archive to your Medieval 2 Total War/mods folder
- Use TESTW Launcher to start mod (or The_Elder_Scrolls.bat if launcher doesn't work)
- If you want to disable ReallyBadAi - Click options in TESTW launcer and take a mark от Disable ReallyBadAi field, save.
YOU NEED KINGDOMS.EXE IN YOUR MEDIEVAL 2 TOTAL WAR FOLDER. IF YOU HAVE A PROBLEM WITH IT WATCH THE VIDEO DOWN BELOW:

V 1.5 changes (Some changes may not be taken into account due to the chaotic nature of the work specifically on this version):
- UI has been changed for many cultures both in campaign and in custom battle: Argonians, Dunmers, Orcs and Aldmers are fully reworked
- New architecture for Aldmeri Dominion
- New unique architecture for Windhelm, available in custom battle
- Unique architecture for Imperial City now fully works and available in custom battle
- New battle maps - Direnni Tower and Scourge Barrow.
- Ashlands reworked both on campaign map and on battlefield.
- A lot of old unit models were changed for such factions as Cyrodiil Empire, Kingdom of Skyrim and Kingdom of Daggerfall, new units added for factions Calns of Forebears and Great House Hlaalu.
- New heroes and characters from The Elder Scrolls 2 Daggerfall, The Elder Scrolls 3 Morrowind, The Elder Scrolls 4 Oblivion and from other TES ganes. Many heroes now have unique models both on campaign map and on the battlefield.
- Strategic map has been reworked, in particular: Relief, borders of regions and location of cities. Some cities are replaced by new ones.
- Strategic balance has been reworked
- The AI of Great House Dagoth fixed
- Military Reform scipt for Cyrodiil: you will be able to choose betwen two different types of heavy infantry at the first turns of your campaign.
- Mercenaries: You may hire two new mercenary armies ofr different factions, such as Maormeri units with King Orgnum, and units of Restless league. You will be able to hire them in Fighters Guild and Blackwood headquarters.
- Added new voices for Great House Dagoth for English and Russian versions. You have to download russion voice separately.
- New models of architecture on the campaign map for Orcs, Argonians, Aldmers and Valenwood.
- New custom models on the campaign map.
- New ports on the campaign map.
- New model of Imperial City on the campaign map.
- New models of orcs agents on the campaign map.
- Heretics removed.
- Liches removed because their problem isn't yet solved.
- New portraits
NOT ALL THE PROMISES AND CORRECTIONS PROMISED BY US ARE AVAILABLE IN THIS VERSION OF THE MOD.
Credits:
Mod development team - LoRdNazguL and DaedraWarrior
Sengoku - development of launcher
Special thanks:
- Basileus and Prisoner, developers of Morrowind Total War for mod resources
- Fans from Imperial forum, VK and ModDB
- Bethesda Game stuidos for The Elder Scrolls!
Known issues:
- Possible problems with textures for custom settlement of Aldmeri Dominion at the levels "city" and "large city"
Report about errors in comments or to DaedraWarrior personaly.
Report form:
- Conditions then game crashed, on which turn
- Attach your autosave file
- Attach sytem.log from Medieval 2 Total War Kingdoms/logs