I'm scrambling right now to gather everything I need to show DuoVoxel to the world. Movie, screenshots, etc. The nice Unity contest they're having here is a big motivator for me!
One thing that's finally in is the game's title, meant to crystallize what the game is about. It took a couple of days of on-and-off work to do. I really wanted it to reflect the concept of the game.
Here it is: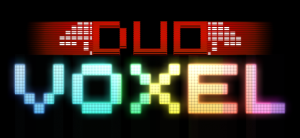 DuoVoxel is a two-player social shmup game where you control a blocky abstract shape that can build up and colorize itself over time. You start out greyscale, and getting power ups changes your shape and color in various funky ways. To reflect the 2-player nature inside the title image, I decided on a symmetric winged design on both sides, much like Contra power ups.
I wanted to hint that both wings are actually different players, and so I tried adding color to them. It didn't look good at all, and kind of leads the audience to believe that players start out colorized, which they don't. The current image is already highly colorful, so trying to attract even more attention to the wings seems futile and noisy.
The wings are voxelized/pixelated, and so is everything in the game. It's 3D, so that makes them voxels instead of pixels. Look at the movie (once I've uploaded it) and you'll see everything moves as if they're little blocks on a low resolution screen. I can't tell you how great it feels to evade the shackles of HD gaming! Turn it down a notch I say, let the coarse voxels do the talking!
So getting back to the title art, I needed something bright and colorful for "voxel", so I thought about old-style TV bumpers clips lying around on YouTube. They just scream retro/analog feel to me. I couldn't find a highly saturated version of NBC's "Peacock" bumper, but I found a music video from a band called Justice which really clued me in and confirmed my ideas. Make it loud and attract attention over a dark background.
Overall, the entirety of the design is meant to reflect the art style of the game, a bit retro, a bit abstract, a bit low-fi...and all neon glow baby! Well, we'll see about the dosage of neon inside the game. Don't want to burn anyone's retina... You certainly won't see much neon in the screenshots for the time being...but if a crafty retro artist approaches me with a memorable look-and-feel, I'm open to the idea. Hint, hint.
I should mention at this point I'm no artist. Somebody else actually sweated in PhotoShop to make all this. I just sat in the background, sipped some tea, and banged my head on the keyboard to fix all the bugs in the game...(but the bugs are still in there and I have a headache now).
So what do you think guys? To neon or not to neon ? To voxellize or not to voxellize?
Cheers,
PEBelloncik
Follow me also on powerupdown.net/duovoxel