Hello and welcome back to another update of Forgotten Hope. Today we have a some more news regarding the Mod of the Year contest and a new German tank-destroyer.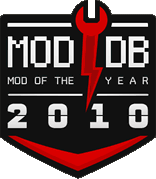 Before we get to the actual update, we'd like to let everyone know that Phase 2 of voting for the Mod of the Year contest has officially started, with 8 days left to vote. We hope everyone will take the time to log in and vote for Forgotten Hope 2. At this time, we are happy to announce that the only two Battlefield 2 mods in the contest hold nearly 5% of the total votes. And remember, help make FH2 one of the top 10 mods of this year, and a special announcement will be posted as a reward.
Today we are showing off the Sd.Kfz. 162, otherwise known as the Jagdpanzer IV (or duck by its crews), which comes to FH2 from the original Forgotten Hope mod.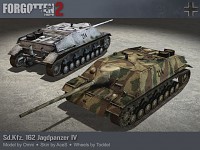 The Jagdpanzer IV was a German tank-destroyer built on the chassis of a Panzer IV. It was designed and built against the wishes of Heinz Guderian, who argued that the vehicle took away precious resources from the Panzer IV line of tanks. The Jagdpanzer was armed with the same 75mm gun as the Panther, the Pak 42, but this, combined with heavy frontal armor, meant that it was nose heavy and difficult to operate in rough terrain. In combat the Jagdpanzer performed exceptionally well in its intended role in Normandy, the Battle of the Bulge, and on the Eastern Front. However, when it was used as a replacement for tanks and assault guns, the Jagdpanzer suffered in combat. The Sd.Kfz. 162 Jagdpanzer IV was modeled by Omni, with the texture done by AceS, and the wheels done by Toddel.
That's all for this week, but be sure to come back next time for another update. Until then, feel free to visit our IRC channel and our public forums.