December 22nd, 2010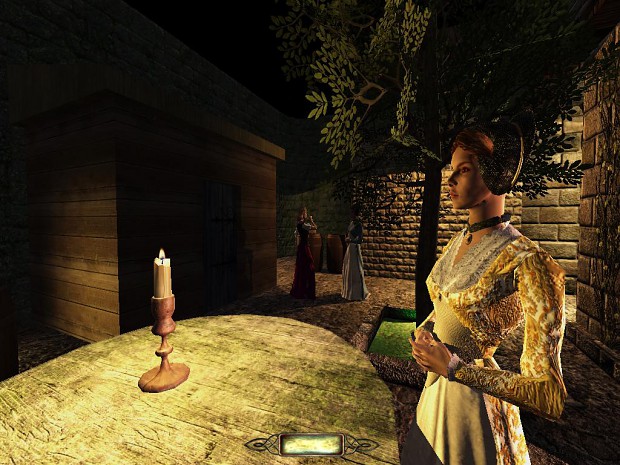 (Image courtesy of Clearing at Darkfate.ru)
At long last The Dark Mod version 1.03 is available for download!
To get the update, just run your tdm_update.exe file (inside your darkmod folder) or see our website for more info: Thedarkmod.com. With the new updater the download size for upgrading 1.02 to 1.03 is about 210 MB. A fresh download will weigh about 1.8 GB.
Ultra-short summary
Graphic overhaul: New Ambient method, Interaction Shader and HDR-Lite Post-Processing
Various code changes with regards to AI, physics, sound, location system, inventory
New textures (lilies, skyboxes, metal, roof and brick textures)
New female AI including two new vocal sets "Wench" and "Lady"
A couple of new models, fixed a few fixed issues with existing models
Built-in Mission Downloader, plus some changes to the settings GUI
Added Werebeast and Horse AI, spiders upgraded
New update system supporting differential downloads
A couple of new systems are still in preparation, so expect more goodness to come in TDM 1.04 (Overhauled Level of Detail system, AI pathing upgrades and more)
The full changelog can be found on our wiki.
Note: While missions are fully compatible with this release, you can NOT load any previously saved games after updating to 1.03. If you're in the middle of playing a mission, you might want to finish it before updating.
---
New Visual Options in TDM: 1.03
So you want to know what the new video settings in Dark Mod 1.03 are all about do you? Well, pull up a chair kids and lets learn all about it.
INTERACTION SHADER:
The interaction shader determines how 3-D surface properties of objects are rendered, and how light interacts with these objects. We have two interaction shaders to choose from, Default and Enhanced.
AMBIENT LIGHT:
The Dark Mod requires mappers to encase their entire level with a single, 'low level' ambient light. This light removes the pitch black shadows that Doom 3 is infamous for. This ambient light must be named "ambient_world" and should only be bright enough to remove pitch black shadows, and should ideally not be bright enough to visually affect the light gem. There are more advanced options for location based ambient lighting, but we won't get into that here.
AMBIENT RENDERING:
The values from the ambient_world light can be used several ways. We now have 3 'user defined' performance options in the menu for how the light is rendered ingame. Two of these options require all of our textures to contain special code to support the 'simple' and 'enhanced' ambient settings, otherwise the textures will appear black when users try to use them. It is important for mappers to ensure any custom textures have the appropriate code in their material files to support 'simple' and 'enhanced' ambient lighting.
AMBIENT RENDERING SETTINGS:
Simple
As the name implies, this is a technique that renders the values of the ambient light by passing those values to the diffuse texture through a special stage in the textures material file. There is no normal map or specular pass for the simple ambient since this setting has performance in mind. Low end systems will see the best results with this setting.
Normal
This is the default way of doing things. Diffuse, normal and specular textures are lit by the physical light, and do not rely on any of the special material file code.
Enhanced
This is an enhanced version of the simple method where diffuse, normal and specular are all rendered by having the ambient_world values passed to them.
INTERACTION SETTINGS
Default
This is the basic Doom 3 interaction shader. Use the Doom 3 shader on low end machines for performance. When doing so, it is best to use 'simple' or 'enhanced' ambient lighting because the Doom 3 interaction shader does not correctly render the shadows for 'ambient_world' lights when using the 'Normal' ambient setting.
Enhanced
This is our own enhanced interaction shader. It does some special tricks like edge detection, nicer specular, and correct ambient light shadows when using 'Normal' ambient rendering. Lower end systems may not be able to handle the extra processes.
HDR-Lite
This setting adds some special post processing effects to the game. What you see on screen will have some added visual punch. It can be used in combination with any of the settings listed above.
Bloom Intensity
When HDR-Lite is enabled, you will also be able to turn on bloom with the bloom slider. Dragging the slider all the way to the left disables bloom completely.
---
AI
Spiders have been significantly upgraded: all-new animations
(including death animation), new spider types, new behavior (ceiling
hang) and quieter footsteps
Three new female characters: noblewoman, wench, and rogue.
New animations for female characters
Lowered volume of zombie foot-drag (again)
Implemented run animation for characters with weapons (so they don't stab their head while running)
New "Werebeast" monster added
Several varied pain animations
Horse AI
---
Physics
Formerly, mantling (jump, grab ledge, then pull yourself up) only worked for stationary or moving (translating) objects. Ishtvan now implemented mantling onto rotating objects, too. This video demonstrates nicely the effect and possibilities.
By the way, the map is called Swing and is a contest map that confines the player into a 1280x1280
(unlimited height) cube, and if you watch the video, you will see that the map certainly feels way bigger. A clever trick :)
---
Sounds
Added two new vocal sets: "Wench" and "Lady"
AI no longer play the same vocal bark twice in a row, and play a wider range of vocals (you should notice quite a change!)
several footstep sounds have been modified
ambient sound will no longer be lost on reloading
AI vocals have been adjusted to allow for better ability to determine direction of the sound
---
GUI
A "Restart game" button now in the "Settings menu"
The "New mission" menu has been greatly improved and has new features like tracking which mission(s) you played before, how long it took etc. And a "Mission Download" feature!
Built-in version check, so The Dark Mod can tell you when an update is available.
The "Actions/Inventory" menu has been split into "Actions" and "Inventory". This makes room for: It is now possible to bind keys for "Spyglass" and "Cycle Readables" from the menu.
---
In summary this is one of the biggest updates to The Dark Mod and will improve both current and future Fan Missions for both mappers and players!
---
(Or simply browse to your existing Dark Mod 1.02 install directory and execute the tdm_update executable.)