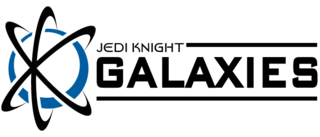 After almost 3 months of waiting, the JKG team brings you the biggest Developer diary, you, quite possibly, will ever see. No, we are not dead, and i hope this will underline that fact with lines as thick as the sarcasm i've been using everytime someone said we were!
Lots of this, is WIP! (Work in progress) and therefore does not necessarily picture the full quality, nor the exact resemblance, of the finished product, which makes it into the released mod.
With all these words, to back up the statement, let's get on with the actual news! Normally I'd start the diary right off, by telling you all how amazing everything is looking In-game, but instead, today we will look at something off-game! I am of course refering to our completely newly designed 'n launched
Jedi Knight Galaxies Website! Which includes some new interesting deatures such as
Interactive picture gallery
New video media centre
New, more interactive and detailed forum!
Complete news archive with all the developer diaries, old & new!
Subscribable newsletter, sending you notes whenever JKG has an update
Light, clean and streamlined new looks of both website and forum!
A database with the FAQ's, Collections of informations, and Interviews with our developers
Well, that covers all about the new website I think, apart from the fact that we want you there, to help us maintain a funloving and mature community, which helps us create, what JKG in the end will turn into. Without a strong community, a mod itself, is pointless! We hope to see you people there, and we hope to be able to make a smooth transfer from the old site, to the new one!
ANIMATIONS
Ok, so to start this off, we'll take a look at the animations that Hirman and TheExile have been working on, the past few months. Since way too many were made, to showcase them all here, we've decided to pick the best ones, and leave the rest of them, either for you to discover when the mod comes out, or for showing in one of the next diaries.
Without further ado, I give you: Hirman's work, ranging from "Wounded" to "Squad Commands!" :
Leg Wound:

Torso Wound:

Head Wound:

Arm Wound:

Squad Attack:

Squad Execute:

Squad Hold Position:

Apart from Hirman's amazing animations, we also had another animator join his efforts in the last few months! It's time to present the work of an already pretty known animator: TheExile
Laugh 1

Laugh 2

That was it, on the animation side, here on MODDB for now .. Keep in mind, that this was only a tiny taste of the immense amounts of animations Hirman and TheExile have been spitting out these last few months, and that you can watch the rest of them on our new official website!
SKINNING
The next thing we'll take a look at, is an area where we have several things complete, but only a few things to really show you, due to speculations about how/if the skins and models themselves will be in the end product of JKG. Here's a look at the Bounty Hunter, modeled by HellKobra and skinned by Darth Phae:
Also; Skinned by Darth Phae, we have some new Zabrak females!
MODELING
Way more than these models has ALSO been done, but don't worry, we will show them off sooner or later, at this moment though, we'd like to keep a few things to ourselves, at least! ;o. We start off with a vehicle model, that is, as can naturally be seen, still in WIP. Model by Karpman and rendered by IG-64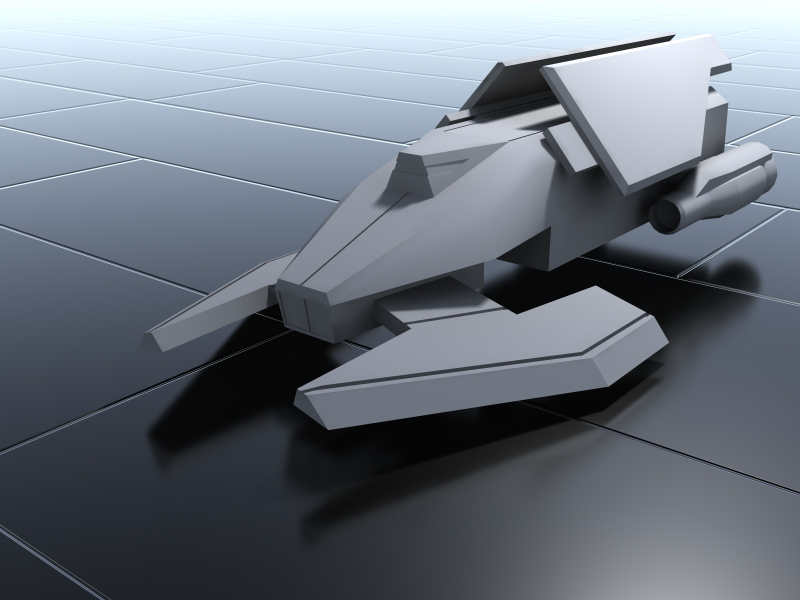 Here is another one of IG-64's models, and if I may say so; This is definately the cutest model we have created yet, but it is actually going to be an "enemy" one of the creatures roaming the Dantooine plains - Are you sure you could kill this?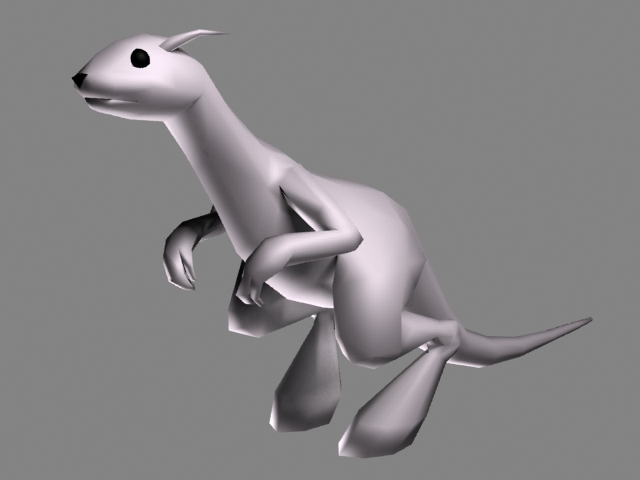 We have quite a goddamn treat for you today guys! IG-64 finished the modeling/texturing of none other than the GREATER KRAYT DRAGON! (Roarrrrrr) And i'm sure you guys will love it just as much as we already do! If all goes well, this will be one of the strongest creatures you will fight In-game.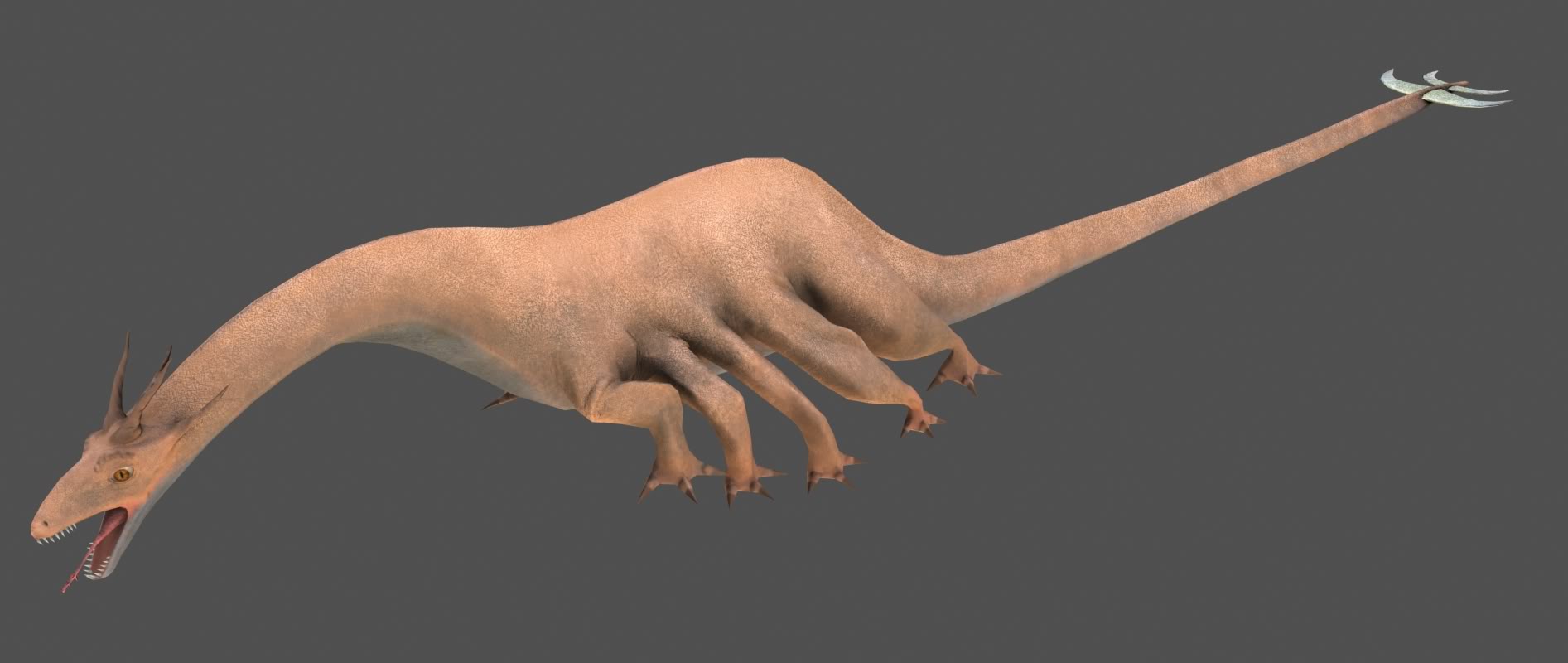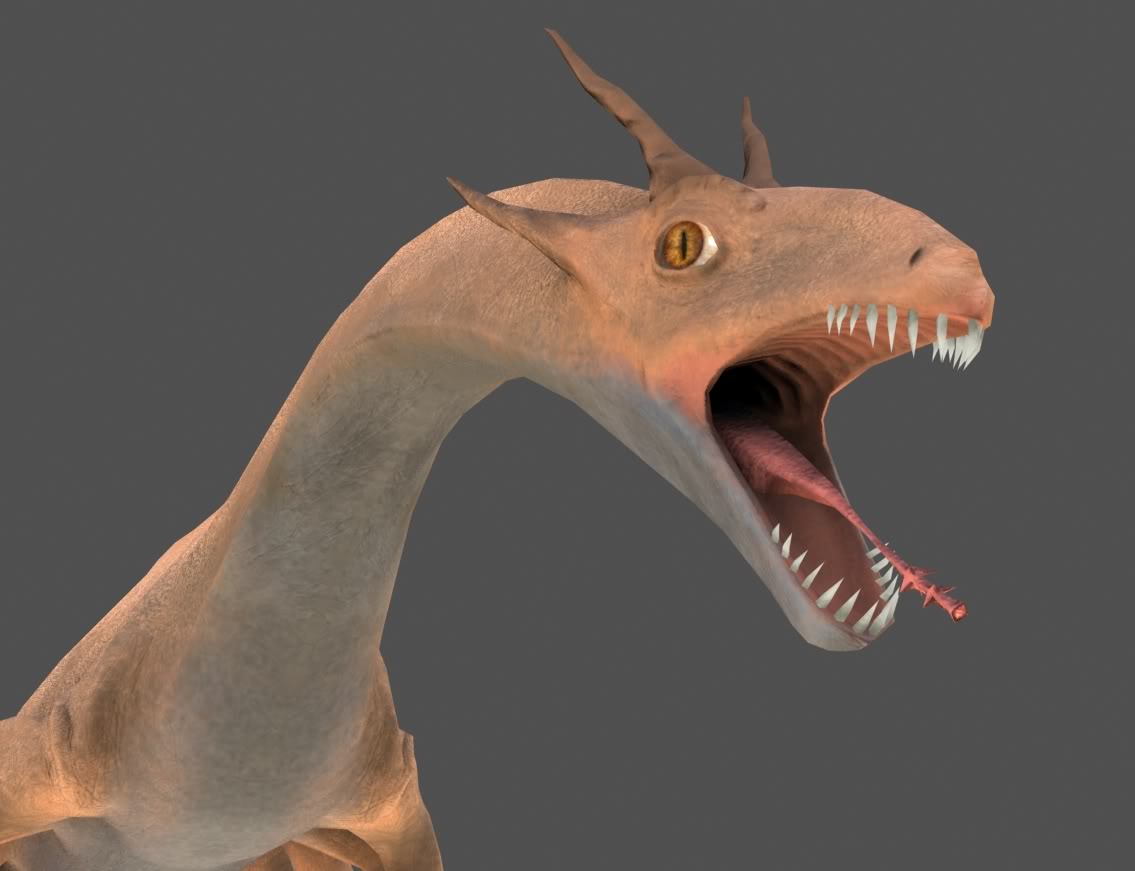 Droid 8d8 modelled by Karpman is still torturing droids left and right at Jabba's Palace. Keep your computer closed! - This is a part of one of the all-new maps we got ready.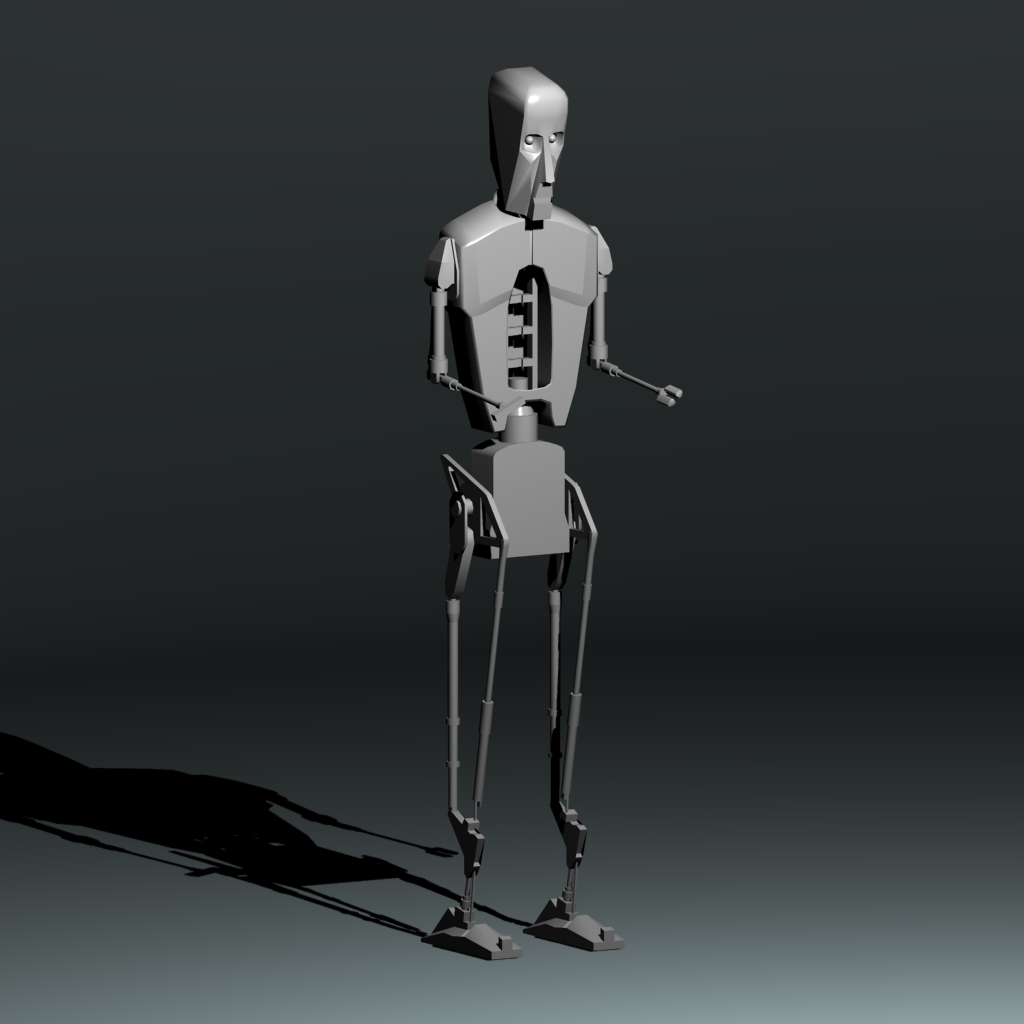 We also have a few weapons to show off. The Caelum Sereno saber was the winner of our "Create your own saber" Contest modeled and skinned by Karpman. The weapon itself was designed by Exxxed.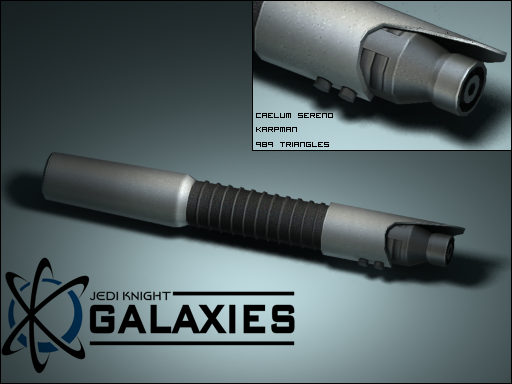 The custom vibro-ax was designed and modeled by IG-64 and skinned by Karpman.

MAPPING
Here's something i bet you have all been waiting for! The mapping that has been done since we last showed off any of that, is extremely extensive, and very detailed! - We won't show you anything but a few screenshots of the maps, due to the fact that we want you to have something to explore and admire, once you get to see it for real.
These first one, is mace by SJC, also known as Sith-J-Cully, showing off his all new Tatooine map; Jabba's Palace! (Where-in you will find 8d8!)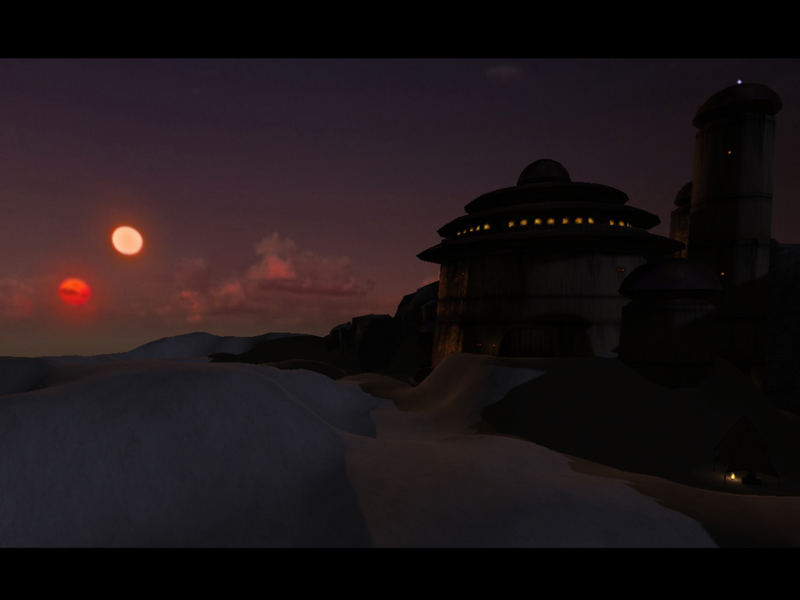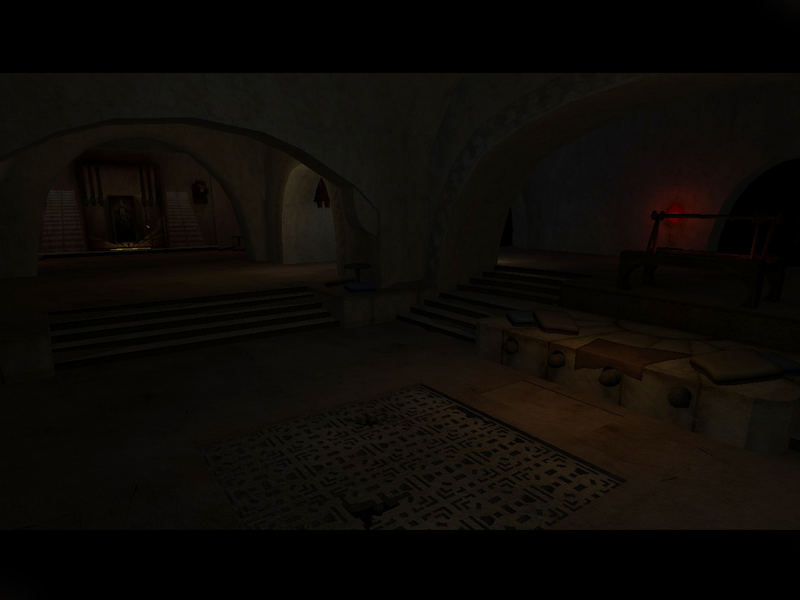 Secondly, we have the work of MaceCrusherMadunusus who also has been working on a Tatooine based map (among others) But no details apart from that, shall be given about what this map is! - Feel free to guess!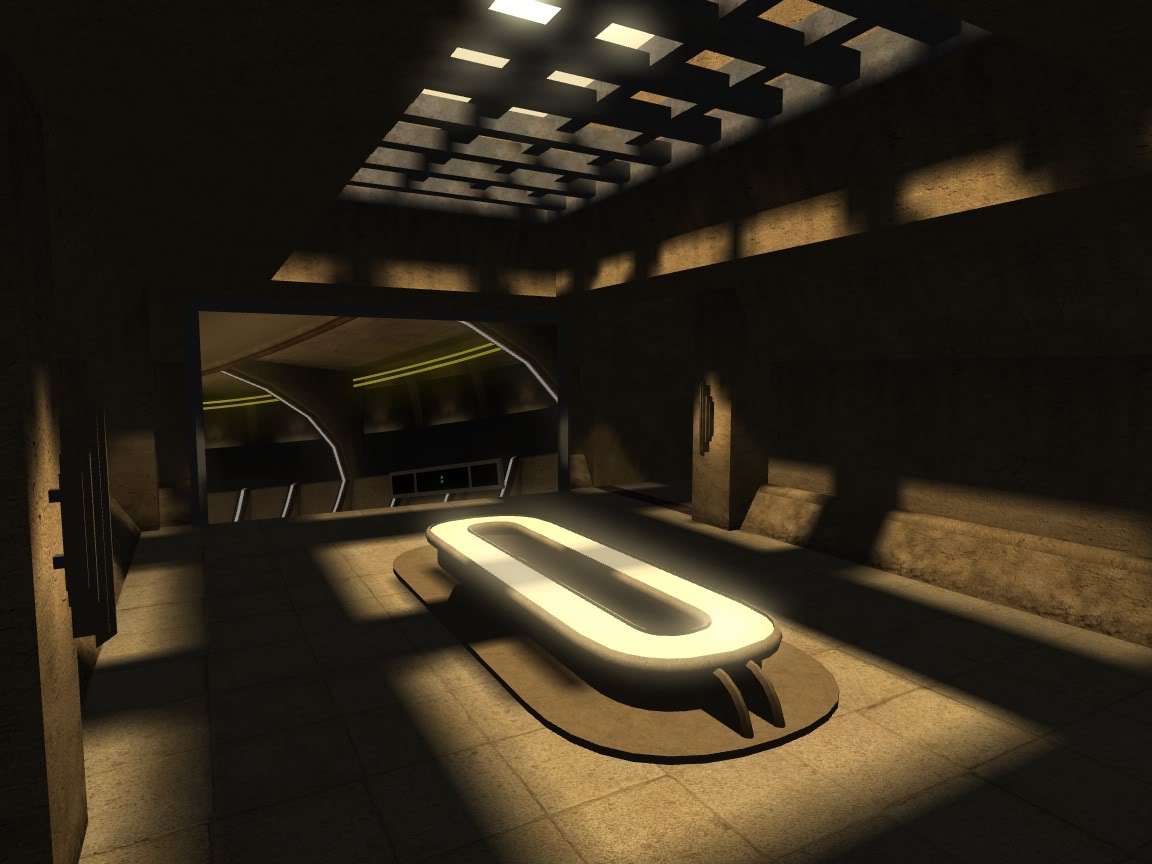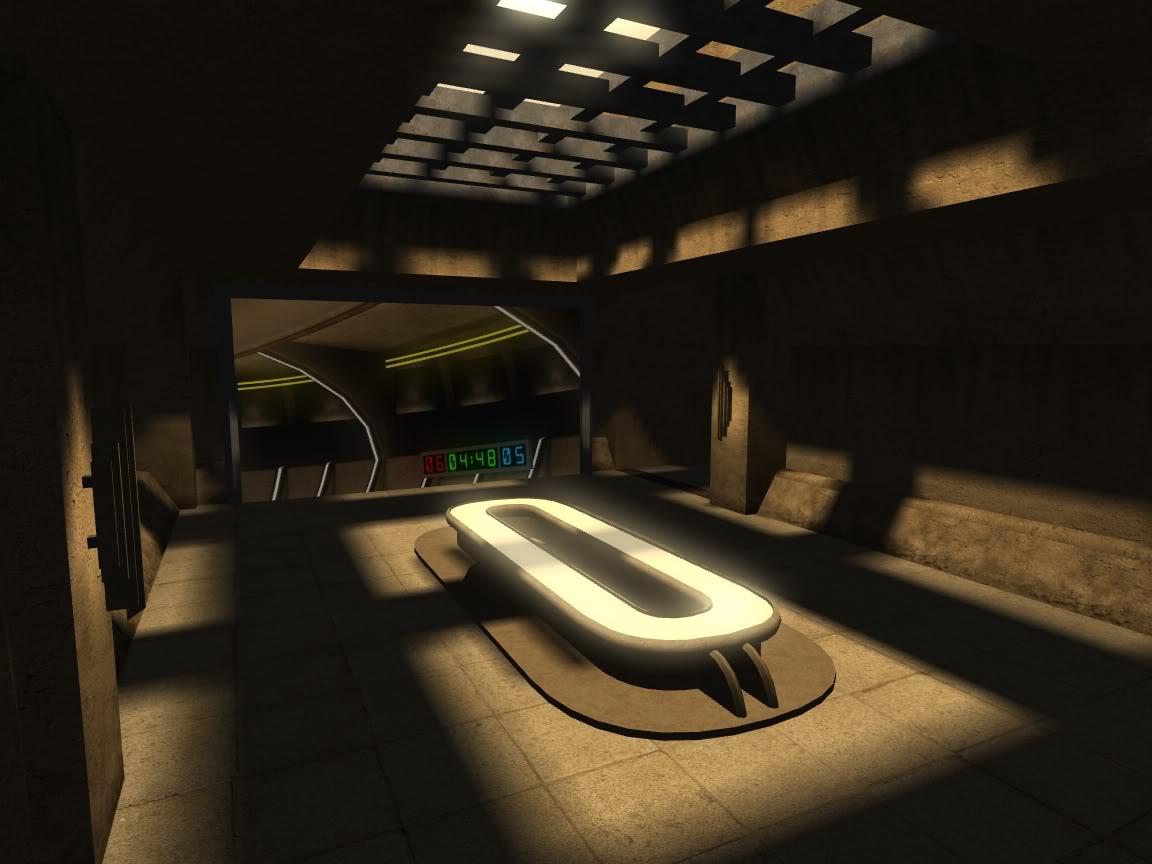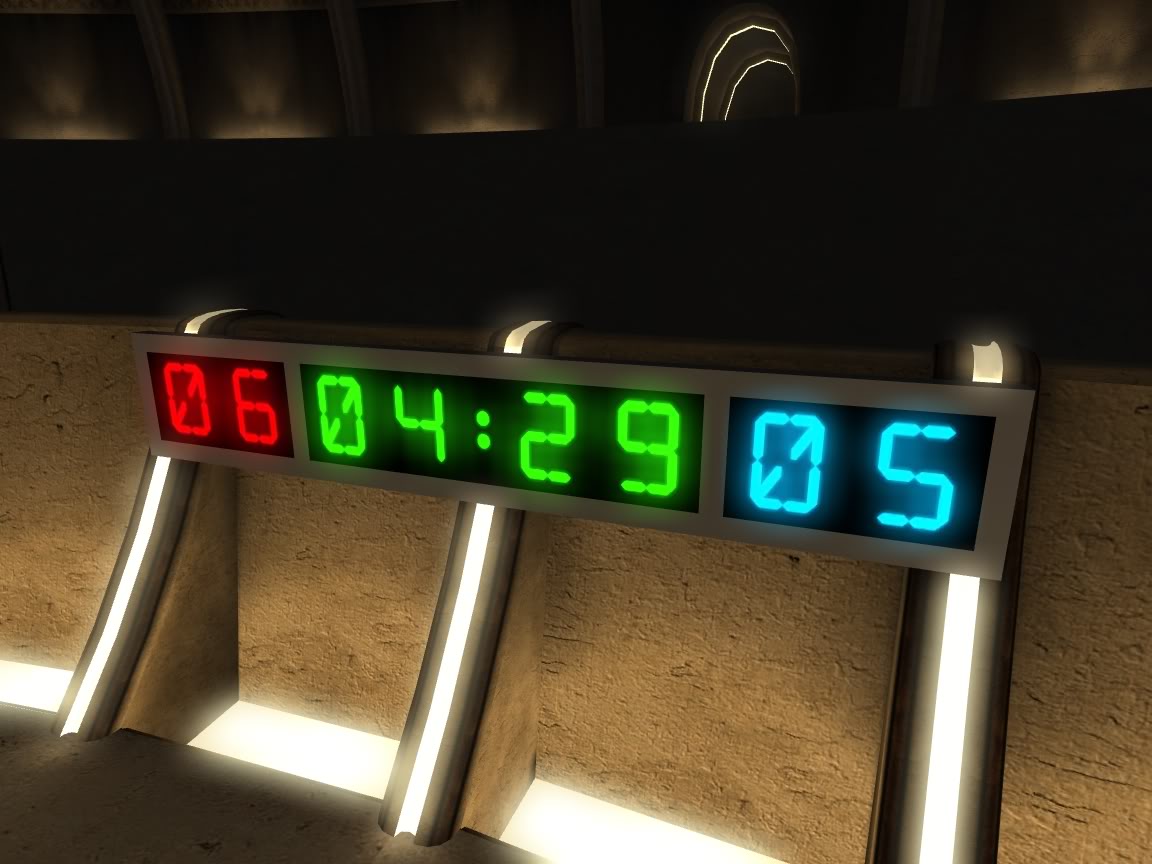 Yes, that is a working countdown, right there! Coded by BobaFett!
Quest 'n Conversations!
Ok, it's time to show you the thing i have been most anxious to show, for the last 3 months! - This has been in the making for a long time! BobaFett has been busy coding, i've been busy writing .. And at last it has been recorded and is ready for your viewing pleasure!
A little bit about what you're seeing here: This is our first *working* quest! It features individually evolving story (Each player does the quest at his own pace, the quest evolves individually) It features the working conversation system, with several different choices as well. Although this is a working quest, it is a testing quest, and It has been made with evolution in mind, meaning it's rather simple. This is the first part only!
Last, but not least, i need to mention: THIS IS ALL IN-GAME! (Apart from, obviously, the logo part) - So all you see here, is working, on our server, already.
That was all that we had to show, from these last months of work .. I hope it has been a pleasure viewing, and that you can forgive the long time that we have been quiet about our progress. - We also hope you enjoy the looks and features of this new website, and that you will keep supporting and enjoying the work of Jedi Knight Galaxies!