Howdy folks, and for those of you new to Temple+ - welcome!
Temple+ has been in development for some time now - preliminary efforts to analyze the engine began in February, and the project really started taking shape around March-April. I am amazed myself at how much of ToEE's system we've managed to upgrade or replace with our own code, things I never thought possible up till this year! This opens up a world of possibilities for ToEE. Importantly, it looks like the only hope for keeping ToEE compatible with new operating systems (well, Win10 at least).
For the first v1.0 release we want to add a standalone replacement for the Circle of Eight Front End (TFE-X), which means we want to alter the in-game options menu to allow module switching and all the rest of the TFE-X options (portrait packs, gameplay options, etc.). For that we need to integrate a new UI library, which is taking some time, but we'll get there!
Meanwhile, as I've hinted above, ToEE appears to have some compatibility issues with Win10. I've seen reports of crashes on startup when running it full-screen, and that playing movies suffers from flickering issues. I guess it's possible GOG or WotC would issue a patch, but I wouldn't hold my breath. That's where Temple+ comes in – since it upgraded to direct3d9 and renders movies in a more proper/modern way, we think it will solve these issues and allow Win10 users to play the game - we've already seen that confirmed for one user at least. We still have to iron out a few bugs, but hopefully we'll be able to release a preliminary yet stable version (sans the TFE-X replacement) this year as a stop-gap measure.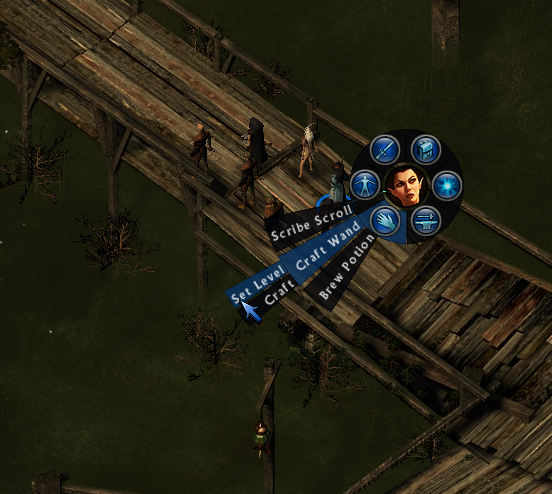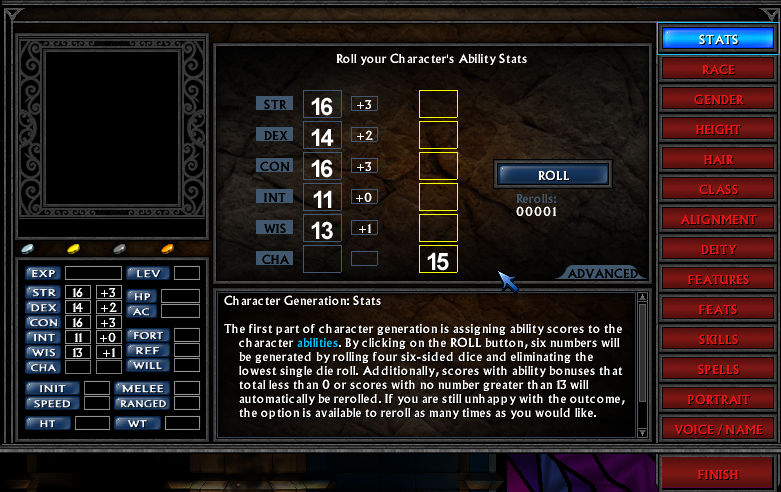 Temple+ lets you specify the caster level when crafted wands; it also fixes that awkward character creation glitch in Co8 where stat labels didn't appear. How could Co8 have missed that?!
Aside from that, Alpha Testing is still ongoing – after 3 months of testing by forum members Heinous Hat and Gazra we've fixed most of the bugs from the Python upgrade and new features we've introduced, and of course fixed a bunch of bugs even the Circle of Eight couldn't touch, such as the Scather/Fragarach hangup bugs and others. Did I mention new features? Check out the image gallery to get a glimpse :) You are of course invited to join us, whether through testing or development, and help make the game as polished as possible!
Cheers,
Cattletech / Sitra Achara, on behalf of the Temple+ Team