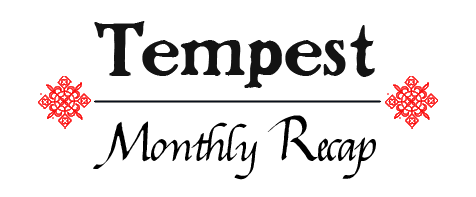 Welcome to our fifth monthly recap! This month we've been able to playtest our singleplayer build, and make plans for the future of Tempest.

Engine Switch
An important decision made at the start of the month, we have decided to migrate engines from Cryengine to Unreal 4 engine. This is mostly due to a lack of concrete support from the Cryengine community, but also due to our team being unable to realise our design goals for a multiplayer game within the engine, combined with its own limitations. After some research and initial prototyping, Unreal engine looks to be the best fit for us.
We were advised some time ago that switching engines would be in our best interests, but were unable to at the time due to the time constraints of our university course. With our course concluded now though, we should be able to make the change!
Our Cryengine build is now available!
We will attempt to transfer as much as possible of Tempest across to Unreal engine, but much will be left behind, especially the singleplayer only features of our current build. With that in mind, we will be making our Cryengine build available to download and play.
Over the course of getting to where we are, we learned a significant amount about Cryengine - a lot of this learning was through trial and error, and by making mistakes and guesses due to a lack of answers from available documentation and the community. Because of this, we will be including our editor files in the download in-case anyone would like to know our methods. This way, hopefully others can learn how (or how not!) to go about achieving some of the things we have over the last 6 months.
Note! Our alpha build is extremely buggy, and has a lot of problems. Hopefully though it will demonstrate its intended purpose; to be indicative of what we eventually aspire to create. The Cryengine build has so far helped us understand what mechanics and design decisions will work, and which will not. To this end, if you check out the build, let us know what you liked, and especially what you didn't!
Our Alpha files will be added to our downloads section very soon. In the mean time they are also available here:
(Note! We will be patching this in a few days to correct some more egregious bugs)
Using both feedback from IndieDb and what we have already learned during our Cryengine development, we will be starting from scratch to remake Tempest from the ground up as a multiplayer game, as previously intended. Our primary focus will be getting our multiplayer core mechanics in place, before moving on to recreating the world players will navigate. This may take some time! But we will continue to document our progress here as we go.
Let us know what you think!
If you like the sound of what we're trying to achieve here, or if you'd like to help us out, leave a comment or send us a PM. We welcome critique and feedback. That's all for now. Until next time!