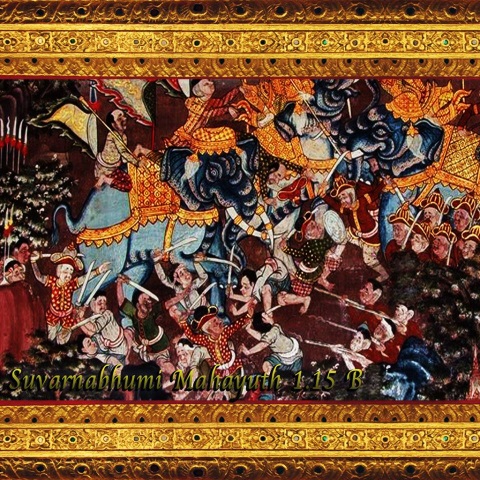 Suvarnabhumi Mahayuth Patch 1.15B + Hotfixes
Update Version 1.15 to 1.15B for Warband 1.154-1.165.

You need to start a new game, this is not save-game compatible.

Install
Download this patch and paste all files to Suvarnabhumi Mahayuth 1.15 mod folder.

**For Mac os and Linux os users**
Now we know that 'missing text' problem will only happen to people who use Mac os and Linux os, and here is the solution in 3 steps.
Mac
download mod from Moddb and
1.Extract "Suvarnabhumi Mahayut 1.15" folder to
Steam\SteamApps\common\mountblade warband\Modules\
2.In mod folder delete FONT_DATA.XML in Data folder and FONT.dds in Textures folder.
Linux
Various Linux Fixes by McCoy! Read original post
Thanks -TC- ,McCoy! and Perisno team for the solution.
Read original post
------------------------------------
Freelancer (Modified version) :
-You are not able to hire your own troops and mercenaries while you are enlisted in a lord's army.
-All equipments provided by the lord shall be returned when you resign but your own items remain.
Patch 1.15B Changelog
- Minor bugs fixed.
- Improve battlefield size and improve realistic terrain.
- Weather (night, rain, fog) has more affects on long-range weapons.
- Can get "Bounty Hunting" quest to hunt bandits for exchange money from Tavern Keeper in every town.
- Can hire troops (Tier 4 faction unit) in every town by using "Ask if any nobles to want to join you".
- Added skill "Hunting-Cooking" (Party skill) to increase party food supplies management efficiency. The skill needs to be used together with Tracking skill.
- Can build outposts and forts. Outposts are able to be upgraded to fort.
- Can execute or persuade prisoners and lords except kings.
*To use execution command, you need to be a vassal of a faction or hold your own faction.
**Caution** killing lords will seriously decrease relationship with all characters in the game.
- Added quest "Treasure Hunt", activated by reading Treasure Map which can be purchased from some traders in the game.
- Fix Spear Bracing animation (press B button)
- Shield Bash ability is now available. A shield wider than 40 must be equipped.
- Added "Flipping coins" with Tavern Keeper.
- Can sell prisoners to Village Patroller.
- Improved Town Marketplace menu.
Known issues
- If you play as a woman, some Vietnamese armor, e.g. Mac Tunic and Le Tunic, make your character invisible when equipped.
- Sometimes the sound effects are not working in towns and siege scenes.
- Explosives can do damage bug to the player although it is far from the explosion area.
1.15 Credits
Better strategy AI on following and besieging for AI lords by rubik
Reinforcement Script by Zaitenko
Reposition of Reinforcement Archers during Siege by Abhuva and Treebeard
Bounty Hunting Quests by Keedo420 troops
Recruitable from castle/towns by laszers
Perfectly Smooth Deathcam by Zephilinox
Foraging skill by jrider and cuts
Random Treasure Hunt by Cernunos
Flipping coins with tavernkeepers by Albertus Magnus
Town Merchant Interactions by Somebody
Outposts Kit by Lumos Bandit bribery by Geoffrey Ashe
Manhunter: attack them or sell them prisoners by Glabrezu
Extended Prisoner Chat - Originally written by Leprechaun, majorly overhauled & extended by Mordachai Tocan's calradia source code by Tocan
Battle Minimap by rubik