In the last DevBlog we showed you what we plan to do in the next version of the game (Base/Housing System), but new content won't be the only thing coming around. See how we improved the gameplay of the following article:
If you are reading this you probably played at least one of our recently released versions or maybe not. However, the gameplay wasn't that good: The performance was a nightmare depending on where you were and ladders as well as other things didn't work - until now! We vastly improved the performance of the game for a more fluent gameplay and better experience. We also finally added ladders to the game, which the player can use to climb up on various objects (such as houses, towers etc.) and use that to get a tactical view over the area the player is located in.
Ladders
Weapons
In the past few weeks we also worked on new content for the game. With the next version of the game you will be able to experience more weapons and search for more loot on the map.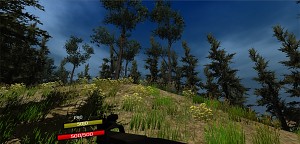 One last thing: We've added a forum to our IndieDB page which you can use to report bugs and suggest things you want to discover while playing the game. Feel free to leave a post in the forum if you feel like the game is missing something.