Apparently, there have been many fans who have picked up Neofeud, who started out as fans of Terminus Machina. I should start off with the fact that Deus Ex 1 is hands down my favorite game of all time. Terminus Machina was a pure labor of love that I essentially developed on my own for the most part.
The reason development on Terminus Machina ceased, was due to the amount of time it was taking and the lack of funding to support my game development endeavors. But in the last couple years, I have been working on a new game, with many of the same cyberpunk, and gritty realism of Terminus Machina, but in a point-and-click adventure game. This game is called Neofeud, and has just been released to Steam this Tuesday, September 19.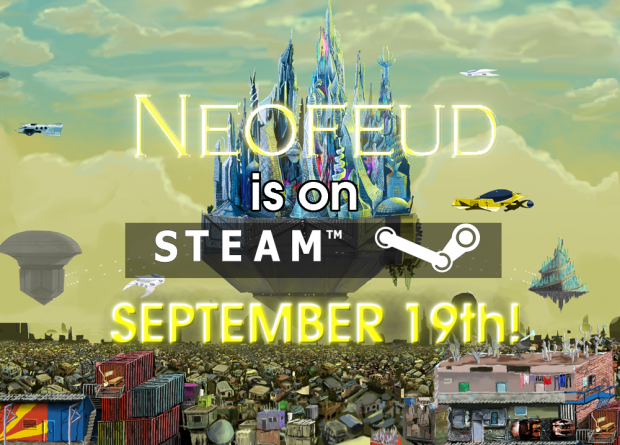 While I cannot guarantee that there will ever be a longer version of Terminus Machina, a sequel, etc., I can say that if enough folks support Silver Spook Games by picking up Neofeud, it will increase the probability greatly of more Terminus Machina or games like Terminus Machina. Deus Ex is still my home territory, and I'd like to produce more games like Terminus Machina, but a lot of that hinges on the success of Neofeud commercially, as does Silver Spook Games as a company.
At any rate, Neofeud will be on sale during launch week at 20% off. The base price is $15, so you can get the game at a steal of just $12 for 15+ hours of gameplay, according to latest estimates! The Neofeud soundtrack, which includes 45 tracks and 2 1/2 hours of music will also be available for purchase on Steam.
In addition, here is a video of the most recent Silver Spook livestream / launch party for the game, in which a lot of Deus Ex and cyberpunk-related topics were discussed.
So, thank you again to all of you Terminus Machina fans and supporters who have stuck with me over the years. That list includes AlvinD2008 Dentonoid JCDenton2000 xen0phile and last but not least, the great ham sandwich master, FastGamerr.
It is truly unfortunate that the Deus Ex franchise has been put on hiatus. The world needs more games that took those sorts of bold risks, especially in the cyberpunk genre, which I think is losing some of the 'punk' and edge that really defined the game as well as cinematic and literary genre.
I truly do have even bigger creative visions for games than Terminus Machina and Neofeud, and I hope to one day be able to make them a reality. And perhaps one day this will happen, with your help.
So please, let's make cyberpunk great again, together! :)
P.S. - Please let Blade Runner 2049 not suck horribly. K thx!
--Silver Spook / Christian Miller