Hi all, as usual it's been a busy month. This time with the Steam Early Access kicking off, and everything that that entails! Putting something out on Steam takes a lot more time and effort than I ever thought it would, lot's of behind the curtain stuff, and it also opened a discussions forum which brings more to do, but it helps to bring to attention a lot of bugs that need fixing that I wouldn't have known about otherwise, and keep track of them.
Now for some SIK game news (I also managed to get some new stuff happening game wise too!)
Here comes a new crossover!
Power Drive 2000 is a sublime looking, and sounding, sci-fi car racing game recently funded on KickStarter. It looks amazing, but the music roster is a synthwave dream, it's like looking at a Drive Radio playlist!
It might initially seem like an odd crossover, but have a look at how the it looks in Super Indie Karts:
Oh yeah! The '80s Sci-fi vector stylings fit into a mode7 style game like a chrome android's hand in a NES Power Glove! The creator is a great guy and I can't wait to see how this one turns out, so go ahead, give this project your backer dollars today!
Action Cam
This is a new feature introduced in a recent update which activates a Picture In Picture camera view of a dropped Pineapple or a launched Loconut, essentially showing you what happens to them after you've let them loose. Before I made these I was always left wondering "what happened?", and it was a little unsatisfying if you didn't get to witness your shot hitting its target. Now you get to see it all with a quick glance up to the top of the screen above your kart! (like a rear view mirror, only more actiony)
Here's how it looks:
Super Golden
Now the Golden Shrooms aren't only there to give you a Race Star, they're also going to give you an invincibility boost! You can see how it works in the videos above and below.
It's awesome seeing the Shroom get a secondary function as now there's more incentive to find it. It's also cool seeing all these characters turn Super Golden, and it can even help you win a race if you save collecting the Shroom until the final lap!
Here Comes Another Challenger!
This one's not a new crossover, as I did a small 3d model preview of the fishtank kart in the final days of the KickStarter funding period, but it is the first showing of how the kart looks in sprite form!
Shutshimi is a randomized shoot 'em up, from Neon Deity, about a muscle-bound fish with memory problems defending the seven seas, coming in a beefed up version soon to Steam, PS4, Vita, and WiiU!
What is Super Indie Karts?
Super Indie Karts is a classic retro 16-bit style karting game, with Time Trials, Grand Prix, and Battle Modes! The game was KickStarted late in 2014 and is aimed for completion later in 2015. You don't have to wait until completion though as you can join in now with Early Access to the Super Indie Karts BETA builds!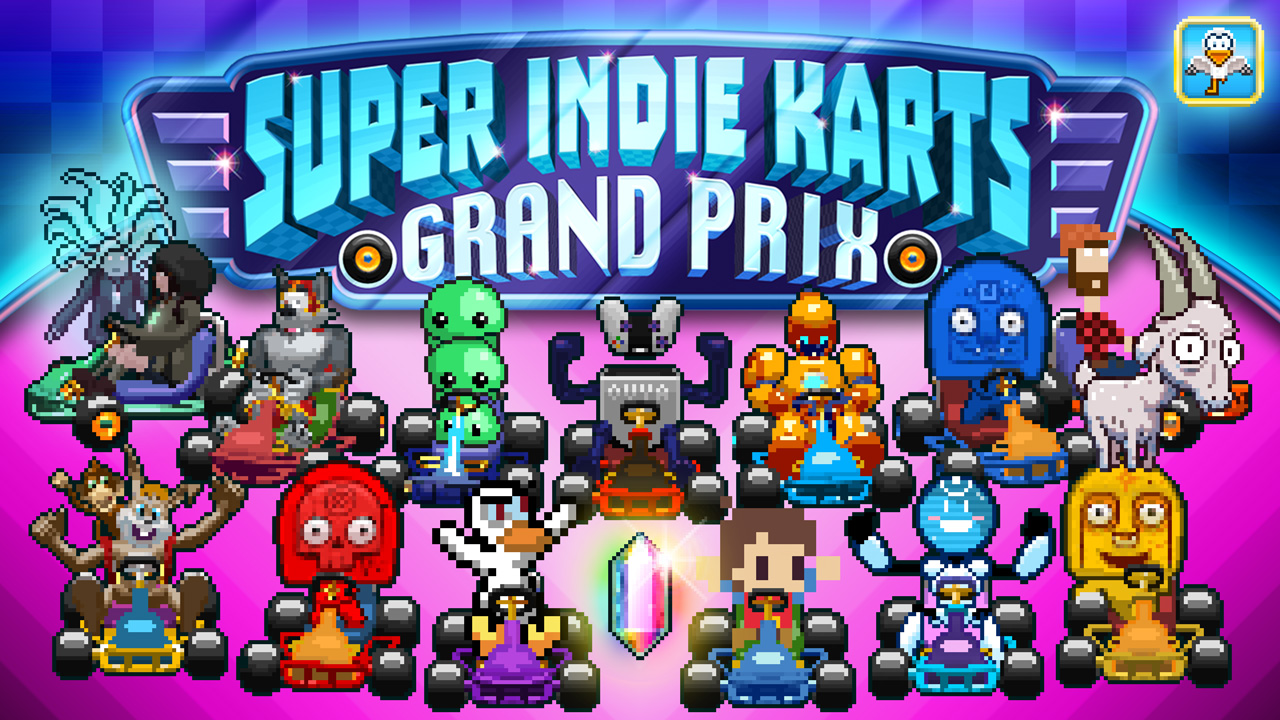 The BETA currently features over 20 Indie Game characters and 15 tracks to play Single Player in Grand Prix mode. More play modes, characters, players, and features will be added as the weeks till release drift on by.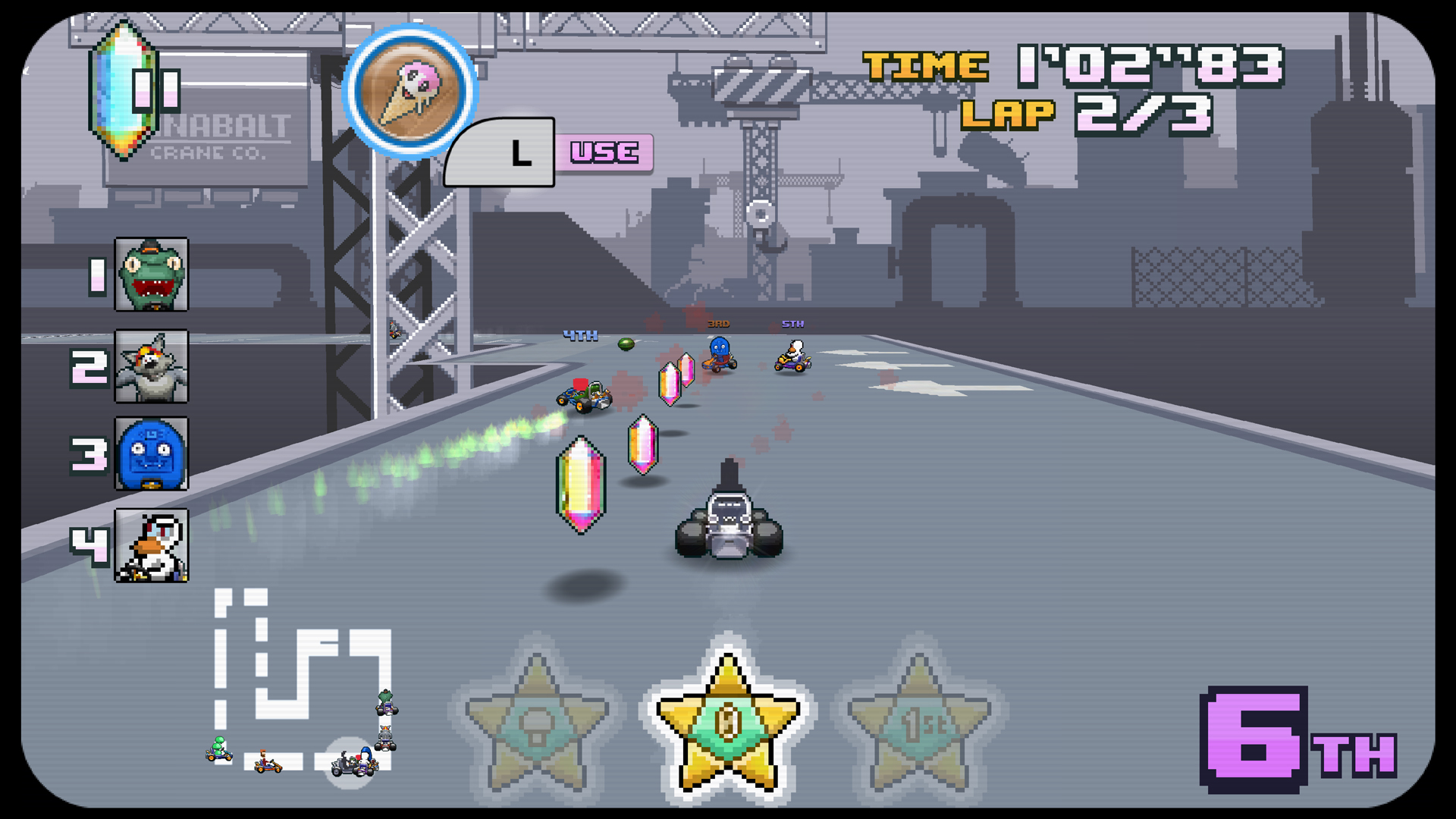 Super Indie Karts is now available in Early Access form on both Steam (for Windows and OSX) and OUYA. Early Access is currently priced at $14.99USD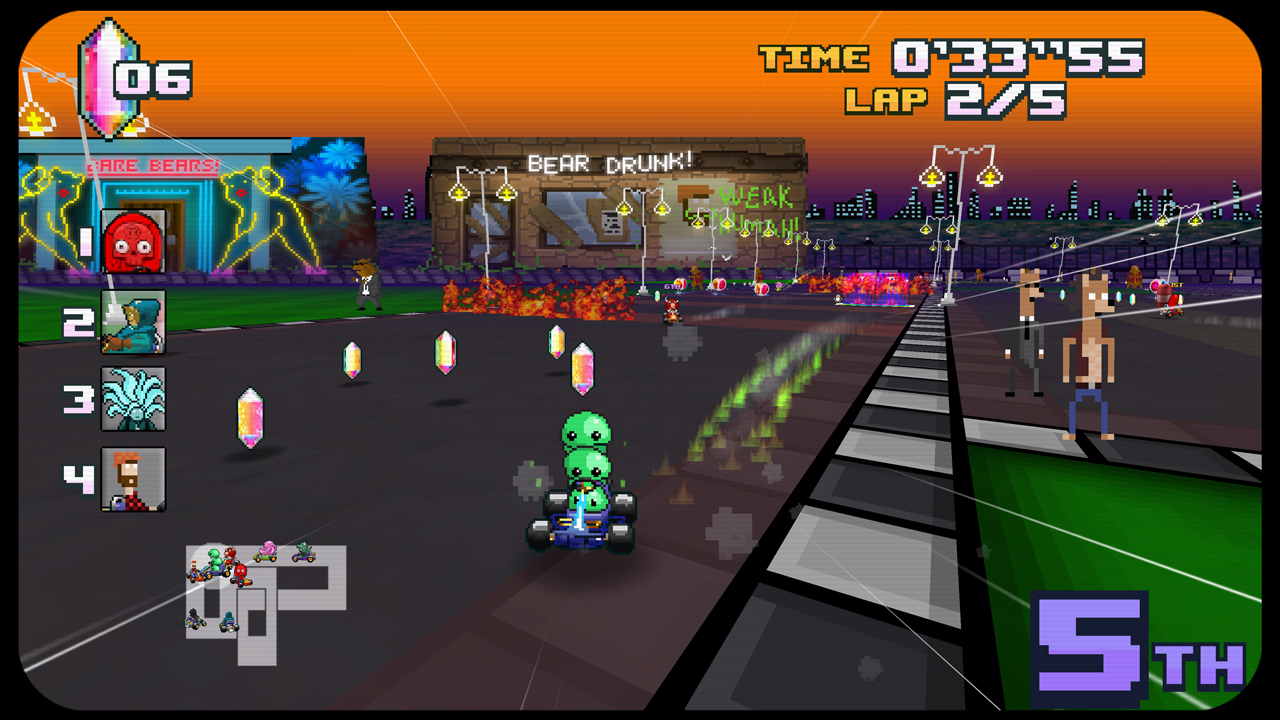 Till next time!
One Legged Seagull