Hey all, Ben here. I'm coming to you with a nice little update to In Development.
1. Mapping for "Call of Honor"
As one of the mappers for In Development, I am partially responsible for creating many of the homage environments you will be visiting as you travel through the game developer's crumbling mind. And although one of our mappers has decided to move on, he left us with a few conceptual bunker maps. I took those scrapped maps and attempted to transform them into something awesome and era-specific.
Here are a few of the best screenshots I could grab from the new map:
Do you guys think the ceiling is too high, or just right? Either way, I am hoping to get some really nice custom textures soon from the art department. I feel the place needs to be...spruced up. The funny thing is that any reference images I find of bunkers...depict a really boring locale. The walls are a barren gray concrete, there is not really any form of artificial lighting, the whole place is stripped out. I am hoping to boost the amount of saturated, colorful lighting to make these places more fun to blast through. Alternatively, I plan to have the fighting sometimes lead into some open-air trenches so the player gets to see some sky and bright color - and some bomber planes overhead.
So as you know, the first major homage we are paying to is the World War 2 shooter genre. Yes, the good ole days of blasting away Nazis and not caring about their feelings are still alive and thriving here at In Development. How could we possibly ignore a chance to tip our TF2 hats to the shooter-defining games that made the gaming world great? Medal of Honor, Call of Duty, Wolfenstein, Battlefield 1942, am I missing any?
Of course I'm missing some!! There are too many WW2 shooters to count, and that's our point here. The only way to pay homage to any video games is to start by paying homage to the act of mercilessly slaughtering Nazis. ...OK so anyways I hope you like the maps. :)
2. Modeling for "Duke Life"
I also bring news that one of our environment modelers, "guessmyname", has been cranking out new models for the imminent American-Hero-themed city chapter, "Duke Life". Here are some of his more recent offerings.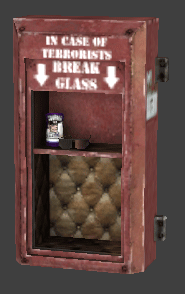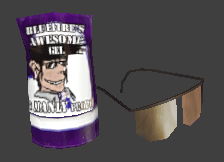 Now come on, world.......when was that last time you needed some bona fide Awesome Gel and some equally awesome Aviator sunglasses to kick some terrorist ass? I would say...RIGHT NOW. That is totally bad-ass and you know it. Plus, I hear that some really sweet Dual Desert Eagles are also going into that case. With those items combined, you are truly a one-man army.
...I mean, just LOOK at that masculine jawline on the dude on the package!! That guy must need a ceremonial battle axe to shave his beard in the morning.
3. Odds and ends from the team
In other news, the re-design our very own "In Development" website is very close to completion. Yogthulu is working with Bluefire on dialogue for the mod. The marvelous Cinematic System (which I have only recently begun to test our and experiment with) is getting improved upon regularly, and new features such as a smooth player tun-around ("Oh, no, what's behind me!?" kind of dramatic turn) is being perfected at this time. The only thing stopping it from being complete is the fact that the player keeps turning and turning without stopping...yeah. We are probably going to include that functionality too, just to make players retch on occasion.
4. Our recruiting pitch
We need your help to make In Development better than it was yesterday!! Listed below, you will find our list of open positions. If you think you can bring more awesomeness to this mod, please inquire with Bluefire, mod leader.
-Programmer:(Bluefire - Scratch that, we got one. Be on the lookout for a HUGE coding update once things get rolling!)
- Modeler: We need someone to create some really sweet hand models for ID. You will need to create several versions to suit several time periods and locales. Once we have some hand models we can import all our new sexy in-game weapon models, something the public has yet to see.
5. Goodbye
Well folks, that's all I have for now. I hope you enjoy the update. Comment, subscribe, and/or join the mod team. And remember - breakpoints are just the beginning.