Hello everyone!
Life has been a bit hectic for all of us, with jobs, work, sleep deprivation, temporary insanity, but we would like to inform you that the project continues!
We're starting to change our focus again; we would like to create our own campaign now, as well as add in our own new ideas. Which basically means, you will eventually see new content for the mod. However, we still will be continually fixing issues with the vanilla campaigns like Half-Life 2.
To help with this new direction, we will be in need of additional developers, but more on that will come later.
There are some other issues, mainly gameplay ones, that the team is discussing as well; the healing and ammo-sharing system (or lack of), how players will respawn and general flow of the game. We are also discussing ideas to help server administrators set up servers more easily.
Archanor has completed some updates to his syn_TakeOver map - complete with new textures and an exciting helicopter battle.
For those of you level designers, feel free to make use of the new textures as well, especially if you'll be participating in our very first
official map contest
! Winner will be given FPS Points and the possibility for inclusion in our next update. See
this page
for details.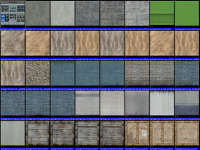 We realize this is a small update, however we thank you all for your patience!