What Happened?
We've been working on Forging Glory, what is effectively a looter shooter, except with physics-based swords, for over 4+ years. It has been a project built upon blood, sweat, and sometimes tears, all with a hilariously tiny team!
We've talked about the game in the past and shared some screenshots and project updates here and there. We had an awesome and unique e-sports event in Austria many years ago, which gathered some attention, and later shared the game with a few very lucky closed beta players via Steam.
About two weeks ago, we were taken off guard by a surprising reality check. After much consternation, we decided to push up our schedule dramatically, and now pushing Forging Glory into the world like we never have before, with near-daily devlogs, Patreon support, and more! Forging Glory has been a journey already, but in many ways, we're just getting started.
What is Forging Glory?
Right now, our working one-sentence summary is:
Forging Glory is a physics-based looter brawler with limitless player customization; letting you experience the glory of brutal gladiatorial combat in a futuristic, virtual world.
As a gladiator in Forging Glory, you fight for glory, fame, and fortune. You are not only a warrior, but a celebrity.
Where are we in the development process?
Our core features are in:
Physics-based combat.
Currently 7 unique weapons.
Infinite dynamic campaigns, playable both alone or multiplayer, cooperatively (very popular) or competitively.
6 game modes.
Currently 70+ item modifiers to mix and match.
Currently 300+ special abilities to choose from.
Shop, to aid in finding items you seek (no microtransactions!).
Smith, to aid in crafting ideal items.
10 avatar skins (no microtransactions!).
Basic "glory" scoring system, evaluating how entertaining you are, not just how lethal you are.
Even an auto-GIF generator, integrated into our Discord, for easy bragging to friends!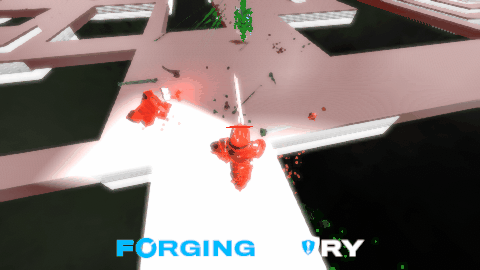 We're currently getting ready to greatly expand our beta, testing and improving the entire gambit. We are confident in the above features, but we also know there is plenty of polish necessary before Forging Glory is ready for a final release. Given its looter shooter elements, we acknowledge it's absolutely critical to get player feedback! If you are interested in participating, sign-up for the beta to receive a free Steam key!
As we continue refining and polishing these areas, we'll also be working on other components of the game that explore the Forging Glory universe. These will include expanded features like fandom (think virtual fans for your virtual gladiators), new traits (like headbutts!), and more. Even more reason to sign up for that beta!
As we get to this major milestone in our journey, we want to thank all those who have supported us so far. We really hope to make Forging Glory an amazing game with your help.