Hi guys,
Today we have a bunch of brief but good news I'd like to share with you.

STEAM EARLY ACCESS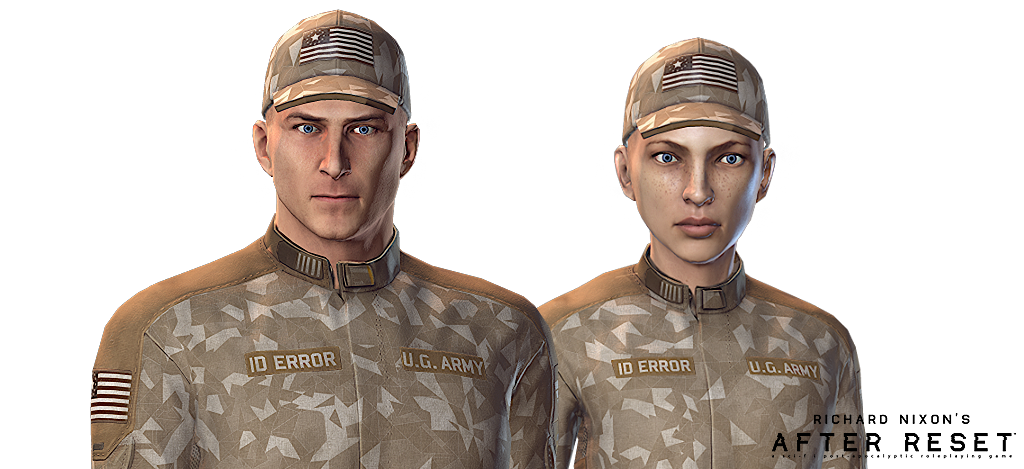 Finally, we've done a character creation build with game mechanics embedded and of such quality that I'm satisfied with (for Beta). So the only thing that lies between you and that build is Steamworks' Documentation. Please, give us several days to figure out how to put our build there (we are still waiting for tax information approval). After that, we'll be able to spread the keys for the Beta.
IN-GAME DISPLAYS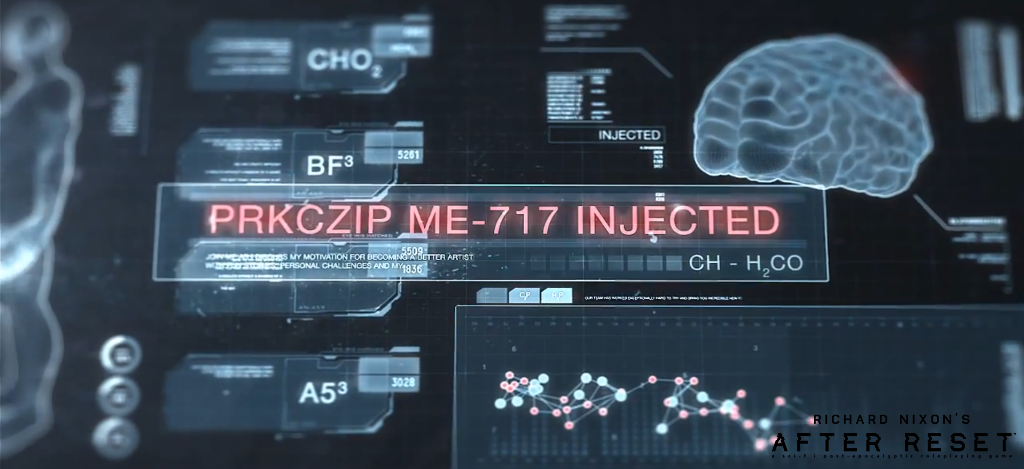 Feel free to check our short video diary showing our in-game displays you'll be able to see in the Gyes bunker during the Prologue: Youtube.com
INTERIOR OBJECTS MODELLING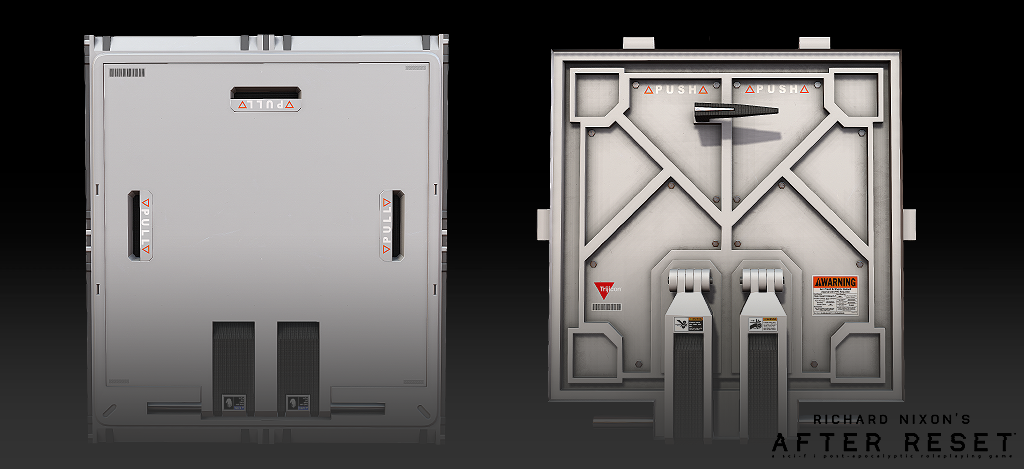 We have proceeded with the creation of more realistic objects for the Prologue. Below you can see one of our new objects: a floor tile with a hatch that can be opened to get to the engineering infrastructure sub levels of the bunker. As you might remember, we use 4k textures and physically based shaders for the visual part of our indie. But don't worry, even now I have 60fps on my machine (1920x1080) despite real-time lightning being on. In the final build, most of the lightning will be backed (for interiors). Beyond that, we reckon, by the time of the full game release the gaming hardware will be much more ahead.
CLOTHES MODELING
We have also finished the development and creation of The Military Combat Uniform (MCU), the current battle uniforms worn by the United Governments Army by the 132 A.R. I'll spare you from a lot of lore background for this news but I can say that we spent about a month for development of details (materials, manufacturing, camouflage, filler, cost, ranks, markings, tailoring, electronics, etc.) with accordance to After Reset's hard sci-fi part. Here, like always, you can enjoy the view: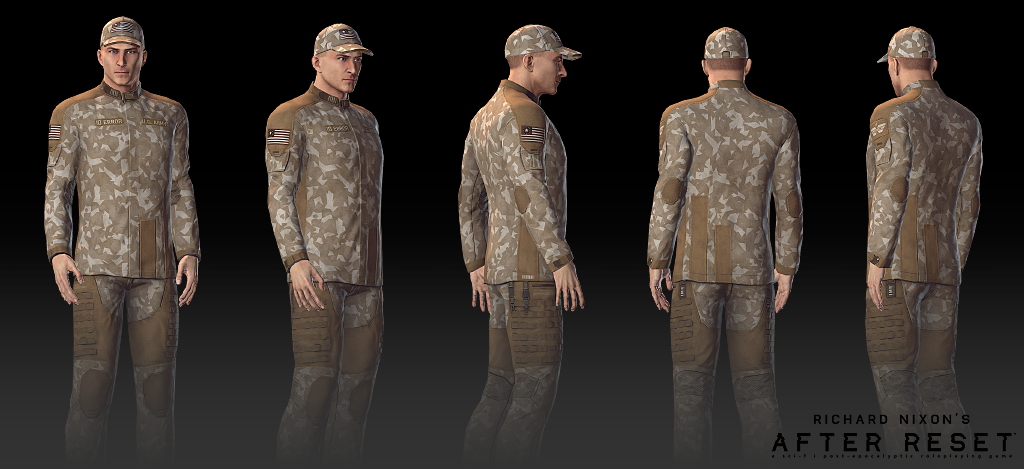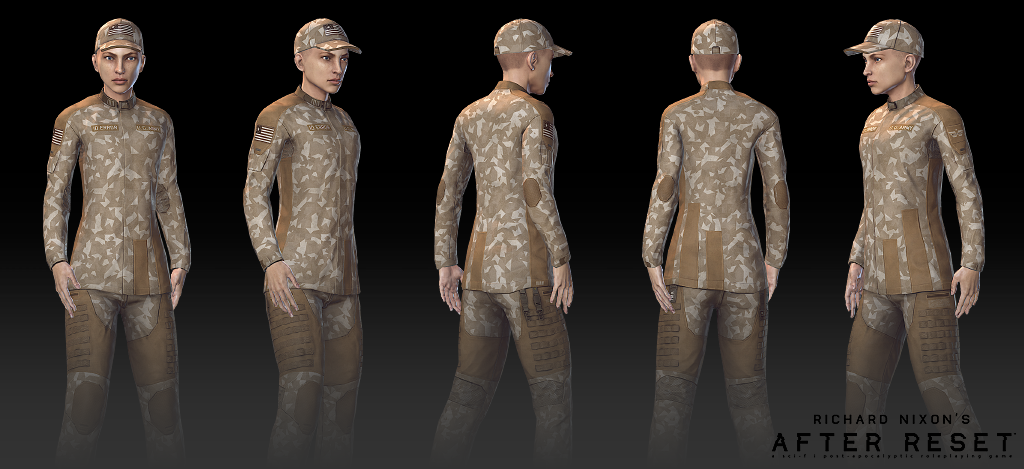 Our Co-Founders can check the full HD screens of MCU characters on: Afterreset.com
THE FALL OF GYES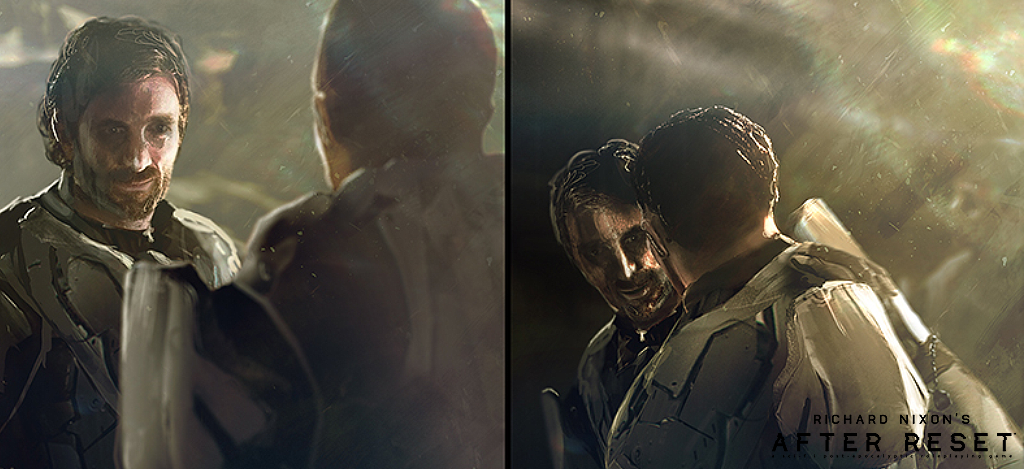 Adam reported that he is on page 30 now. So 7 pages more left. Meanwhile, we have launched the work on the two big (A2 high quality format) printable characters arts of both of our TFoG VIP backers so that we'll be able to send the final works of their characters in the setting by the time of digital release of the TFoG.
SCI-FI TO READ
As I did in our previous news, here I want to share with you the sci-fi short stories I dig, the stories that affected my views by the time I got to toil on the After Reset setting.
The first one is devoted to Synthetics. It is called "Dinochrome" by Keith Laumer.
The second could bring you some fresh view on the United Governments. Its name is "Contact Man" by Harry Harrison.
And the final one gives you a food for thought about religion. That is "The Way of Cross and Dragon" by George R. R. Martin.
* * *
So, that is all for today dear followers. I just want to thank your for your support and all the patience that you show. I'm having butterflies in my stomach because we can't release the prologue as soon as we planned.
Sometimes, when I receive a bunch of excuses or a series of the stuff poorly made at the same day, I feel like a shattered Humpty Dumpty that can't be assembled together. But then I open Kickstarter and Steam and remind myself of how many people (you guys) believe in us. That inspires and pushes us forward every time we feel tired. So once again, much obliged to you rooting for us.
And stay tuned!
Back us via PayPal.
Add us on Steam Greenlight.
Join After Reset™ RPG official website.