Well, I guess its time for a small update :)
Currently, we are finishing the scrin, but since they get quite a bit of new stuff (both, from KW and totally new) it takes quite a bit of time. And while I wont reveal the unfinished stuff, the new Ravanger and Cultists are quite usefull additions, giving the Scrin the manpower they need on the ground to repel GDI and Nod. And rest assured, these little buggers are not the only additions for our alien overlords friends.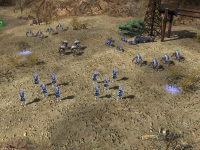 You may also note that we added a Mutant Bus - its based on the CnC4 model, but slightly more realistic. Its quite usefull against light units and can transport one squad of soldiers, allowing them to attack enemys while inside the bus.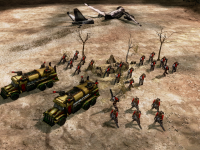 Unluckily, sometimes things dont work as exspected und thus need to be changed or removed. One is the Nod Tunnel Network from TWA 1.6, it has the bad habbit of making the Nod AI crash (even through it should not be able to build it), so it might not be included in future versions.
Another example is the Zone Raider - while cool and well known from KW, their weapons are either total useless or way to powerfull, making Grenadiers and most other anti infantry units a waste of money. Hence they will propably be removed or made unbuildable, depending of what works better.
Hopefully, the next additions will be less problematic ;)