I am here to announce the official list of remaining non-terrain assets left to do for this mod. I had tried to release an update once every week, but real life has a way of interfering with well laid plans. Instead, I am creating a somewhat interactive list to show you what is left in terms of official assets that are to be remade. This list will be posted at Project Perfect Mod sometime later this week and will be strikethroughed as assets are slowly completed.
That being said, I am no longer going to update the news post except for once per month. I might make an exception to this rule, but I can no longer produce assets that quickly with the time I have available to me and I am getting to the point that working on this modification is taxing.
As always, I am recruiting anyone and everyone that wants to create assets for this modification. Anyone that can create models, with textures or without, is more than welcome to create models of items listed on the to-do list and I will happily texture and review them. It would be especially awesome if individuals would create new assets to include in the mod, as the overall goal is to create a community accessible library of assets that are at a standard that is visually amazing yet easily replicated.
I have been wanting to set my sights on other mods and projects for a long time, and I would hate to give up on this mod in order to do that while being so close to completing it. Tiberian Dawn: Renegade, another project of mine that some may or may not be familiar with, is calling me, as well as another project for C&C Generals that I have yet to disclose. If there is still interest in this mod please let me know your thoughts in the comments. An encouraging word goes a long way with this tired old soul.
Without further ado, here is a snippet of the list of yet to be completed assets per faction per type.
Global Defense Initiative
Buildings 16/22 Completed
WAR FACTORY
RADAR
DEPLOYED JUGGERNAUT
DEPLOYED MOBILE WAR FACTORY
FIRESTORM WALL
FIRESTORM GENERATOR
Vehicles 9/14
JUGGERNAUT
MOBILE EMP
MAMMOTH MARK II
MOBILE WAR FACTORY
ORCA DROPSHIP
Brotherhood of Nod
Buildings 4/20
I will not list these here as the list is quite long, but Nod is the faction with the least amount of buildings done.
Vehicles 10/13
WEED EATER
MOBILE WAR FACTORY (Fist of Nod)
MOBILE STEALTH GENERATOR
Shared Assets
BUILDINGS 2/6
CONSTRUCTION YARD
DEPLOYED MOBILE SENSOR ARRAY
DEPLOYED LIMPET MINE
EM PULSE CANON
Vehicle 1/4
MCV
MOBILE SENSOR ARRAY
LIMPET DRONE
All Original Civilian Vehicles are finished
All Original "Rural" Prefab temperate Buildings are finished
6/22 City Buildings have been done.
Again, a more comprehensive list will be posted to Project Perfect Mod at a later date. I hate to post a wall of text without anything else on it, so here is a Titan for your thanks for reading. It is still a work in progress, and the turret will never bob due to engine limitations, but at least it is proof of progress.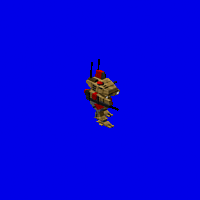 Thanks,
Regulus.