The Old Republic Era
As mentioned awhile ago, back in the past dev diary, it was mentioned that a team was being formed to produce a mod that covers the Old Republic era. It is my pleasure to announce that these plans are now in motion, with work having begun on this project. vader111 has been hard at work rigging a number of our initial slew of models, such as the Interdictor (Leviathan), Centurion, and the Hammerhead.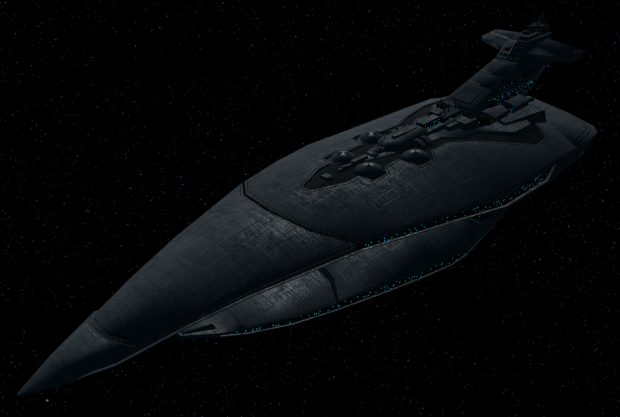 Further the initial planning and coding of the two primary factions; the Galactic Republic and the Sith Empire. When it comes to units and technological progression, at this time I can say that it is highly probable that the factions will take elements from both KotOR and TOR; the precise mechanics are being worked on at the moment.
However, we cannot do this alone! Your assistance is needed for this project to ultimately bare fruit. Coders, unit riggers, modellers, skinners, and UI artists, of all skill levels, are amongst the skill set that we need. If you wish to aid us in this endeavor, please contact Crist Seymour, the project's leader, or myself, for more details.
In addition, I will note that, according to plans at this time, the Old Republic factions will in fact be compatible with SoGE proper, even though the Old Republic factions will not be balanced with reference to regular SoGE factions. This means one could do a face off of the Sith Empire versus the Galactic Empire, though the ISD might very well find an equal in the Sith's fleet, or even find itself weaker than it's opponent.
Upcoming Changes to SoGE
While there haven't been a large number of changes since the last version, which was one of the biggest overhauls in the mod's history, a few tweaks and additions have been made since then. The most notable change in the interim has been the overhaul of the Alliance's civilian and defense research trees. As we are all aware, the Alliance did not win the Galactic Civil War through an open and direct confrontation with the Empire; that would have been suicide. Indeed, it was mainly fought through a variety of asymmetrical and propaganda warfare.
Fortunately, Sins has a couple of mechanics that can be used for this purpose, and a flexible buff system that can be used to create new mechanics for players to use. One that people are familiar with, that is already ingame, is culture, and specifically seeing whatever planets are under your culture's influence. The Rebellion will be getting much stronger culture, with spread rates rivaling the Republic's. However, instead of getting military bonuses for fighting in their culture, Alliance culture will cause production debuffs and additional allegiance loss to the enemy planets affected by Rebel propaganda and sympathizers.
Another aspect of the alliance that will be expanded on is intelligence. as alluded to by the research tech named Bothan Spynet, the Rebellion had a vast network of informants and sympathizers around the galaxy, in addition to assistance from some organizations. To that end, the Alliance's Assault Frigate Mk.II has been retooled into an intelligence vessel, giving it a use and purpose. It will have the ability to deploy listening posts, special space mine structures which reveal the gravity well they are placed in, and for a cost, can open an illicit HoloNet connection to allow an Alliance fleet to strike the planet directly. The ship will also be able to detect any enemies jumping to the gravity well it is stationed in, and has the ability to mask itself by scrambling enemy sensors, allowing it to scout and monitor the enemy with ease.
Even with this, that is not everything that is new regarding the Rebel scum. They also will be able to fortify their planets more easily, due to being able to acquire defenses for cheaper, and more of them atop that. This however comes with a cost. Owing to the need for secrecy, the lack of clearly established territory, laws, and in some areas leadership, the Alliance's economy is the weakest of all six factions. Use your intelligence, entrenchment, and Mon Calamari durability wisely.
One other notable change that has occurred in the interim has been a reworking of Discord Missiles, also known as buzz droids, based on a suggestion by RustyNinja. One of the most powerful tools in the CIS arsenal, it has been adjusted to not be as overwhelming as it currently is. For engine and weapon debuffs, rather than being a flat out disabling, they now cause weapon cooldown and engine speed/acceleration debuffs, which both stack indefinitely. This has a very similar effect, though now individual ships are not absolutely locked down. In addition, as these are now percentage based debuffs, Supercaps are now affected by Discord Missiles, however they will suffer from a much lesser debuff than capital ships and frigates, and have a stacking limit.
Let's Play!
Something that I haven't given enough attention to is the number of Let's Play videos that have been put out for SoGE. That said, let's watch a few of them, shall we?
To start we have a new game started by fellow Sins modder, Gul Dukat! This isn't his first video either, here's his previous incarnation as an Imperial officer.
Next we have a multiplayer match featuring CaptainShack, Gul Dukat, and hijinks ensure. Here's part 2 and part 3, respectfully.
Last up we have MasterofRoflness with a game as the Empire, and also functioning as a walkthrough of this faction.