Hey guys, LoNer here. I've recently (2 weeks ago) announced the return of this mod and reactivation of it. In these 2 weeks I've accomplished close to none because of my grades. It's not like I'm failing school or anything, but I can do better. Let's keep it on that :) I did think of a new 'system' where other modders and map creators can easily use my assets created for either personal or public use (with credit ofcourse) I've created a file structure as seen in the below image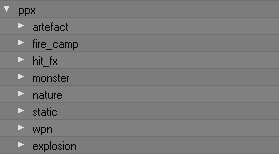 As you can see, I've created 1 "base" folder containing all sub folders (up to date) which I've changed / included. I will create my own particles from scratch and this will be my main working folder. I will try and keep it tidy. It will have a likewise structure to the vanilla particle setup, just slightly more polished / detailed:

My main goal has been achieved, and that is creating that what this mod stands for: Beautiful particle effects on the artefacts. I've created 42 new particles from scratch, which means that each artefact (yes, 42 artefacts will be featured in PPx) will have it's own unique particle effect, skin, mesh, config, text the whole thing. They will all stand out from each other. I've taking many of your guy's request into mind with this :) I hope to showcase a video of the various effects, soon.
This has been the small update. Please leave feedback, It's what makes a mod great, eh? :)
Cheers,
LoNer1