+++Subspace link open+++
+++Incoming transmission+++
+++Origin: Earth Fleet Command+++
Greetings Commander !!!
Following the 3 month release cycle of the Tactical Battle Simulation training software (Codename SG:War Begins), we're pleased to inform you that a new version of it, codename v10, is here.
Following our encounters with the various new Wraith probes on the Pegasus galaxy, we have included them into our library, for to adequately prepare to this new tool in our enemy's army.
Oh, and as you probably know our new GN-3 space mine has just started to be mass produced, so we added that one too. And, of course, we improve the looks of some of the older ships, too.
We've also received your critic that the background image didn't fit right in your personal terminal, and we have uploaded a new one.
Following the instalment of the new energy management software in our ships made during the last periodical maintenance of our fleet, we have added some of the new options made possible by that software to our simulation.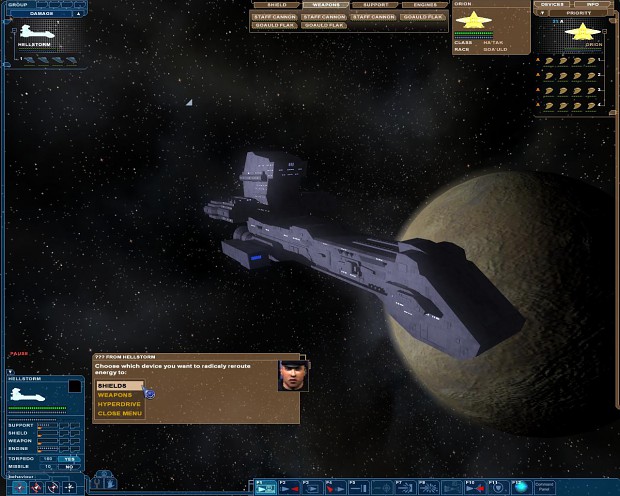 You'll now be able to shut down key systems and reroute the energy to boost others in our new command panel. We've also added a jukebox so that you can play some tunes while training, all accessible through the panel (the music library has been completely redone, captain and we believe that you will be most pleased with the new version).
And while we're in the subject of training, we've added an other training simulation instance for you test and hone your commanding skills.We hope you find it entertaining and worthwhile, commander.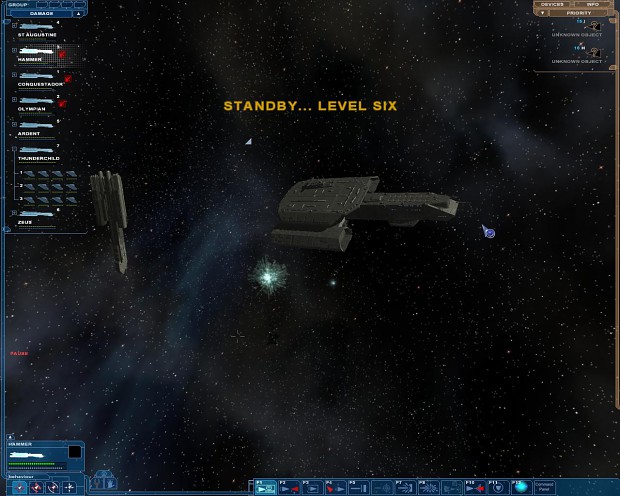 Here's the detailed change log of this new version:
- new models: GN-3 mine, Wraith sonde
- new mission: How good are you? (made by Kirsah Aka The Old Dragon)
- new texture for replicator ships
- new models for railguns- new mp mission: Assault-Midway
- new special command panel (WIP)
- every mp mission has its own location now
- added ship icons for MP ship configuration screen
- improved menu wallpaper to be compatible with highest game resolution
- improved staff cannon sound- improved Mp ship configuration (new devices, capability to add more fighters etc.)
- improved Dart's textures
- improved mesh of Bc-303, Bc-304, Midway, Replicator cruiser and Al'kesh
- better optimized Replicator cruiser, Ori satellite and Al'kesh
- optimized .bat files
- fixed minor graphic bugs on F-302
- fixed BC-304aw mesh
- fixed railguns on Bc-303aw
- fixed visibility of Dart squdron command mark
- fixed Warhead VIII hardpoint
- fixed windows on Midway
- fixed floating windows on traveler ship
- fixed Al'kesh engine color- fixed Al'kesh overlay effect
- fixed textures on Goa'uld destroyer
- fixed docked destroyer model- fixed "uncompleted mission" bug in Omens of War
- fixed Ancient vs Wraith MP mission- fixed various sound problems
- fixed various sound problems
+++transmission ends+++
+++subspace link closed down+++