Stargate Races r1.07 Released
Stargate Races r1.07 is now available for download. Plans for the next update were a little more expansive but due to a bug in the 1.06 release, a smaller update released sooner was needed. Despite that, there are a few changes of note to highlight.
Those Darned Ursini
Unfortunately there was a serious issue with the buff that Ursini Cruisers apply to suitable planets as they make their way around the map. It would result in a hard crash of the game if a planet with the buff active on it was destroyed (IE, bombed out).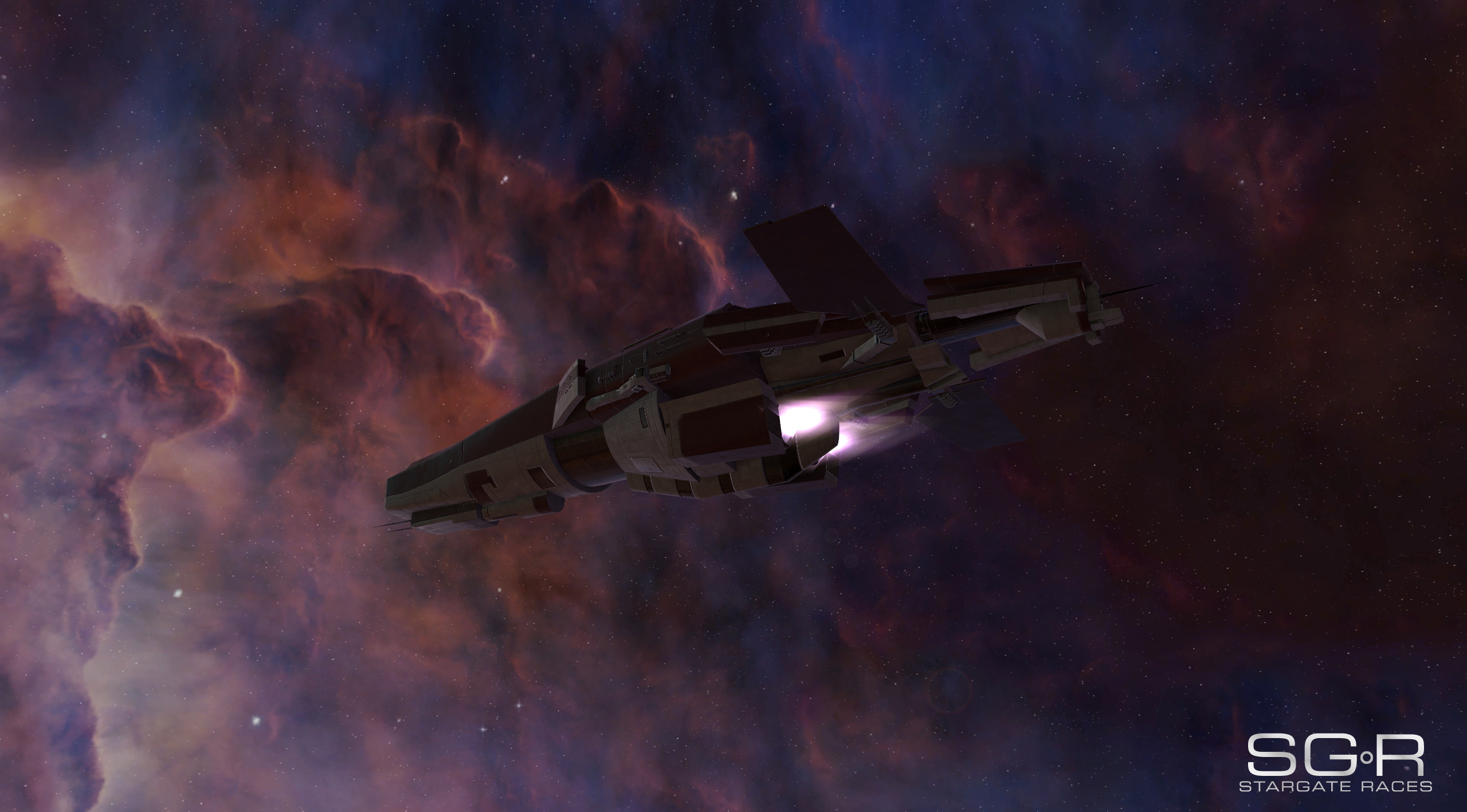 An Ursini cruiser heads out into the galaxy to crash the game.
As a work around, the cruisers will now apply a trade buff to their host planets instead of a credit per second income. While I much prefer the old credit income bonus, this should suffice as a reasonable proximity. It can be both less and more powerful than the old bonus, depending on the planet in question.
Super Tech Requirements
A required research count requirement was added to specific "super tech" research in r1.06. Specifically to Ancient Nanotech Cloning and Wraith Orbital Cloning. The intent was to further ensure that those powerful, possibly game-ending technologies were restricted only to late game stages only. A mistake was made in how those requirement counts are tabulated however, and the Wraith tech in particular was not possible to unlock. The requirements on both researches has been adjusted using the correct counting method now and should again be accessible.
Ancients
The Ancients have gotten some tweaks, fixes and a significant addition.
Spacegate Trade now correctly applies the trade offset buff.
Drone Swarm abilities will now only autocast when at least one valid target is in range.
Mirus Magnetize antimatter cost and cooldown adjusted to better preserve antimatter reserves.
Excalibur strikecraft build cost reduced to allow for better maintenance during combat.
Ultionis Raze Planet ability damage significantly buffed.
Ultionis Irradiate ability damage increased.
Atlantis' Intergalactic Capital ultimate ability was also rewritten. In 1.06, the phase stabilizer node was a refreshing status every few seconds. This would cause the status to blink momentarily. Unfortunately, this was causing ship pathing to recalculate despite no permanent change to node status. The ability now applies a more complicated buff chain that results in a stable status that should eliminate pathing issues.
Lastly, the Aeolus capital carrier has seen some significant changes to its ability roster.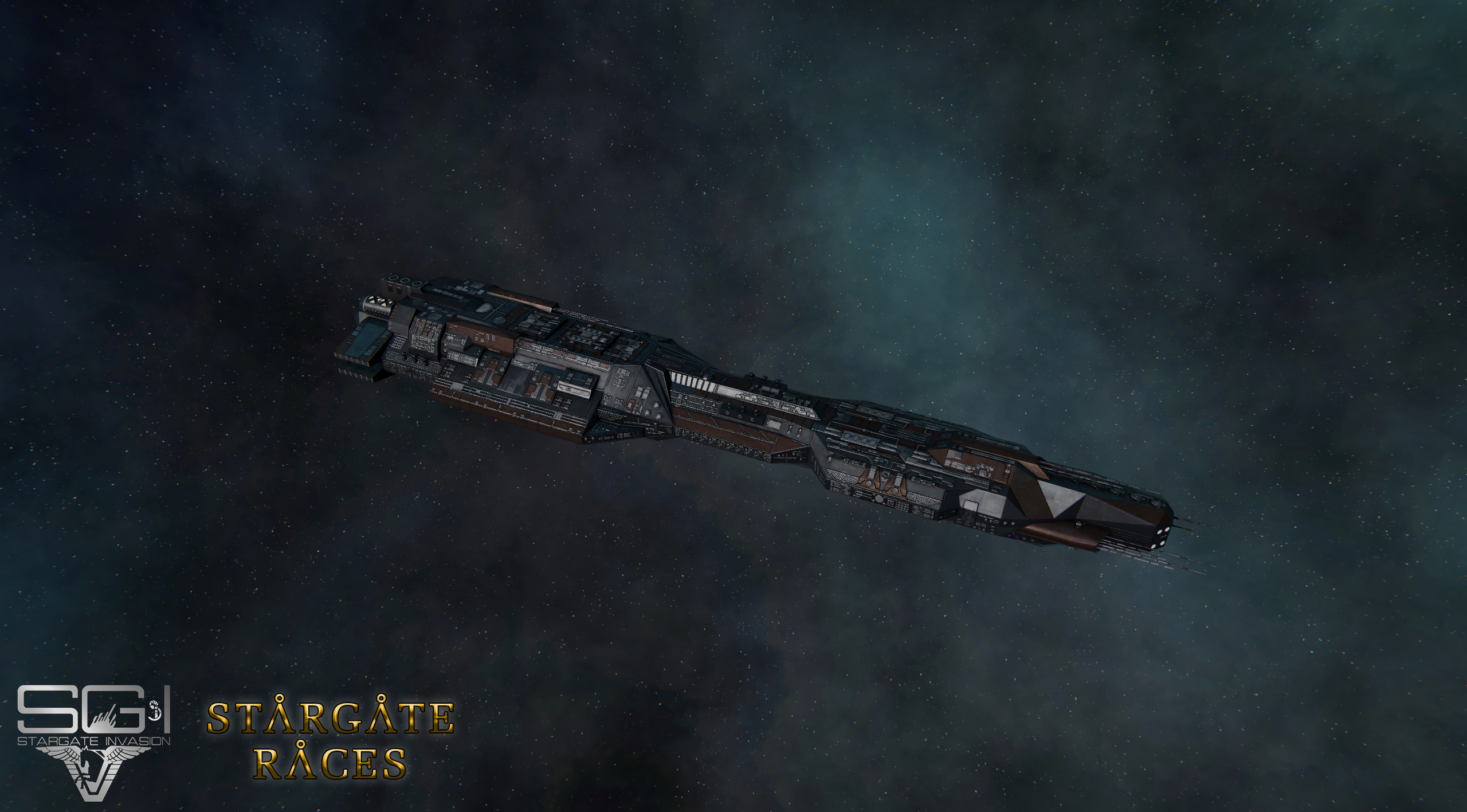 Ancient Aeolus Carrier
First, the old Concentration ability has been renamed to Exceptionalism and has been expanded to also provided hosted strikecraft bonus health and armor based on ability level.
Secondly, and more importantly, the Instant Build Strikecraft ultimate ability has been removed entirely and replaced with a new Telemetry Feedback ultimate ability. While active, Telemetry Feedback allows each strikecraft owned by the Aeolus to output an area of effect that buffs weapon cooldown and damage of all other allied non-strikecraft ships within the area. This buff also stacks with effects from other nearby jumpers. The result is a dynamically changing buff stack that can range from small to quite large depending on the state of engagement of the strikecraft in play. Telemetry Feedback is a powerful fleet buff ability that should now make the Aeolus a compelling choice among the other Ancient capital ship options.
Ori
The Ori also recevied a few changes of note in 1.07.
On the visual side, the entire Ori fleet now has its own custom missile visual effect. Their missiles are no longer smoke trailed but rather have a solid trail. The effect is similar to the Heartseekers but is blue.
Ori missile barrage style abilities on the Peridition and military starbase were revised. In both cases, damage per missile/wave has increased as level does, but more so on the Periditions Expiation since the starbase variant also gains additional waves instead. This should make the Expiation ability on the Perdition more tempting to sink additional points into now.
The Ori Sovereign titan received numerous changes to its ability roster as well.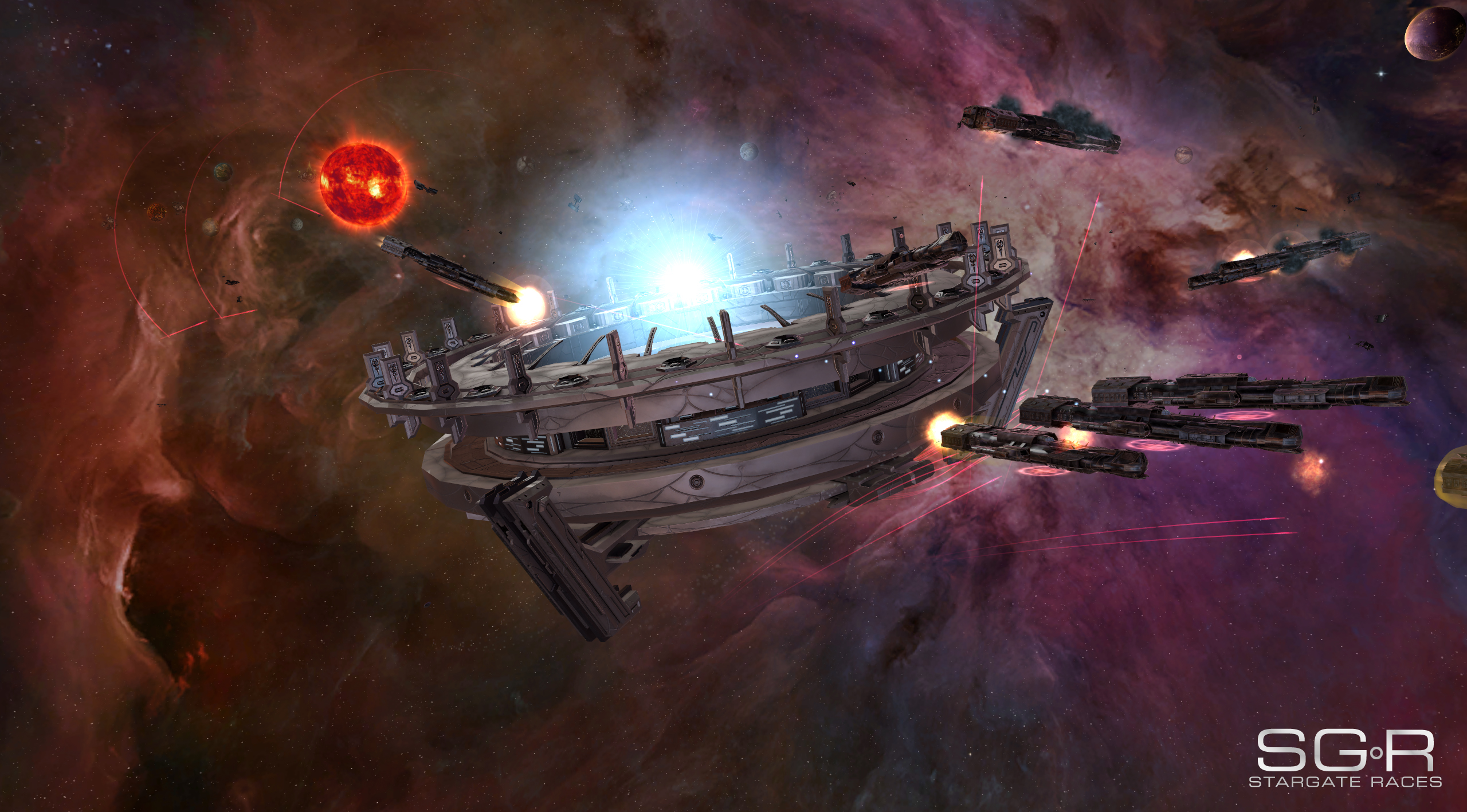 An Ori Sovereign engages several Ancient battlecruisers.
First, its Punitive Strikes ability now deals additional damage when the missile strike apply the effect and can now potentially increasse overall damage output by a significant amount at higher levels. The ability now also enhances Heartseekers as well if they are unlocked, allowing them to have a chance to pierce a target and strike a second time for extra damage on the volley.
Secondly, the Heavy Strikecraft ability has been removed entirely. The Aura of Divinity ultimate ability has been reworked into a 4 level non-ultimate and now takes its place as the third ability on the titan. Aura of Divinity continues to provide a permanent antimatter cost decreasing aura around the titan (with increased range as level goes up) but also buffs or debuffs the host planet and all adjacent planets depending on if they are friendly or hostile. This allows the Sovereign to now bring game-affecting economic and culture impact without even having to engage directly.
Lastly, a new Divine Intervention ultimate ability has been added to the Sovereign. Unlike standard ultimate abilities, due to its nature Divine Intervention only has a single level to invest in. Once activated with a ability point, when the Sovereign is destroyed a new level 5 Sovereign will spawn (at no cost) at the same well after a very brief delay. While I feel this is a very powerful ability, for those who would rather pay to rebuild their Sovereign at its full level can still do so by scuttling the free level 5 ship and then rebuilding it at a titan factory as usual.
---
As always, we invite you to join us on discord to discuss the mod and find other like-minded players.

Head over to the Download area to grab the new r1.07 release.