The winter is here, bringing us some really cold days and a lot of new tasks to complete: we are currently implementing some great stuff to make the whole game look better and play better. And today we are ready to tell you the most interesting part of the balance changes in Starfall Tactics.
Balmung - Vanguard Battlecruiser
---
Before we come close to describing all the changes, let you show another mighty battlecruiser - Balmung:
This, without any doubt, great battlecruiser, is going to joinn the fight on the side of Vanguard faction - just as soon as we add into the game.
Balance in progress: Special modules and Shields
---
At the moment we are working hard to make balance in Starfall Tactics look much better: after several weeks of some inner tests, discussions and digging in a bunch of numbers, we finally found our way through balance jungles. And now, step by step, we are going to implement all the necessary changes to let the whole system work together just as we planned (we really hope so).
And the first global change touches our special modules: in their current state it was really hard to balance that, so, both to improve current system in general and make you use modules (which can definitely make battles more exciting!) we did the following:
All special modules will now use only one of the following sizes: 2х3, 3х2, 2х2 and 3х3, which automatically makes it easier to fit them on certain ships and saves some extra place for armor plates.
As an obvious step here, we've also adjusted capacity cost for most of the modules: in most cases, it was lowered.
Along with module sizes, all the ship engineering bays were reworked due to their initial connection with the size and form of special modules. You can see some examples of module forms on the following screenshot:
As an addition to these changes, we should mention that one of the modules you could rarely find a use of will be reworked: Self-destruction module damage won't depend on ship capacity anymore - instead, it's going to have some fixed damage, making it more valuable for small suicide bombers.
Both before and after working with special modules, we once more (it was reworked this year for the Character test) paid a great attention to the first layer of defense - Shields. Previously, it was really hard to equip enough shields to stand against lasers and all the EMP damage long enough, while, at the same time, shield regeneration was also not that fast to make let you get shields back quickly.
Now shields are going to give you more regeneration and cost less capacity, making it much easier to fit your ships - just look at this shielded Ichaival battleship, which is going to be a real pain for the full laser fleets:
Of course, all the numbers here are still being adjusted, so that's just a rough example - but, hopefully, it will make you feel better next time you play Starfall Tactics ;)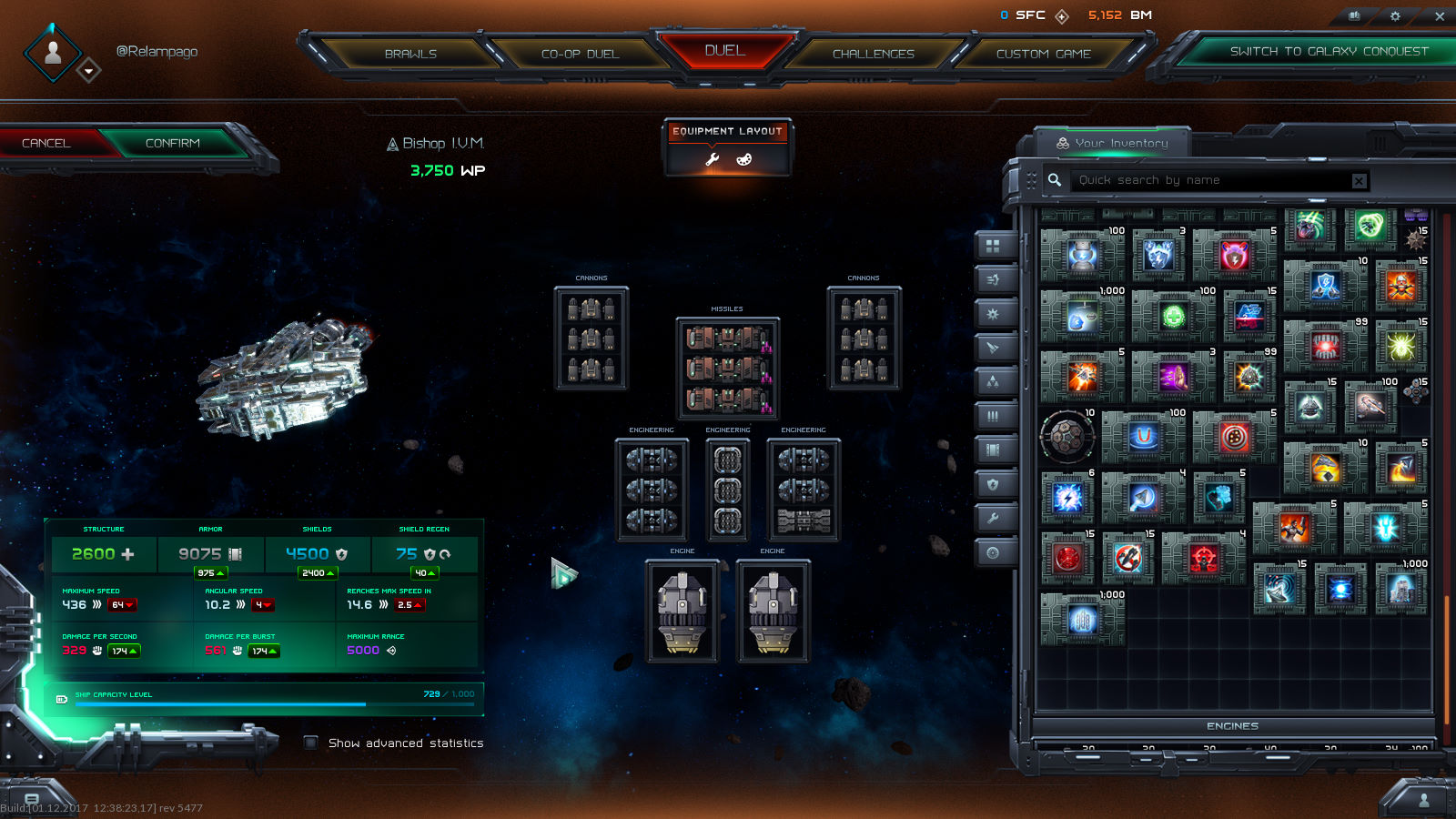 And that's not all the changes we are planning here - check out or weekly news to read about weapons balance in the next article!