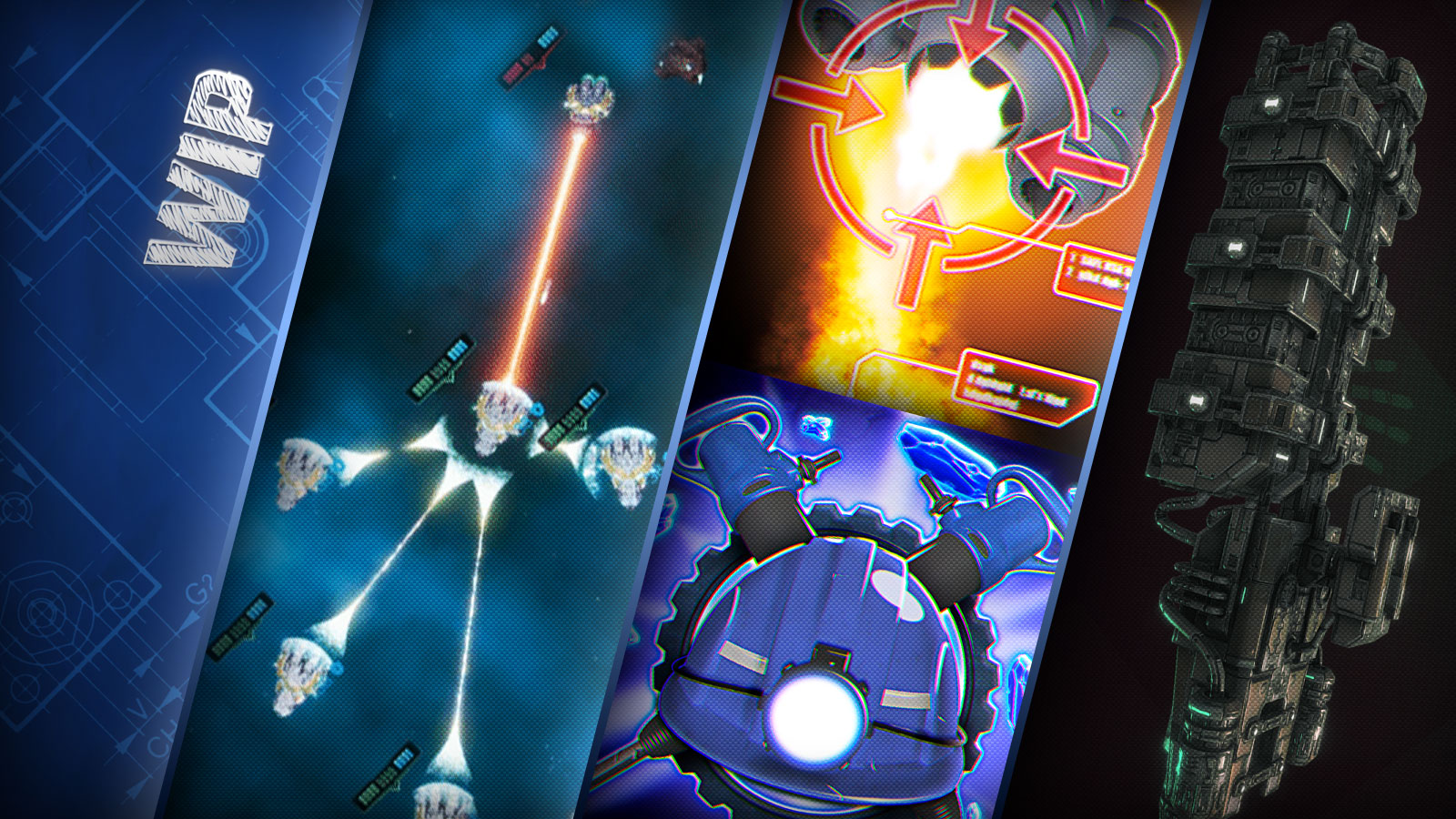 Hey Commanders!
Now, as we've collected all your feedbaсk and set up a plan for the next big update, we are ready to move further on our way of developing a spectacular game for you to love and enjoy. So, that's time to come back to our weekly news and tell about several things which will soon join the game. Remember, that this new article features just a small part of the work done - some results we will keep as a small surprise for you for the next week ;)
New Shield Modules
---
The first layer of defense, known as shields, was sufficiently changed before Character Test to make it more valuable and helpful - you can read details in separate news article featuring shield rework. After that we also created a new module - directional shield (which appeared to be surprisingly great option) - and adjusted other related special equipment. But, as it was mentioned once, that's not all we wanted to do: also, there were another three shield modules on our mind to help your ships survive after shield rework and build according strategy.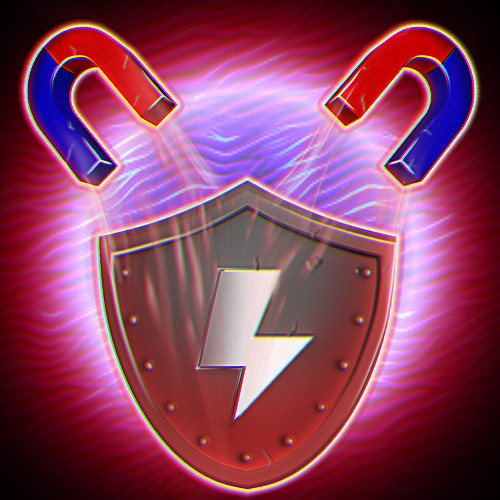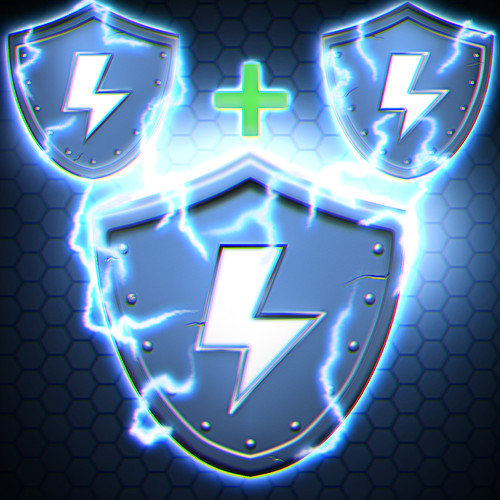 Shield Drain - on activation drains shield hitpoints from a target enemy ship, adding it to its' own shield. Shield hit points you can drain are limited to a certain maximum amount. This module has a cooldown.
Shield Transfusion - on activation transfers shield hit points from a ship equipped with this module to another player's ship. Shield hit points you can transfer are limited to a certain maximum amount. This module also has a cooldown.
Shield Network - Distributes all the damage received by the shield between all ships with Shield Network, within the range of the module. It's a passive module you can't activate or deactivate - below you can see it in action.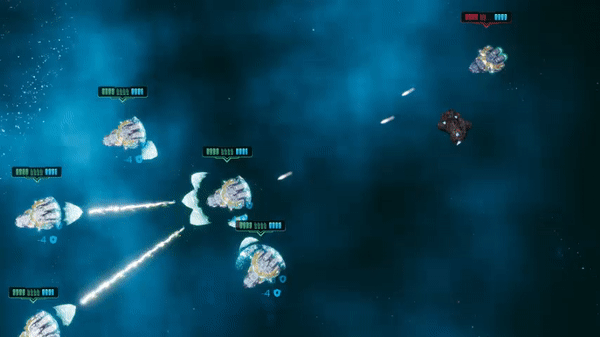 And another news concerning shields modules: Mass Shield module finally got an improvement to fit new mechanics and make it worth capacity points of your ship - now Mass Shield works until you switch it off, so you can constantly hide several ships under one massive shield. Hope that's good news for you all ;)
Emission Detector and Industrial Mining Complex
---
It's also time to add a couple of utility modules to help your scouts and mining fleets: Emission Detector and Industrial Mining Module.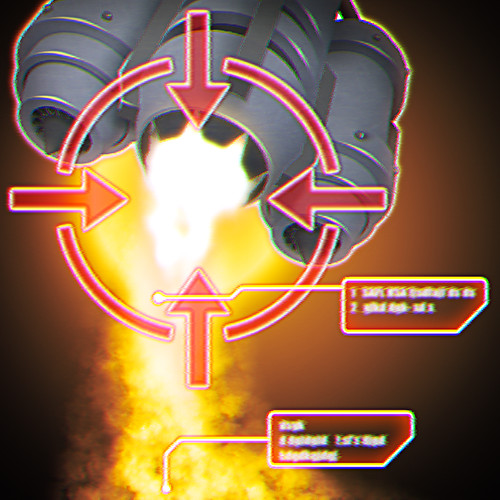 Emission Detector is a specific scouting module: it detects emissions of moving objects and shows them to you, even if it is stealthed or in nebula. This is a passive module, which doesn't actually reveals units or shows which ship it is - it just marks emissions of moving object in a certain area around a unit with Detector module installed. It can be a great option to help you catch enemy scouts and prevent sudden attacks from nebulas without having to precisely scout it all. However, you should remember that if your enemy is standing on one place without performing any actions, you still can miss him.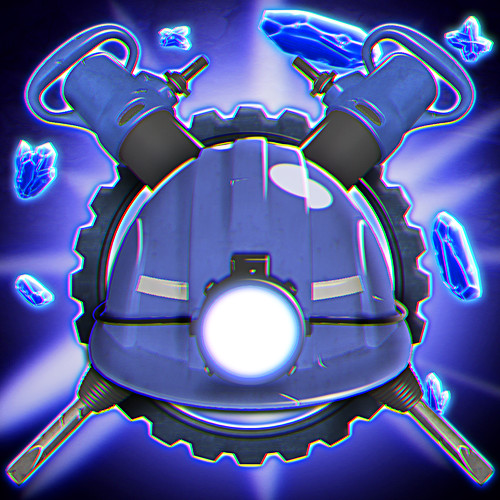 Industrial Mining is an upgraded version of common Mining Module which previously allowed you to mine asteroid. This Complex not just extracts resources faster due to increased number of mining drones included, but also has an axillary function: it shows you rich asteroids on the minimap, so there is no need to fly across the map or try to notice it through the fog of war. Of course, it has an according size - 3x3 - which makes you sacrifice a few defense slots, but since it really helps you it faster and more convenient - that's only a fair exchange.
So, these 5 modules can be checked out during the next test, and for now we take a small brake in module creation to add more curious features and some stuff we already announced ;)
Deprived Freighter - Prospero
---
Welcome a new space ship joining the game - Prospero! As other freighters, it is designed mainly for carrying goods from one corner of the Universe to another - of course, it has some weapons for self-defense, armor and even shields, but still Prospero needs a good escort to be able to stand against pirate fleets.
Note: Eclipse faction will be also represented by a well-known Charon Freighter.
One day this Deprived freighter should be able to join your fleet: you could already read that we have an intention on giving players the ability to have these ships in their fleet - at least temporarily. More information will be announced once we come close to implementing this feature - check out weekly news!