Well the day has finally come. Apple has approved SpringFling for sale on the App Store and it is available to download NOW!
For those of you not familiar with the game, the objective is to 'go up'. Simple enough, eh? In the vein of Icy Tower or Doodle Jump, you jump up infinitely high vertical levels, shooting for the sky and the highest score on the leaderboards. Dragging on the screen compresses the spring and letting go allows it to fling into the air. Realistic physics ahoy!
The game has gone through significant changes since the first ModDB public news article. For those that have been following the development updates, many new features have been added, such as:
Online leaderboards, Facebook and Twitter integration using AGON
Achievements - Collect trophies for completing different challenges
Random level generation to produce a different play experience every time
Now up to 5 unique worlds with custom art, backgrounds, and music for each
No height cap! All levels are infinitely tall, giving you the ultimate challenge
Spring character customization - Trick out your spring with hats, moustaches, and disguises
Multiple new powerups to help you: Rockets, balloons, parachutes, pogo sticks!
Physics improvements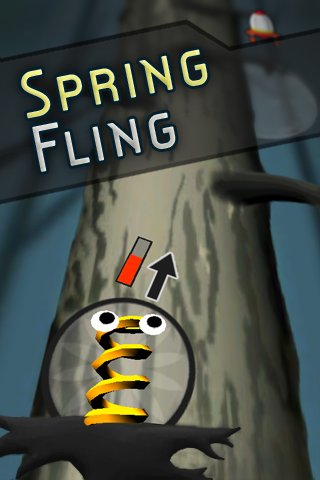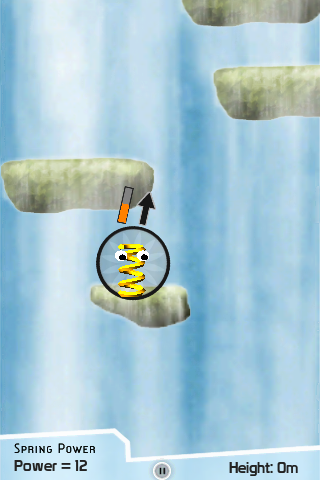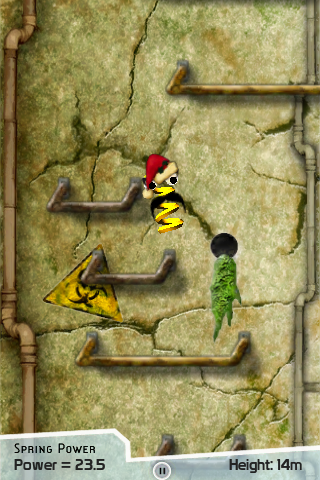 With AGON, you can get some really cool results like web embedded high score tables, maps of the world with high score locations plotted, and some other cool/crazy things.
I'd recommend anyone getting into iPhone development to take a look at Unity (game engine) and research integrating AGON into their project instead of hand-rolling their own online solution.
I'm also looking for community involvement! Anyone with ideas on how to make SpringFling better, please post, as I'm looking for features to put directly into version 2. I have a few new powerups and bugfixes planned already, but it's the community that really matters, so let your voice be heard!
Check out SpringFling:
Website: Springflinggame.com
iTunes Link: Bit.ly