Hi folks !
Despite everything you can read on various boards, and what we can read in your emails, nope, we ain't dead! At the moment there's only two left of us working on the mod, so it's quite difficult to stay motivated and to make significant improvements... But... But we worked a lot these times to bring you this, our new trailer.
You've watched the video ? Yep ! That's right, two new levels! The inside of the X303 has been done by Hors3, years ago. The music is still made by _MaX_ and every song he made for SU will be included in the mod. So, a Co-op map against the replicators in a X303 that has just crashed, and a new spaceship level (with fighters only), in which the Tau'ris must shoot the Goa'uld naquadah generators hidden in the cave of this asteroid mine. Might be quite fun to chase your enemies in those extremely tight tunnels ! Watch out for the walls !
SU-X303Down:
More screenshots on our ModDB page. We also fixed tons of bugs (we closed more than 50 tickets on our Trac/SVN versionning system), it means there's 50 new things or fixed bugs ! We no longer have troubles with the replicators, and they're really scary!
This time, we're really close to this: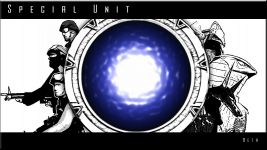 Even the installer is over, the script too, we just have to finish a few more tasks (maybe a few surprises) and you'll soon be able to download Special Unit. There will even be some nice icons to launch the mod !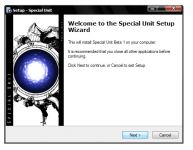 Oh yeah, and one last thing, a release date maybe ? Expect Fall 2009 !
See you soon !