WELCOME TO SPACE BATTLESHIP YAMATO: FIVE YEARS OF FIRE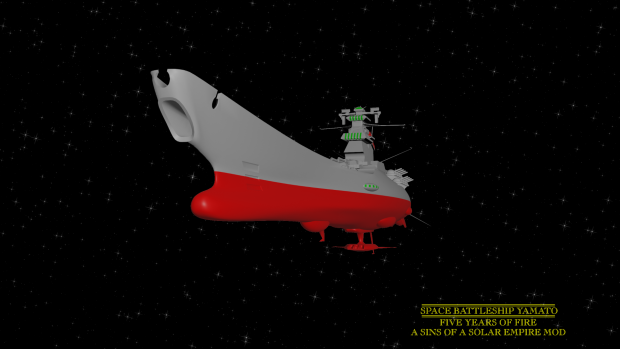 Good evening everyone! After some internal debate I've officially decided to choose Sins of a Solar Empire as the platform for this modification. For many years I have dreamt of a Real Time Strategy game set in the Space Battleship Yamato universe and none have come. So for those who enjoy the series, I hope you will watch this mod with interest!
WHAT IS PLANNED?
Short term, continue creating the necessary meshes that will be used for the Mod. The Primary Focus is on the Quest for Iscandar/2199 year of conflict such as the Gamilon Empire and Earth Defense Forces/UN Cosmo Navy. So you will end up seeing ships such as the Kirishima, Yukikaze, and Yamato to start for Earth. The Domelaze Command ship, Pormeria Carrier, Destoria, and Kelkapia for the Gamilon ships. All with their own custom abilities, strengths, and weaknesses; however it is unknown at this time if it will be possible to add Wave Motion Guns as it is a POWERFUL weapon that is designed to destroy fleets and I have yet to see an ability like it in Sins thus far, but we will certainly be trying! As the mod progresses we will add more ships to this line-up.
Gatlantis Comet Empire, Bolar Federation, and The Dark Nebula Empire is also planned for the long run but won't be added until all of Earth and Gamilon are in place and tested.
CALL TO ARMS!
While this mod is very much new, there is actively only ONE person working on this mod and that is myself. I am more of a Mesh artist than I am anything else. So we're actively seeking those familiar with Modding within Sins of a Solar Empire for scripting and implementing changes on a large scale as well as other talented mesh artists. Please do reach out and contact me if you'd be interested in helping out!